Jon Barnes
Jon Barnes
Jon Barnes

Jazz Studies - Trumpet - Adjunct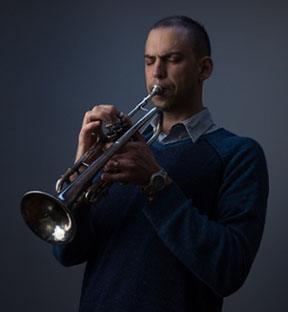 Contact Info
Biography
Jon Barnes, a native of the Baltimore area, currently performs as a jazz trumpet soloist with the United States Navy Band Commodores. His numerous original compositions and arrangements have become a regular part of the band's repertoire, including arrangements for Miguel Zenon and Steve Wilson.
Prior to joining the band in 2012, Jon worked as a freelance musician between New York City and Philadelphia, performing with Bernadette Peters, Simone, John Fedchock, and Dick Oatts. In addition, he recorded with the Grammy-nominated Bobby Sanabria Big Band and can be heard on the soundtrack of Ken Burns' documentary, The Roosevelts.
In his spare time, Jon photographs portraits and architecture, while doting on his daughter and chasing his twin boys around the house. He lives in Alexandria, Virginia with his wife and the three aforementioned children.