Phillipa Soo
Phillipa Soo

Phillipa Soo In Concert
Friday, April 16, 2021 • 8:00 PM Eastern Standard Time
Virtual Broadcast
Benefitting the New Jersey Arts and Culture Recovery Fund 
***PUBLIC TICKET SALES CLOSE at 6:00 PM on APRIL 16***
Join the College of Performing Arts as we come together virtually for this intimate performance with Hamilton star and Tony nominee, Phillipa Soo, recorded live on stage from New York's Theater District, in the heart of Times Square, exclusively for Rowan University.
For an additional fee, ticket buyers are invited to join a LIVE VIP Q&A with Phillipa Soo immediately following the performance. Space is limited. Don't miss this opportunity!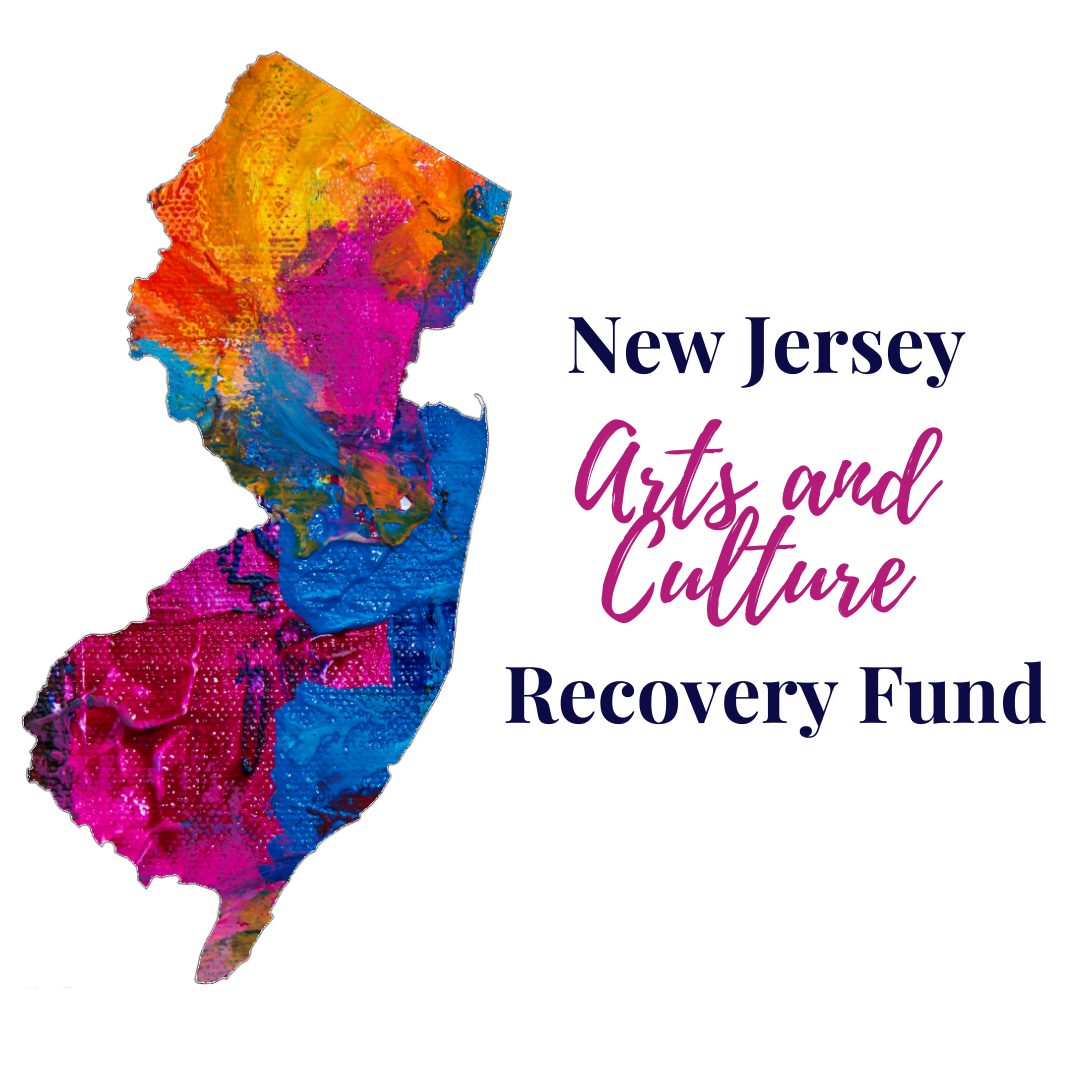 The performing arts industry has suffered great devastation due to the pandemic. We are proud to announce that 80% of every ticket sold will be passed on to the New Jersey Arts and Culture Recovery Fund, to be re-distributed to artists and organizations throughout the state who have been hit hardest by COVID-19, with a priority on BIPOC-led and -serving organizations and individuals. 
Photo credit: JJ Geiger
---
TICKETS 
---
8:00 PM Livestream
$40 General Admission
$30 for Rowan Employees & Alumni (discount code applied at checkout)
**Public ticket sales close April 16 at 6:00 PM EST
---
Post-Show VIP Q&A
$60 General Admission (does NOT include concert stream)
$25 for Rowan Students (discount code applied at checkout)
**Post-show Q&A ticket sales close April 16 at 6:00 PM EST
***To experience both the concert and the post-show Q&A, both events must be purchased separately.
---
This event is made possible via the Marie F. Rader Memorial Fund, and is not supported by state nor tuition funding dedicated to Rowan University operations.
FAQs
How many tickets should I purchase for my household?
Each ticket purchased will be assigned a unique stream link that can only be viewed on one device. If your household plans to watch the stream together on one device, then you only need to buy one ticket! If you would like to purchase a unique stream for yourself and one for someone else who will be watching on another device and/or from another location, then you should buy two tickets.
Where do I enter my discount code?
Above "Regular Price" look for a light blue link that says "Add Promo Code"
Click "Add Promo Code" and a new field will appear where you can paste your code in
Click the Yellow arrow and your new ticket price will display!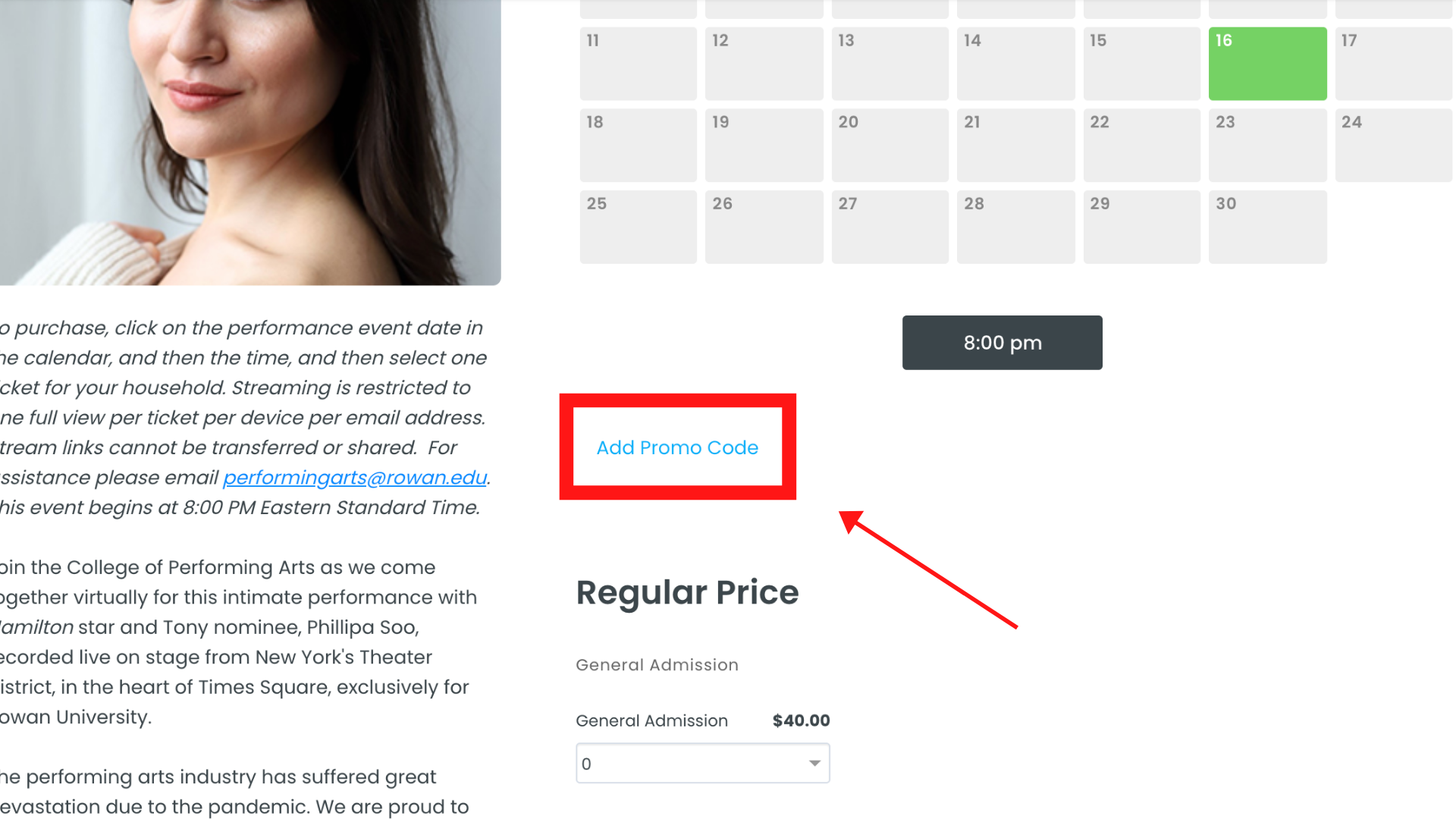 How do I access the alumni discount code?
If your current email address is in our database, then you should be receiving our alumni emails with the discount code. These will be coming from "Rowan University College of Performing Arts" and "Rowan University Alumni Association", so if you're not seeing those senders in your inbox, please check your spam folder!
Reasons you may not have received an email with the Rowan alumni code:
We don't have your current email address on file
Our emails are going straight to your spam/junk folder
You have previously unsubscribed to one or both of the above senders
If you did not receive an alumni email with your code, please reach out to alumni@rowan.edu and provide your name (first, last and maiden if applicable) and graduation year, and you can expect a response within 24-48 hours, so that your status can be verified, and then you will receive the code directly via email from that office.
*Please note that this event will not sell out, due to it's virtual nature! We are committed to great customer service and fair access to this exciting program. We promise that everyone who wants a ticket and qualifies for a discount code will receive one.
How do I access my free Rowan Student ticket?
Visit the Proflink event here: https://rowan.campuslabs.com/engage/event/6961824
Login using your Rowan Credentials
Select "I will be attending" and then click "Update RSVP"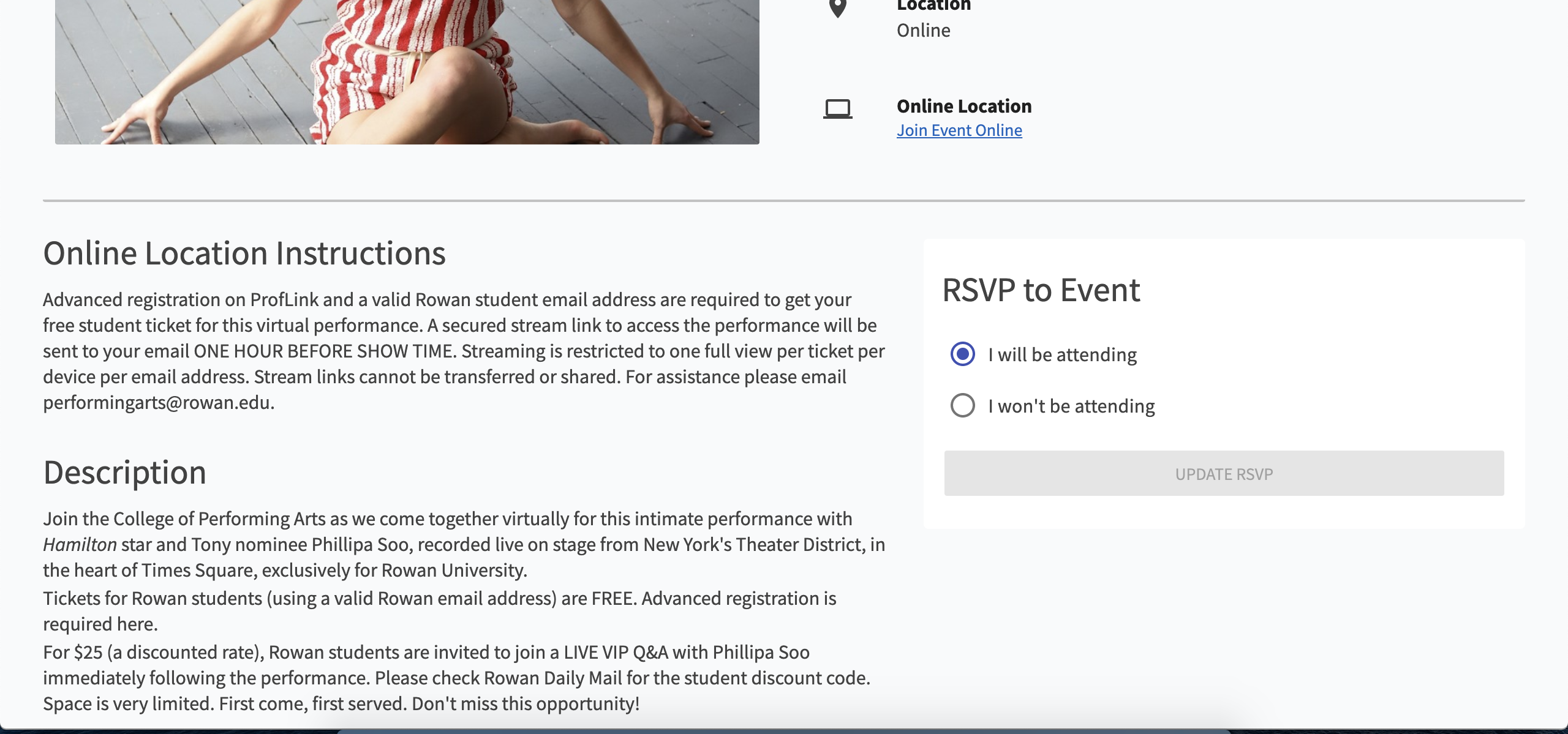 That's it! Proflink automatically sends us your first name, last name, and Rowan email address
You will receive the secure stream emailed to your Rowan student email account ONE HOUR BEFORE SHOWTIME, so be sure to check your inbox and your spam folder just in case!
How do I access the Post-Show Q&A with Rowan Student Discount?
Will I get to ask my question live during the Post-Show Q&A?
The Post-Show VIP Q&A will be a moderated Zoom meeting format.  Due to the limited nature of this 30-minute event, we will not be able to have all questions read aloud and answered, and a Rowan representative will read all questions in order to ensure a smooth, efficient experience for everyone. If your question is selected, however, your name and location will be announced, and you will have the chance to be recognized with your camera on, if you'd like!
I am new to streaming performances at home. Where do I start?
We recommend doing this well in advance of the event/date time so that we can help you trouble shoot with plenty of time to prepare, if needed.
Can I watch the concert on my TV, or do I have to watch on my computer?
The secure streaming platform works on mobile phones, computers, tablets and smart TVs (with a web browser). If you have any of those, you can watch!
We recommend using Chrome Casting, AirPlay or screen mirroring to play the stream from your phone, laptop or other device to your TV. You might see a slight decrease in quality with this option. You can also use an HDMI cable to connect your computer to the TV.
If your TV can access a web browser, you can open that browser and log into your email. From there, you can open the email we sent you and click on your link to stream. If you have trouble streaming on an older TV, you may have better luck switching to an alternate device.
View Our Casting Instructions Here.
Unfortunately, due to the sheer number and variations of smart TVs and smart TV software, we aren't able to troubleshoot individual hardware issues.
Artist Bio
Phillipa Soo is best known for originating the role of Eliza Schuyler Hamilton in Broadway's critically acclaimed Hamilton, garnering her numerous industry awards and a Tony Award nomination. She can currently be seen in the film version of Hamilton, on Disney+. Soo is currently voicing a lead role in Netflix's animated film Over the Moon.  She can also be seen in Sony's The Broken Hearts Gallery and in Disney+'s The One and Only Ivan. She made her feature film debut in Here and Now.
On the small screen, she will next be seen in Hulu's upcoming drama series DOPESICK, based on the New York Times bestselling book of the same name by Beth Macy, and in Spectrum Originals' upcoming series THE SECOND WAVE, opposite Audra McDonald, Taylor Schilling, and Steven Pasquale. She was previously a series regular on CBS's The Code and featured in NBC's Smash.
Soo co-starred on Broadway in The Parisian Woman, as well as playing the title role in the Broadway musical Amelie. She also originated the role of 'Natasha Rostova' in Natasha, Pierre & The Great Comet of 1812. She is a graduate of the Juilliard School Drama Division.
---
ABOUT THE NEW JERSEY ARTS AND CULTURE RECOVERY FUND
---
NJACRF was created by a coalition of New Jersey funders, aligned to ensure a coordinated approach to sector support with a commitment to best practices in grantmaking. NJACRF will provide financial support to catalyze an equitable statewide recovery and build cultural sector resilience. The Fund is hosted by the Princeton Area Community Foundation.
About the Marie Rader Presenting Series
The Marie Rader Presenting Series at Rowan University brings exceptional artists to campus, enriching the university community and the Southern New Jersey region through expanded performing arts programming, bolstering a robust academic program in dance, music, and theatre. The series is made possible in part through generous support from the Henry M. Rowan Family Foundation via the Marie F. Rader Memorial Fund and from the New Jersey State Council on the Arts, a partner agency of the National Endowment for the Arts.

---
PARTNERS
---