Alexander Covelli
Alexander Covelli
Student Spotlight: Alexander Covelli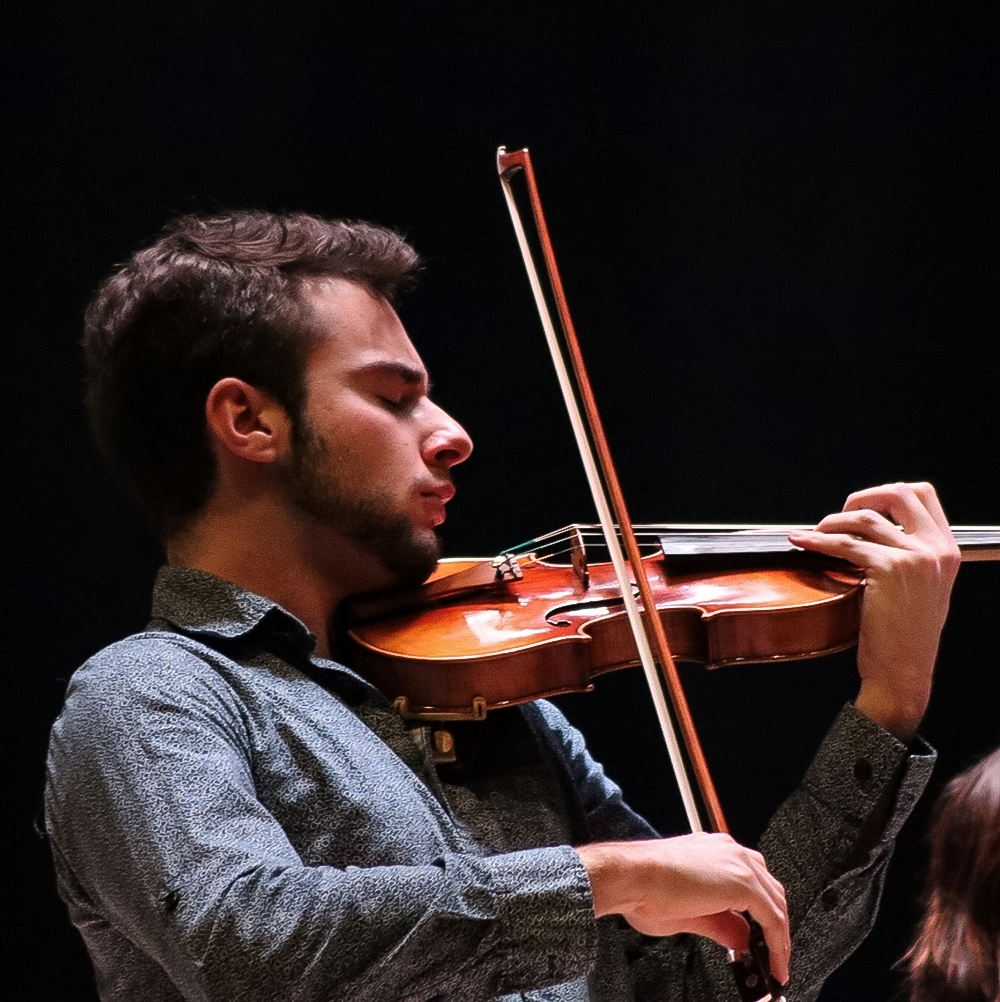 From virtual performances, learning remotely from internationally-acclaimed musicians, to accompanying original dance pieces on video, violinist Alexander Covelli has seen a distinct evolution in his approach to and understanding of music, in ways he might not have imagined when he started as a Business major in 2016.
While not from a musical family, his grandfather was good friends with a member of the Philadelphia Orchestra and Covelli started taking violin lessons at age four, and continued through high school.
He knew he might want to study music a little in college, but did not initially consider it as his major. Nonetheless he began lessons with Dr. Timothy Schwarz and joined the Rowan University Orchestra. Admitting he wasn't very disciplined at that point, Covelli recalls that time spent on music offered the necessary encouragement. "It showed me how I needed to think about things on a deeper level to achieve what I wanted," he says. "It definitely made my approach to studying violin more intense."
That new-found enthusiasm led him to new opportunities and a new major. Covelli has served as both concertmaster and principal 2nd violin of the Rowan University Orchestra in addition to being a member of the Rowan String Ensemble. He's had opportunities to learn from and engage with renowned artists such as Kimberly Fisher, Juliette Kang, Giora Schmidt, Todd Phillips, Hal Grossman, and Augusta McKay Lodge through master classes. He has taken his talent beyond campus too, performing in recitals across the region through collaborations aimed at bringing classical music to people in South Jersey. He has also performed at the Techne Music Festival, a short but intense festival for advanced students founded by Schwarz and based in Bethlehem, PA.
Covelli notes that it's been "a little hard to balance everything" as he completes his senior year, but the challenges of remote interactions provided unexpected learning experiences. In Small Gifts, a series of filmed solo dances presented by the Department of Theatre & Dance, he was one of two string players who accompanied the dancers. The music he got to play was an added reward. "There's something I really enjoy about baroque and classical music," he notes, citing the divergent levels of complexity in the genres as well as the evolution of form and structure he sees between them.
Underlying all of this has been a focus on practicing and figuring out graduate school. "I practiced a lot," Covelli says of the unplanned time available to him thanks to quarantine and cancellations. While his degree from Rowan will be in Music Performance, he is also interested in teaching. He points out that, as a musician, performing and teaching go together. This is part of the decision about grad school. Will he choose performance or musicology/music history or another option? It is also added motivation for his dedication to practice. He is preparing for auditions but waiting until Spring 2022 to take that step.
"I'm taking advantage of the time I have to get ready," he says.