Vocal Division
Vocal Division
Vocal Division
The music department and vocal division invite all students at Rowan University to participate in the arts through singing. Whether your goal is to become a professional performer, choral conductor, music educator, or simply wish to explore your passion for singing, the vocal division offers a variety of performance experiences designed to prepare you to achieve your goals. The distinguished vocal faculty, all active performing professionals, is committed to providing training in strong technique, literature and performance practice. The vision that you have for the presence of music in your life can be realized under the guidance of a caring and experienced faculty. Graduates of Rowan University's vocal program have taken their place in the professional community as performers, educators and scholars.
Our professional degrees* are designed to prepare students for a career in music. They offer high level performance experiences and private vocal instruction, supplemented by courses in language diction, vocal literature, music history, theory, choral arranging, choral conducting, choral literature, vocal and choral methods and pedagogy.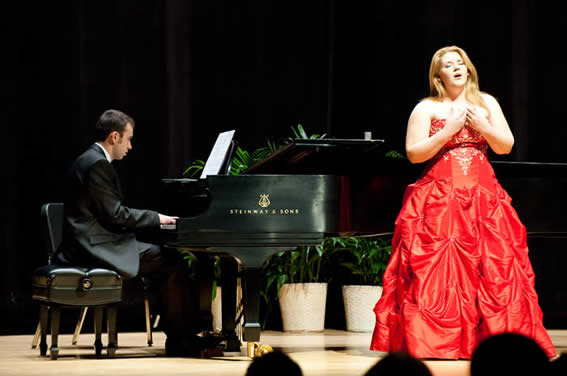 ---
Degree Offerings



Undergraduate
BM Bachelor of Music in
Music Education/Vocal
BM Bachelor of Music in Vocal Performance
BA Bachelor of Arts in Music (Vocal)
Minor in Music (Vocal)
Graduate
MM Master of Music in Vocal Performance*
Faculty and Staff
Marian Stieber - Vocal Division Chairperson
Dr. Christopher Thomas - Director of Choral Activities
Lauren Athey-Janka - Soprano
Barbara Dever - Visiting Artist / Mezzo Soprano
Jon Garrison - Tenor
Bette Holladay - Staff Piano
Karen Huffstodt - Soprano
Colin Levin - Baritone
Art McKenzie - Men's Choir
Lourin Plant - Baritone
Sean Burns - Vocal Coach
Voice Faculty for the Department of Theater and Dance Students
Desiree Maira - Musical Theatre
Jonathan Price - Musical Theatre
Shane Tapley - Musical Theatre
---
Master of Music - Vocal Performance
The Master of Music in Vocal Performance offers advanced study designed to further the professional goals of the candidate. This degree provides study in private voice, art song study, opera role study and other core courses designed to prepare the singer for a professional career as a performer.
For information regarding Vocal Performance, contact Prof. Stieber