Woodwinds
Woodwinds
Woodwinds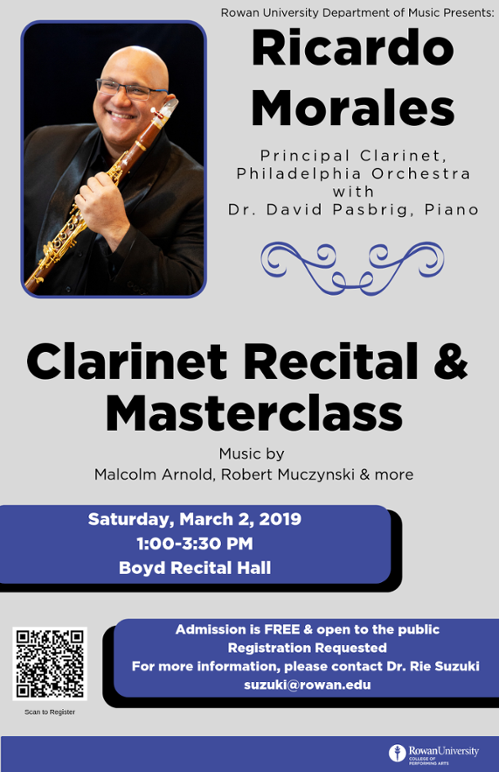 Special Message from clarinet professor Dr. Rie Suzuki:
Rowan University College of Performing Arts Department of Music is hosting a Clarinet Recital and Masterclass featuring Ricardo Morales, principal clarinet of the Philadelphia Orchestra, on Saturday, March 2, 2019, and you are cordially invited to this event!
Mr. Morales' recital program includes Malcolm Arnold's Sonatina and Robert Muczynski's Time Pieces, assisted by pianist Dr. David Pasbrig.
Please register to attend this FREE event at Rowan University by using the link below:
*please note that masterclass spots have been filled*
I look forward to seeing you on Saturday, March 2, 2019!
Sincerely,
Dr. Rie Suzuki
Rié Suzuki, D.M.A.
Rowan University clarinet professor
_______________
The woodwind faculty and students of Rowan University welcome you! We welcome you to explore our web page, to come hear a concert, or attend one of our master classes. Our talented, enthusiastic faculty is dedicated to your growth and progress as an instrumentalist, a musician, and a contributing member of a thriving arts community.
Through rigorous, carefully guided private study, playing in chamber music and large ensembles, master classes, and public performance as well as concert attendance, Rowan woodwind students engage in all facets of musical participation and learning.
You may have already heard members of our woodwind faculty performing if you've ever been to the symphony or the opera or ballet in Philadelphia, or perhaps a show in Atlantic City or on Broadway. We are all active performers who believe that our continued engagement in live music helps keep us learning and moving forward, all of which we can share with our students. Explore our resumes and see who we are. Come hear us play.
If you've read it all and still want to know more, email
Dr. Tomasone
.
---
Degree Offerings
Undergraduate
BM Bachelor of Music in Music Education/Instrumental
BM Bachelor of Music in Instrumental Performance
BA Bachelor of Arts in Music (Instrumental)
Minor in Music (Instrumental)
Graduate
MM Master of Music in Instrumental Performance
MM Master of Music in Instrumental Conducting (Winds or Orchestral)
Faculty
Dr. Adeline Tomasone - Flute & Woodwind Coordinator
Dr. Mark Snyder - Oboe
Dr. Rie Suzuki - Clarinet
Dr. Tim Powell - Saxophone
Prof. Denis DiBlasio - Director of Jazz Studies and Composition
Dr. Joseph Higgins - Director of Bands
---