Alexander Timofeev
Alexander Timofeev
Alexander Timofeev

Piano - Artist in Residence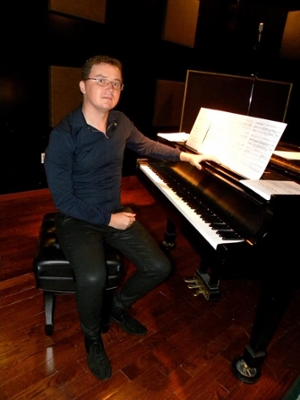 Contact Info
Biography
Philadelphia‐based composer and pianist Alexander Timofeev merges various Eastern European and American influences to create music of intense emotion, lyricism and dynamic movement.

Timofeev debuted at age 19 performing his Concerto for Piano and Orchestra (2003) with the National Philharmonic Orchestra of Moldova. Among his accolades is the Audience Choice Award and Commission at the American Composers Orchestra's 2017 Underwood New Music Readings; he is the finalist of 2018 International Competition of the Moscow Conservatory for Young Composers 'New Classics', winner of the 2016 Richard Weerts Composition Competition, and finalist of the 2016 Thailand International Composition Festival Competition.
Compositions by Timofeev received top prizes at the Sergey Slonimsky International Competition for Pianists and Composers (Russia), Carl Filtsch International Competition (Romania), Semeniako Competition for Pianists and Composers (Belarus), Valsske Mezirici International Competition (Czech Republic). His works for cimbalom were featured as obligatory contemporary compositions at the Eugen Coca International Competition (Moldova). Timofeev premiered his music at the Thailand International Composition Festival and Competition, Oxford Piano Festival (UK), Hariclea Darclee Festival and Voice Competition (Romania), Novye Imena (Russia), Northern Lights Festival (USA). Performances of his piano works have been broadcast on WQXR - New York's Classical Music Station and presented live on Pro TV (Romania) and Tele-Radio Moldova.
His recently premiered compositions include Fantasme for Orchestra (2016), Concerto for Two Pianos and Chamber Orchestra, Op. 11 (2014), and the second redaction (2015) of the Piano Concerto, Op. 1 both with the National Chamber Orchestra of Moldova; Five Pieces for Piano, Op. 12 (2014); Five Songs on Poems by Agnesa Rosca for Soprano and Piano, Op. 10 (2013-2015); Concerto for Cimbalom and Orchestra, Op.3 (2005/2013) premiered at the 2014 International Eugen Coca Competition; Burlesque for Woodwind Quintet (2013); Bach-Timofeev Ave Maria for Soprano, Piano and String Quartet (2013); New Age Album for Piano, Op. 8 (2013), Four Pieces for Piano, Op. 7 (2009-2011); Fantasy on a Theme by Mozart, Op. 6 (2010) for Four Pianos, premiered at the University of Maryland (USA); Ballade for Violin and Orchestra (2009) with the Northern Lights Festival Chamber Orchestra, the National Chamber Orchestra of Moldova, and the Symphonic Orchestra of Prednestrovie.
As a pianist, Timofeev won the First Prizes at Niš International Piano Competition, Serbia (2006) and at the Margaret Guthman Piano Competition, Atlanta (2006) and received the Third Prize at the 2007 MTNA Young Artist Piano Competition (Toronto). He appeared as a soloist with Pennsylvania Ballet Orchestra, Iasi Philharmonic Orchestra (Romania), Radio-Television Orchestra of St.Petersburg (Russia), Philharmonic and Chamber orchestras of Moldova, Eastman School of Music Orchestra (Rochester, New York) and others.
In 2006 Timofeev debuted as a conductor with the National Chamber Orchestra of Moldova. Further conducting engagements featured Britten's opera Noye's Fludde (2008) and Humperdinck's Hansel and Gretel (2009) at the Northern Lights Music Festival (Minnesota).
Alexander Timofeev's chamber music has been performed by Dali String Quartet (Philadelphia), Rondo-Classic String Quartet (Moldova), mezzo-soprano Barbara Dever (USA), soprano Tatiana Costiuc (Moldova), clarinetist Stanislav Chernyshev (Russia), soprano Marian Stieber (USA), violinist Jaroslaw Nadrzycki (Poland), percussionist Dmitry Habrusev (Belarus), soprano Natalia Tanasiiciuc (Moldova), pianist Alexei Ivanchenko (Ukraine), violinist Angela Molodojan (Moldova), marimbist Malavika Godbole (USA).  Among the prize-winning pianists who have performed Timofeev's composition are Yuri Blinov (Belarus), Matei Varga (Romania), Helen Cha (Hong Kong), Elena Ryepkina (Ukraine), Annie Yuen (Hong Kong), Alexei Ulitin (Ukraine); Moldovan pianists Aliona Vardanean, Lyvika Shtirbu-Socolov, Xenia Stolearciuc, Natalia Botnariuc, Alexandru Prigalo.
In 2008 Dr. Timofeev founded the International Society of Pianists and Composers – ispci.org – a non-profit organization that promotes contemporary music written for piano. Started as a creative circle of composers and performers - graduates of the Eastman School of Music, it now represents a growing network of musicians from all over the world. In 2012, two CDs were released under the ISPC label featuring Alexander Timofeev as the pianist in works by Tchaikovsky and Rachmaninoff. The Society also released two CDs devoted to recordings of Alexander Timofeev's compositions.
As a scholar, performer and publisher of Zlata Tkach's music - Dr. Timofeev gave the first performances of Tkach's Concerto for Piano and Orchestra (2002), the Piano Sonata No.2 (2004), Five Songs on Poems by Agnesa Rosca (2005) with soprano Tatiana Costiuc, and Sonata for Violin and Piano (2005) in collaboration with violinist Angela Molodojan. Alexander Timofeev performed Zlata Tkach's compositions at the Eastman School of Music, University of Maryland, Rowan University (New Jersey), Northern Lights Music Festival (Minnesota), in several concert venues of Moldova including Chisinau's Philharmonic Hall, Organ Hall, Moldovan National Museum of History, and the Academy of Arts. In 2008, Alexander Timofeev published a complete edition of children piano pieces by Zlata Tkach, following by an edition of her Two Piano Sonatas (2009) and Five Pieces for Piano (2013). In 2015, a new publication of Tkach's Piano Concerto edited by Alexander Timofeev has been released by the International Society of Pianists and Composers (Philadelphia).  
Alexander Timofeev completed his doctoral studies in piano performance at the University of Maryland, College Park (2012). He holds a Master of Music degree from the Eastman School of Music (2008) and B.M. double degree in piano/composition from Rowan University (2006). His composition teachers include Zlata Tkach, Lawrence K. Moss and Harold Oliver. Alexander Timofeev studied piano with Douglas Humpherys, Larissa Dedova, Veda Zuponcic, Victor Levinzon, Aliona Vardanean, and conducting with Mikhail Sechkin. 
Timofeev currently resides in Philadelphia; he is Artist-in-Residence at Rowan University in Glassboro, New Jersey.