Composition Camp
Composition Camp
 Composition Camp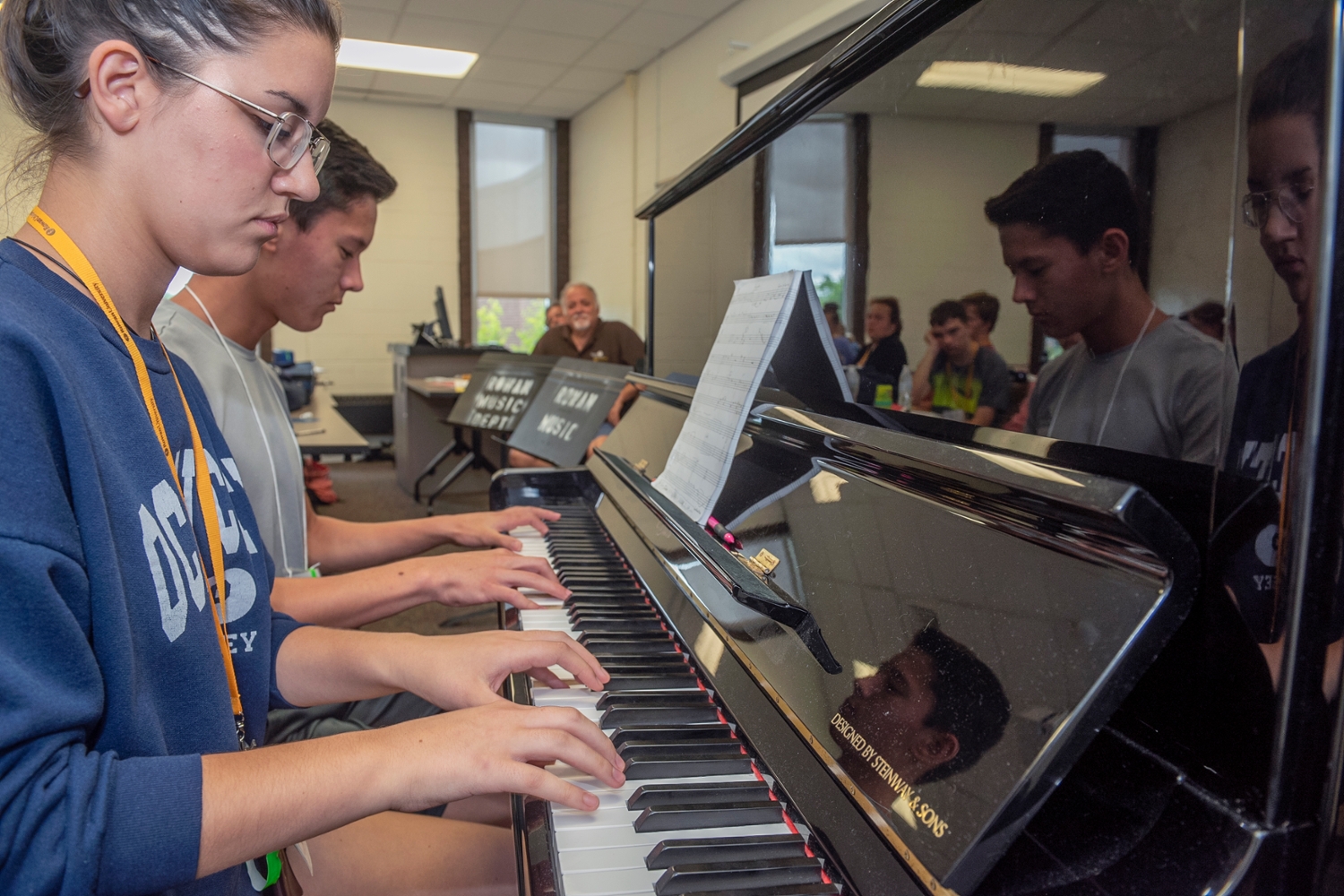 The Rowan Summer Music Composition Camp offers students in grades seven through twelve a fun opportunity to learn and experience music composition. The camp is designed to expand the composer's toolbox by introducing compositional techniques, investigating orchestration and learning the skill of analysis. The Composition Camp runs at the same time as The Rowan Summer Band Camp and The Rowan Vocal Camp, allowing the Composition Camp two great resources to observe and learn from. Students will bring their primary instrument and will be composing and performing for each other. The Camp concludes on Thursday with students performing their pieces in a '90 Second Speed Concert' which is always a lot of fun for students, parents and audience!
Additional social activities include an ice cream social, game nights and other team-building activities. Students will quickly feel a welcome member of the musical environment.
Camp activities take place in Wilson Hall Music Building: Pfleeger Concert Hall, Boyd Recital Hall, Rehearsal and practice rooms. Students will be housed in air-conditioned Rowan University housing and will eat in the newly renovated Student Center Dining Hall. Dormitory and campus supervision will be provided by Rowan University Staff and Rowan University Campus Security.
Open to: Students Grades 9-12 (Ages 14-18)
When: Monday - Thursday; July 17-21, 2022
Commuter Tuition: $625.00 (July 10, 2022 - registration and remaining balance payment deadline)
Resident Tuition: $725.00 (June 30, 2022 - registration and remaining balance payment deadline)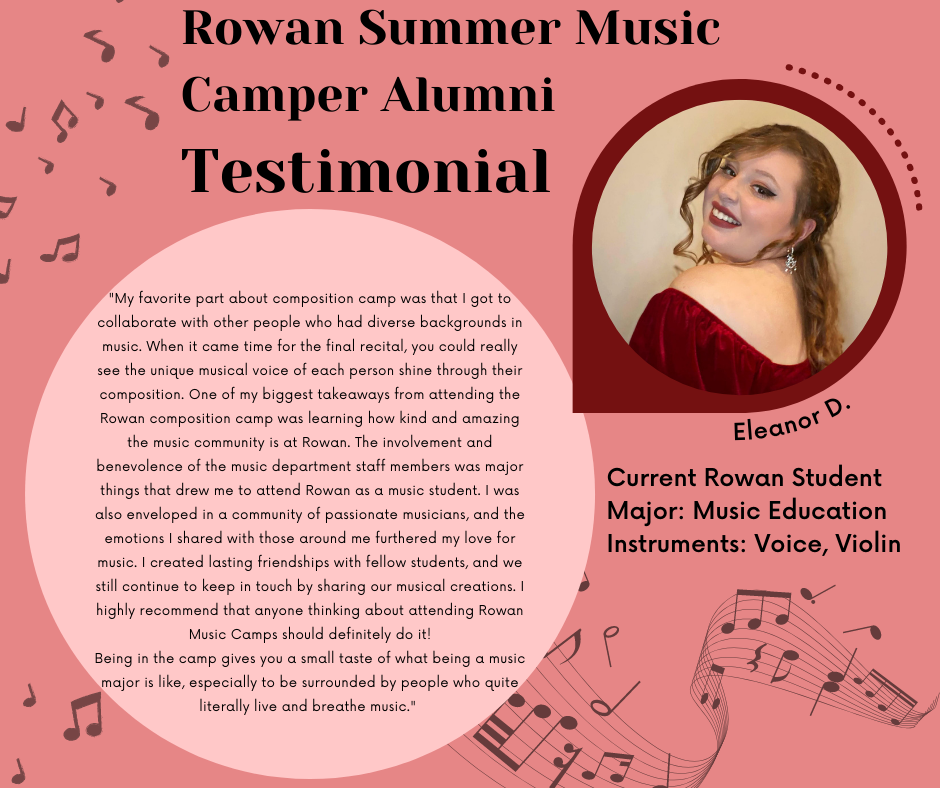 ---
Composition Camp Director:

Woodwind specialist Ed Vezinho has been living and working in the tristate area since 1981.He earned a masters in music performance degree from the Crane School of Music in Potsdam, New York. Playing credits include recording dvd's with Shirley Bassey and Johnny Mathis as well as television performances on the Today Show and the MTV Video Awards.
He has had compositions and arrangements performed internationally with bands such as the Perth ( Australia ) Jazz Orchestra, the XL Big Band ( Sweden ) and the Chicago Jazz Orchestra. Ed has also written many commissions for colleges, university's and junior and senior high schools through out the United States. On the faculty at Rowan University since 1999 where he teaches composition and arranging, Ed continues as co-leader of the Ed Vezinho / Jim Ward Big Band. They recently released their third cd "With Friends Like These" on the Dreamboxmedia label. Ed lives in Egg Harbor Township with his wife Paula, son Ryan and daughter Genna.
---
Sample Schedule:
Day Schedule is subject to change in order for The Composition Camp to observe the vocal and instrumental ensembles.
Sunday
8:30-9:30 Check In
10:00-12:45 Opening Activities/Introductions
1-1:45 Lunch
1:45-3:00 Lecture
3:30-5:00pm Score Analysis, History and Stories
5:15-6:15 Dinner
6:30-8:30 Concerts and Composition Time
Monday - Wednesday
7:30-8:30 Breakfast
9-10:30 Theory, Resources and Compositional Techniques
10:45-12:45 Viewing through Orchestration
1-1:45 Lunch
1:45-3:00 Lecture
3:30-5:00pm Score Analysis, History and Stories
5:15-6:15 Dinner
6:30-8:30 Concerts and Composition Time
Thursday
7:30-8:30 Breakfast
9-10:30 Theory, Resources and Compositional Techniques
10:45-12:45 Viewing through Orchestration
1-1:45 Lunch
1:45-4:00 Rehearse for Speed Concert portion of Main Concert and check out.
5:15-6:15 Dinner
7:00 Concert with Vocal, String, and Band Camp​