Musical Theatre Summer Camp
Musical Theatre Summer Camp
Musical Theatre Summer Camp: 
Auditioning for Theatre
***2021 Camp is fully virtual***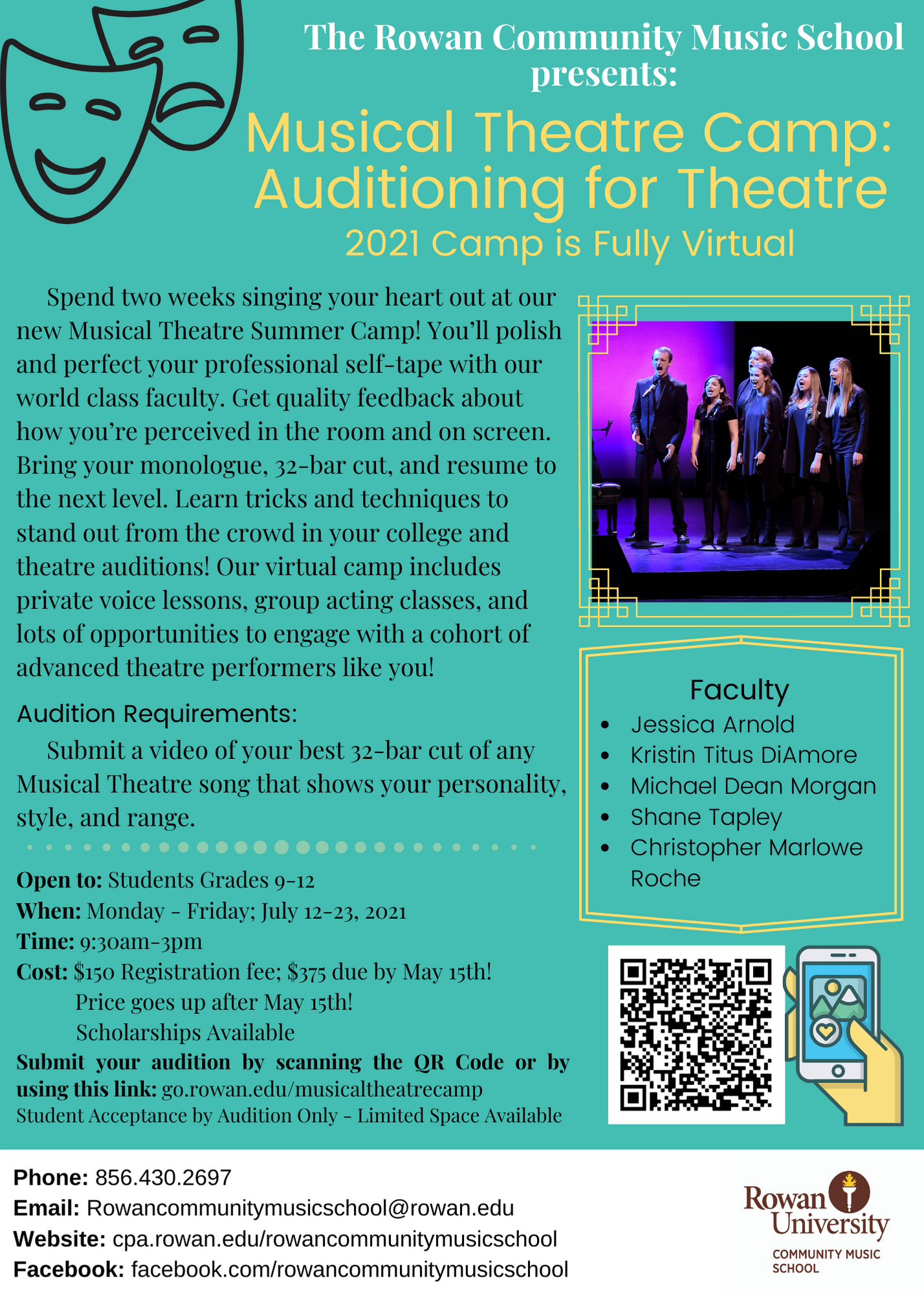 Description: 
Spend two weeks singing your heart out at our new Musical Theatre Summer Camp! You'll polish and perfect your professional self-tape with our world class faculty. Get quality feedback about how you're perceived in the room and on screen. Bring your monologue, 32-bar cut, and resume to the next level. Learn tricks and techniques to stand out from the crowd in your college and theatre auditions! Our virtual camp includes private voice lessons, group acting classes, and lots of opportunities to engage with a cohort of advanced theatre performers like you!
Audition Requirements:
Submit a video of your best 32-bar cut of any Musical Theatre song that shows your personality, style, and range. Submit your audition, click here! Student Acceptance by Audition Only - Limited Space Available.
------------------------------------
Open to: Students Grades 9-12
When: Monday - Friday; July 12-23, 2021
Time: 9:30am-3pm
Cost: $150 Registration fee; $375 due by May 15, 2021
Price goes up after May 15th!
Scholarships Available!
------------------------------------
Faculty & Biographies:
---
Daily Sample Schedule - *Each day will be slightly different due to the private lesson schedule.
9:30-10am Morning Meeting - mind/body/voice warmups to get ready for a day of learning and opportunities to build together as a community of learners.
10am-12pm Acting Workshop with Chris Roche and Jess Arnold - acting technique through exercises, monologue work, and acting through song. Shared opportunities to learn through performance as well as learning as an observer. 
12-1pm Lunch Break - on your own, or join a breakout room to build friendships and community.
1-1:30pm Private Voice Lesson with Kristin Titus DiAmore or Shane Tapley - 1:1 time to work vocal technique to polish and perfect your 32 bar cut
1:30-2pm Group Voice Class with Kristin or Shane - Group classes to learn healthy vocal techniques to make your voice a cross trainer and be able to sing with excellent vocal health in various genres - from golden age to pop/rock. 
2-3pm Self-tape Technique Class with Michael Dean Morgan - How-to's for using equipment you already have to make high quality professional self-tape audition submissions. These tools will also up your game as you share your artistry on social media!
---
Questions? Contact: rowancommunitymusicschool@rowan.edu or 856-430-2697