One-Day Events
One-Day Events
One-Day Events
---
Our 1st OPEN HOUSE (All FREE): October 3-4, 2020.


The Rowan University Community Music School will host an Open House for students, teachers, parents and anyone who is interested! Registration is required. Q&A, Ensembles (Rowan Youth Orchestra, Rowan Youth String Orchestra, Atlantic Youth Brass Band) and a special Professional Development session for teachers by Dr. Fabio Oliveira on October 4th.

There will be a Brazilian Samba concert on Saturday October 3rd at 2pm!!

Join us for a FREE, exciting Open House Event!!

Register here: https://forms.gle/f1wsN7UKtgo4AhZR6
Questions: Rowancommunitymusicschool@rowan.edu
---
 Live Sound 101
Saturdays, March 7th, 24th and 21st. 
9:30am-12:00pm; Recording Studios
$200.00
Faculty: Barbara Adams, Rowan University Music Industry Program Professor
Open to adults ages 18 and up and limited to 12 participants. 
Registration is required.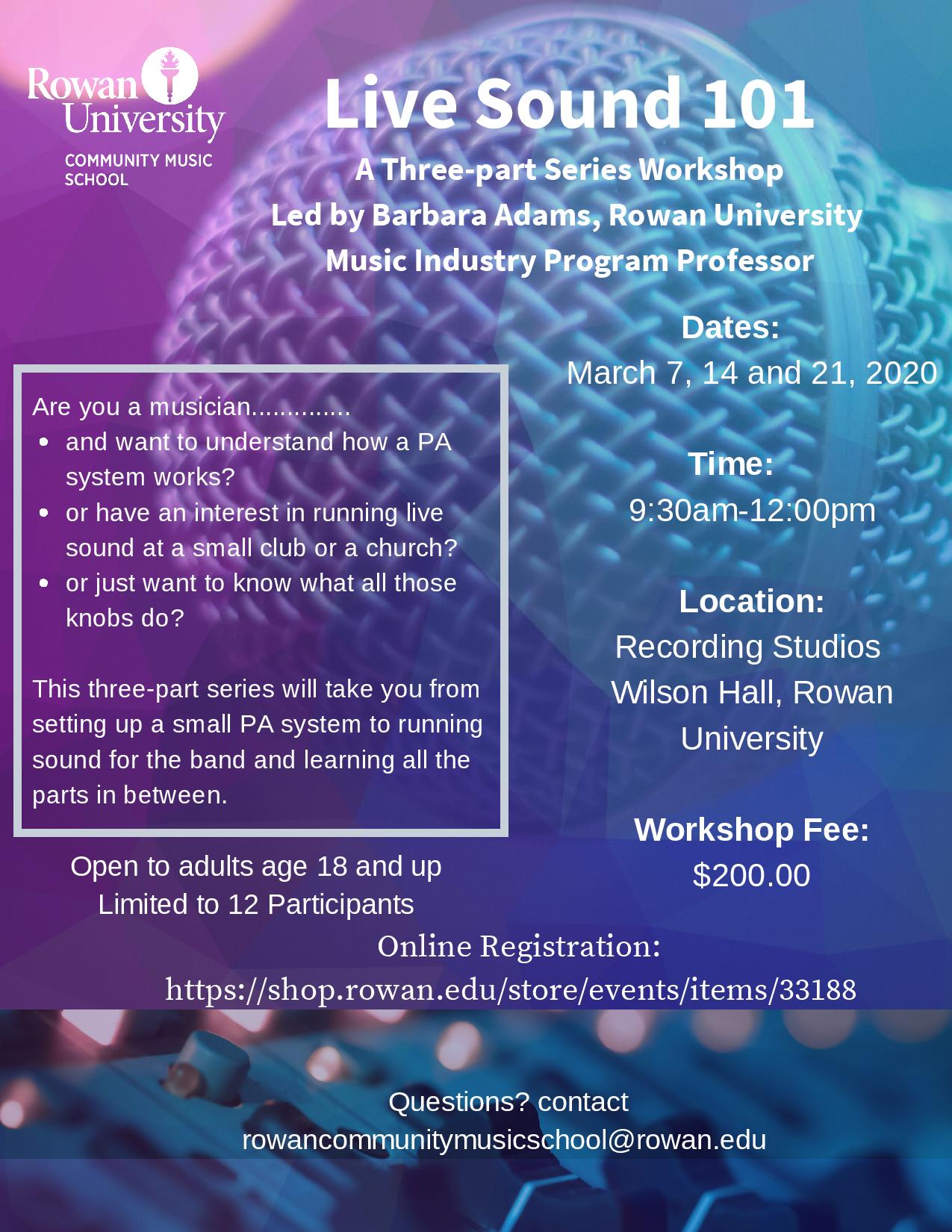 Barbara Adams
Barbara Adams is an audio engineer and educator with twenty-five years of experience in the music industry. She specializes in live sound and production management. Her strong and varied experience also includes recording engineer, stage management, and artist management.
Barbara is Lecturer Professor at Rowan University teaching Sound Reinforcement and Audio Recording in their Music Industry Program. She also is the booking manager for Rowan Music Group, the program's record label and artist management services. She is still active in the industry as production manager and FOH engineer at The Locks at Sona, Philadelphia's premier listening room as well as a freelance Engineer/System Tech for several production companies, festivals, and venues. 
As the Soundgirls Philadelphia chapter president, she is always looking for ways to help mentor and guide new engineers in the field of live sound and bring together the Philadelphia community of women in audio.
Education:
Master of Arts, Theater Arts Administration, Rowan University, College of Performing Arts 

Bachelor of Business Administration, Legal Studies & Entrepreneurship; Management, Temple University, Fox School of Business

Specialized Associates Degree, Recording Arts; Recording Arts, Audio, Full Sail University
---
 Empowering Your Creativity through Music Technology
Saturdays, March 14, 21, 28 & April 4, 11 2020
10:00am-12:00pm; Room 108
$225.00
Faculty: Ben Runyan, Adjunct Professor of Music Technology, Rowan University
Open to high school students through adult and limited to 15 participants. 
Registration is required.
 
Ben Runyan
Philadelphia's Ben Runyan is the face of City Rain. As a band City Rain has experienced acclaim for the cinematic music video for their first single, "The Optimist," which in 2013 landed on VEVO's Indie Playlist garnering over 250,000 hits. The track steamrolled through 2014 when the video won mtvU's The Freshmen contest in February, placing it in regular rotation on the network. More recently, City Rain teamed up with MTV again when the song was fittingly featured on MTV's popular reality TV show, Catfish. City Rain's music has also been featured on Esquire TV, Showtime, and G4TV. City Rain was also nominated for ASCAP's Sammy Cahn award for best lyrics for "The Optimist" in 2013. City Rain, with Ben at the helm, as performed/DJ'ed with artists like Washed Out, School of Seven Bells, Capital Cities, Class Actress, Robert Delong, Alvin Risk and more. 
In the composition world City Rain scores music for commercials and short film. Drawing on various influences, City Rain devises lush ambient textures complimented by melodic piano structures.
Most recently Ben is working on a new record with featuring vocalists (under the alias "J U S T P R O C E S S") while teaching music production at Drexel & Rowan Universities. 
Education:
Bachelors of Arts, Comm., 2009 Temple University
Certified in accessibility training for iOS and Mac to teach visually and audibly impaired customers to become independent with their technology
Website:
Awards:
Sammy Cahn Award (Nominated) - ASCAP (American Society Of Composers, Authors, Publishers) September 2013
---
Two Ukulele Workshops
Saturday, March 21, 2020
9:00am-10:30am (Strumming & Chords) & 11:00-12:30pm (Party Songs); Room 153
$10 Registration Fee for each workshop, open to all ages
Registration is required; Registration Deadline: March 19, 2020
Faculty: Caroline Kubach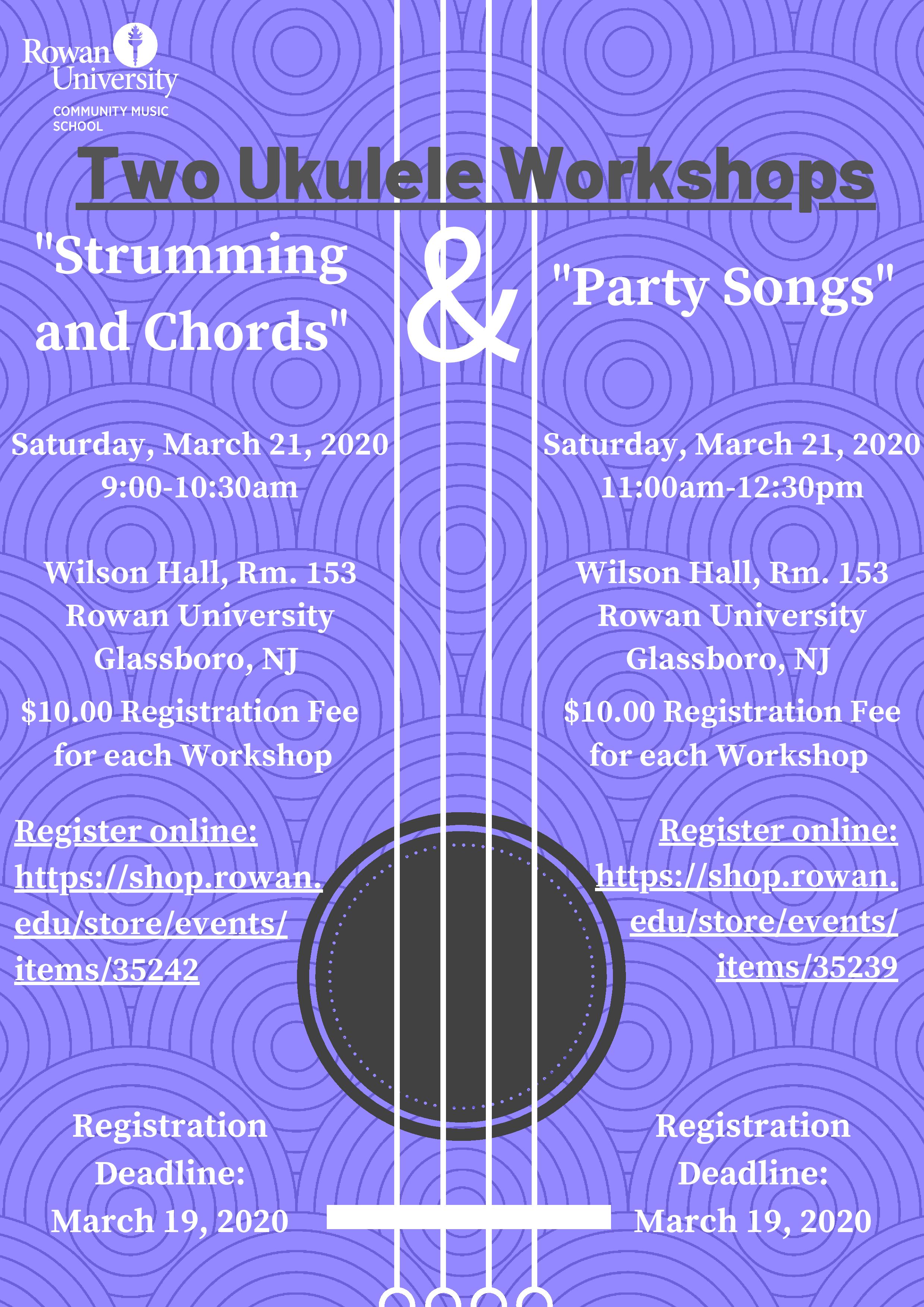 Caroline Kubach

Caroline Kubach began guitar studies at the New Jersey School of Music in Medford, New Jersey. She received her Associate Degree in Music at Burlington County College. In May 2015, she graduated from Rowan University, Cum Laude, with her Bachelor's Degree in Classical Guitar Performance studying with Joseph Mayes. Caroline graduated Summa Cum Laude with her Master's Degree in Classical Guitar Performance from Rowan University in May 2017. Caroline is also a member of the Pi Kappa Lambda honor society.
Caroline has been called on to perform at various venues in the NJ/Philadelphia area including: Burlington County College, Wilmington Classical Guitar Society, Rowan University. She has also performed in master classes for Christopher Ladd, Rupert Boyd, and Antigoni Goni. In April 2017 she one of the headlining performers at the Women of the Guitar Festival in Buffalo, New York. Along with performing a concert, she also gave a masterclass, judged a competition, and was part of a round-table discussion.
Caroline performs in an award winning classical guitar duo, Dulcet Guitar Duo. They have performed numerous times at Rowan University, at local events, for the Wilmington Classical Guitar Society, and for the Philadelphia Classical Guitar Society. They were also invited to perform at the 2016 NJMEA Classical Guitar Festival. Dulcet Guitar Duo has performed in master classes for SoloDuo, Christopher Ladd, and Celil Refik Kaya. They were also was recently awarded First Place in the Texas A&M University Guitar Ensemble Competition.
Caroline is the Artistic Director of The Philadelphia Classical Guitar Society, a member of the Wilmington Classical Guitar Society, and a member of The Guitar Foundation of America. Caroline has been teaching guitar, bass, and ukulele lessons for seven years. She is also an Adjunct Professor of Guitar at Rowan College at Burlington County. 
---
Atlantic Brass Band's Annual Youth Brass Day
Saturday, February 1, 2020  ---  9:00am-5:00pm
Concert at 5:00pm; Room 156
Workshop Fee: $20
Faculty: Bryan Appleby-Wineberg & The Atlantic Brass Band
Open to all school-aged brass players. Youth Brass Day includes rehearsals, sectionals and an exciting side-by-side concert with the Championship Atlantic Brass Band. Bring your own bag lunch, pizza will be provided for dinner before the 5:00pm concert.
This is the perfect way to try playing in a brass band before committing to our Atlantic Youth Brass Band in spring semester.
Register here!
Check out Professor Appleby-Wineberg's webpage for more details on this year and past years! 
---
Ukulele Day
Saturday, February 15, 2020
11:00am-1:00pm; Room 156
FREE, open to all ages
Faculty: Caroline Kubach
Registration is required.

---
 One-Day Events
Not sure you want to start with private lessons? We offer various classes and group options for beginners, intermediate, and advanced musicians.
There is no registration fee when taking a class or attending an event.
Rowan Community Music School reserves the right to cancel any classes and events that do not meet minimum enrollment requirements.
Questions? Not sure if what group is right for you? Contact Rowan Community Music School to discuss your options.