Maynard Ferguson Institute of Jazz Studies
Maynard Ferguson Institute of Jazz Studies
Welcome to the Maynard Ferguson Institute of Jazz Studies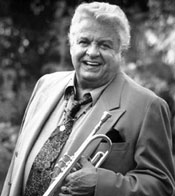 "Denis and I have always lived by the same philosophy in teaching, that great teachers are the ones who love to share their knowledge and techniques. Those priorities are what drive Rowan's Jazz Program. Denis runs the Jazz Department like I run my band. With knowledge, compassion, real life perspective and humor. Those priorities are why I am honored to give my name to the Institute."
- Maynard Ferguson
---
In the year 2000 Rowan University bestowed the only Honorary Docorate degree ever given to jazz legend Maynard Ferguson. It was a dream come true for me to be one of the people that helped make the event happen. To give something back to a man that gave so much to myself and others was not only a natural thing to do but a necessary one. Maynard had over 70 recordings in his career, books have been written about him, he's been on countless television shows, played for royalty and was all over the world many times. And I mean ALL over. What could I give him that he didn't already have? The answer was an honorary doctorate from a university.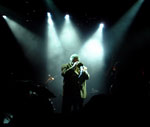 Maynard ("Boss" to those of us who played for him) was gracious with his talent, knowledge and friendship and dedicated to creating an atmosphere where you felt safe to risk and learn. He set up a safety net that allowed the people in his band to fail (As long as you worked at improving). The space he created allowed for the growth of countless musicians to grow in countless ways. This is one of the reasons why he is so loved by so many different people. Bass players, drummers, trombonists, saxophone players, arrangers, composers, and of course trumpet players, all loved this man for the opportunities he gave them.
If you met Maynard for five minutes you would know him as well as someone who has known him for a decade. He had no layers to get through. To meet him was to know him.
When Maynard received his doctorate there was also a decision to create The Maynard Ferguson Institute of Jazz Studies at Rowan University. The Institute helps support the Rowan Jazz Program in its quest for training young jazz musicians. As director of Jazz Studies at Rowan University, I try and maintain the same atmosphere at Rowan that Maynard created for me, a safe place to learn, risk and achieve. As great a performer as he was, he was also one of the best jazz educators on the planet. Don't just believe me, simply ask anyone who has ever played for him.
When we try and achieve great things we stand on the shoulders of those who have helped us. Sometimes those shoulders are pretty big and you feel a great gratitude for the opportunity to be standing there.
This Institute is a lasting tribute to man who encouraged and allowed.
- Denis DiBlasio