Join Our Brass Band!
Rowan Atlantic Youth Brass Band
This dynamic team will push your brass playing to new heights of musical excellence and change the way you play in your school ensemble.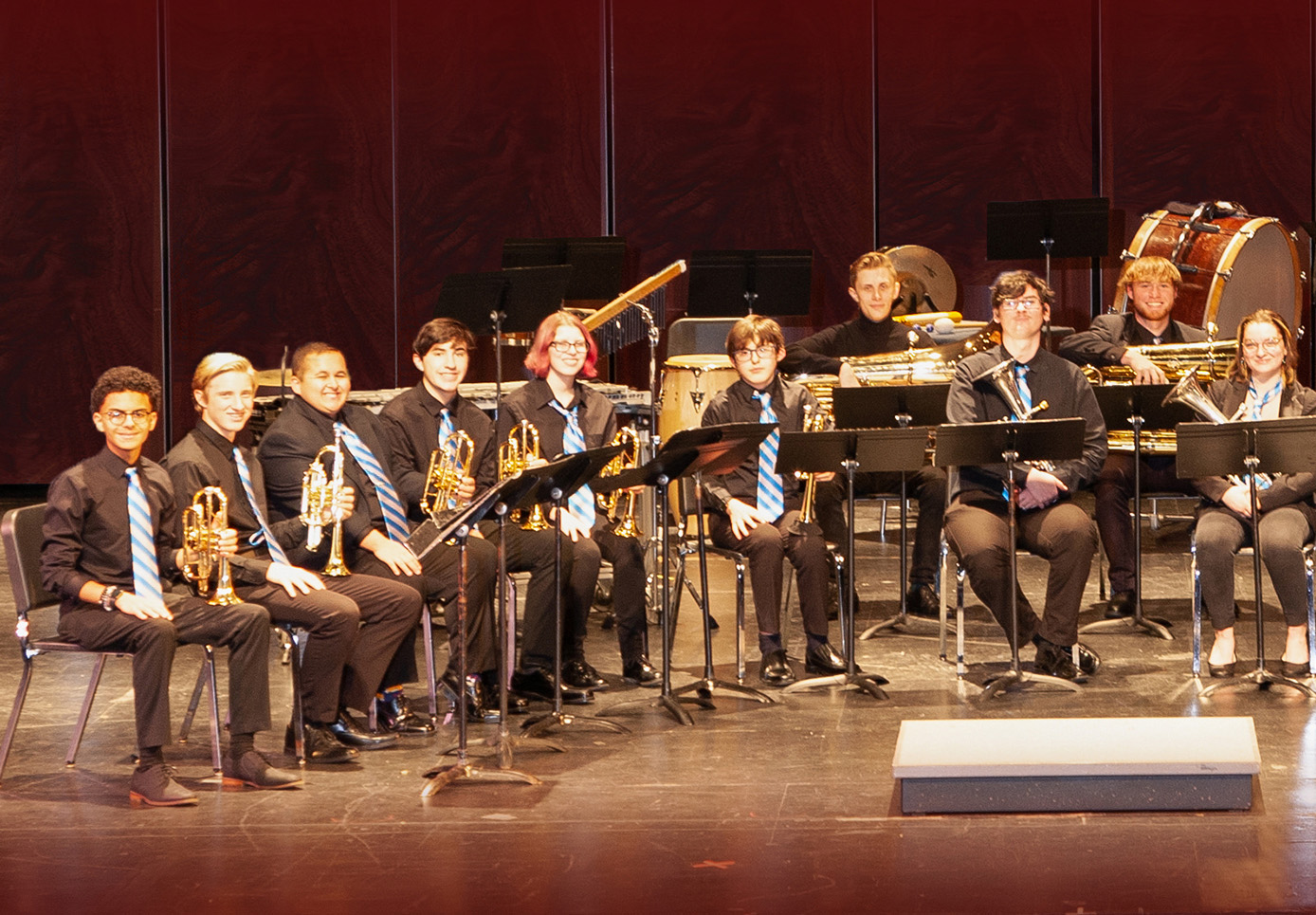 Come Join Us!
More About Us
Overview
Chamber and Solo Program
Details
Additional Information
Join Dr. Bryan Appleby-Wineberg and the National Champion Atlantic Brass Band in this brilliant and fun ensemble. Open to all brass players in grades 7-12 of the following instruments: trumpet, cornet, flugelhorn, tenor horn, French horn, baritone, trombone, euphonium, tuba, and percussion. (Up to four percussionists are accepted). Come and enjoy the amazing experience of playing in a true Brass Band! No audition necessary.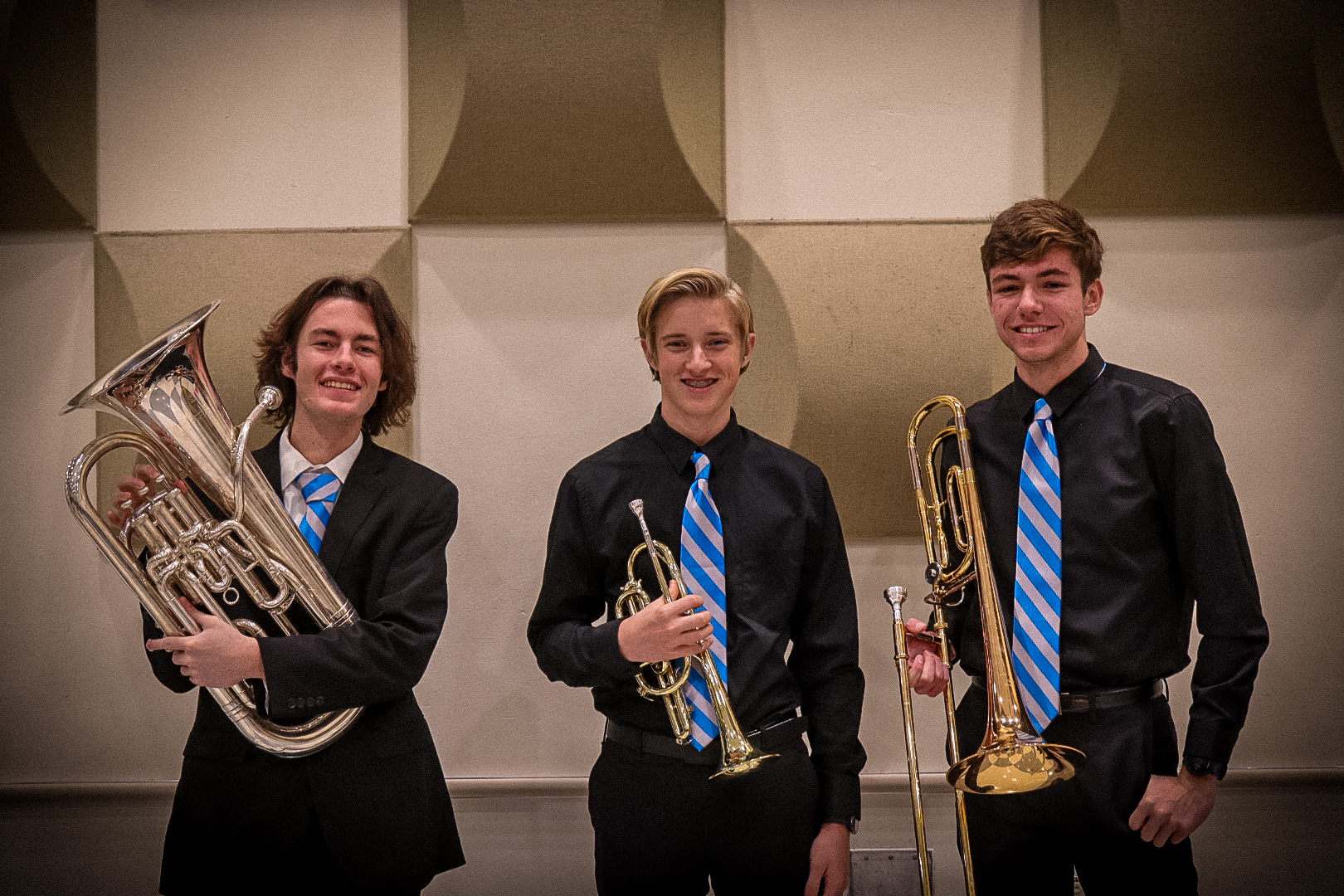 Register Here!
This series will prepare students for the performance demands of the spring ensemble. Students will be given collegiate level brass pedagogy, have opportunities to work with college students, and have the opportunity to perform as a chamber or solo player.
Chamber Music 
Available for all students.
Students will be placed chamber groups of 3-6 students.
Students will rehearse with their chamber group weekly and receive coaching from Rowan University Students.
Chamber groups will preform on the final recital, open to family and friends.
Solo and College Audition Preparation
Available only for senior students intending to apply to Rowan University for music major or minor. 
Students will have the opportunity for one to two individual coaching sessions with Rowan University Professors Bryan Appleby-Wineberg or Michael Fahrner.
Is done in addition to the Chamber Music paths.
May perform solo on the final recital.
Registered students will submit a placement audition video before the course to ensure proper chamber placement. Placement auditions can be on any music the student is working on, and a major scale of their choice. 
In addition students will be accepted to the Rowan University Wind Fest.
Session Dates and Times
Sep 11, 2022, 2:30pm - 5:30pm
Oct 9, 2022, 11:00am - 2:00pm
Nov. 20th, 2:30pm - 5:30pm
Dec 11, 2022, 3:00pm - 4:50pm, 5:00pm recital
Session Details:
3 hours total
Interactive warm-up and lecture 1 - 50 minutes 
   Break - 10 minutes
   Lecture 2 and full ensemble reading - 60 minutes
   Break - 15 minutes
   Coaching with Rowan University students - 45 minutes
FAQ
What ages is this series for?
Do you need to attend all sessions

No, but you must tell us which session you can attend when registering so we can appropriately fill chamber groups. Attending all sessions is preferred.

 Will it be cheaper if I attend just a few sessions?

No, the price is for the cost of all sessions.

 Does my student need to audition to get in?

No, however you do need to submit a placement audition for chamber ensembles. (see placement auditions). 

 What repertoire do I need for my placement audition?

Any excerpt, solo, etude, or band music the student is working on plus a major scale of your choice.

 Do I need to register for the full year of Atlantic Youth Brass Band?

Yes, you must register for the full year. If you cannot commit to the spring, please contact the Rowan Community Music School office staff.

Any other questions? Contact rowancommunitymusicschool@rowan.edu
Home
Faculty: Bryan Appleby-Wineberg & Michael Fahrner & The Atlantic Brass Band
When: Sundays, 3:30 p.m. - 5:30 p.m.
Where: Wilson Hall, Room 156
Rehearsal Dates: Four Sundays Fall 2022: Sep 11, 2022, 2:30pm - 5:30pm, Oct 9, 2022, 11:00am - 2pm, Nov. 20th, 2:30pm - 5:30pm, Dec 11, 2022 3:00pm - 4:50pm, 5:00pm recital, WindFEST: Saturday, November 19: Rehearsals/Masterclasses, 9:00AM-5:00PM
Tuesday, November 22: Evening Concert (with Rowan University Wind Ensemble); Spring rehearsals: 1/8/2023 - 4/29/2023
Performances: December 11, 2022 & April 29, 2023
Concert Tickets: Visit go.rowan.edu/boxoffice to purchase tickets for all ensemble concerts!
Cost: $465; A late fee of $20 will be assessed for ensemble tuition not paid by October 3, 2022.
WindFest: Students registered for Rowan AYBB this year will be automatically registered for WINDFest with Dr. Joe Higgins! This fun, immersive band festival on November 5, 2022 runs from the entire day, starting with rehearsals at 9 a.m. through a 7:30 p.m. concert in the evening and includes dinner and a t-shirt!

 
Academic Calendar
A payment plan option is also available for full year participation. All students are required to make tuition payments through the Marketplace online system. Credit Card, Check, or Money Order (NO CASH) officially.
A 10% discount is available for students taking private lessons through Rowan CMS. Please contact Rowan CMS for more details.
Rehearsals are scheduled to take place in person at Rowan University.
Please be advised that we reserve the right to change the format of offerings without notice based on the Federal, State and Local guidelines related to the COVID-19 global health pandemic.
Please be advised all campus visitors must continue to follow the most up-to-date Rowan University campus visitor policies, which can be found here.

 
Register Here!