Join Our Youth Orchestra!
Rowan Youth Orchestra
This ensemble is dedicated to performing unabridged orchestral works as well as upper level arrangements from a variety of musical genres. No audition required!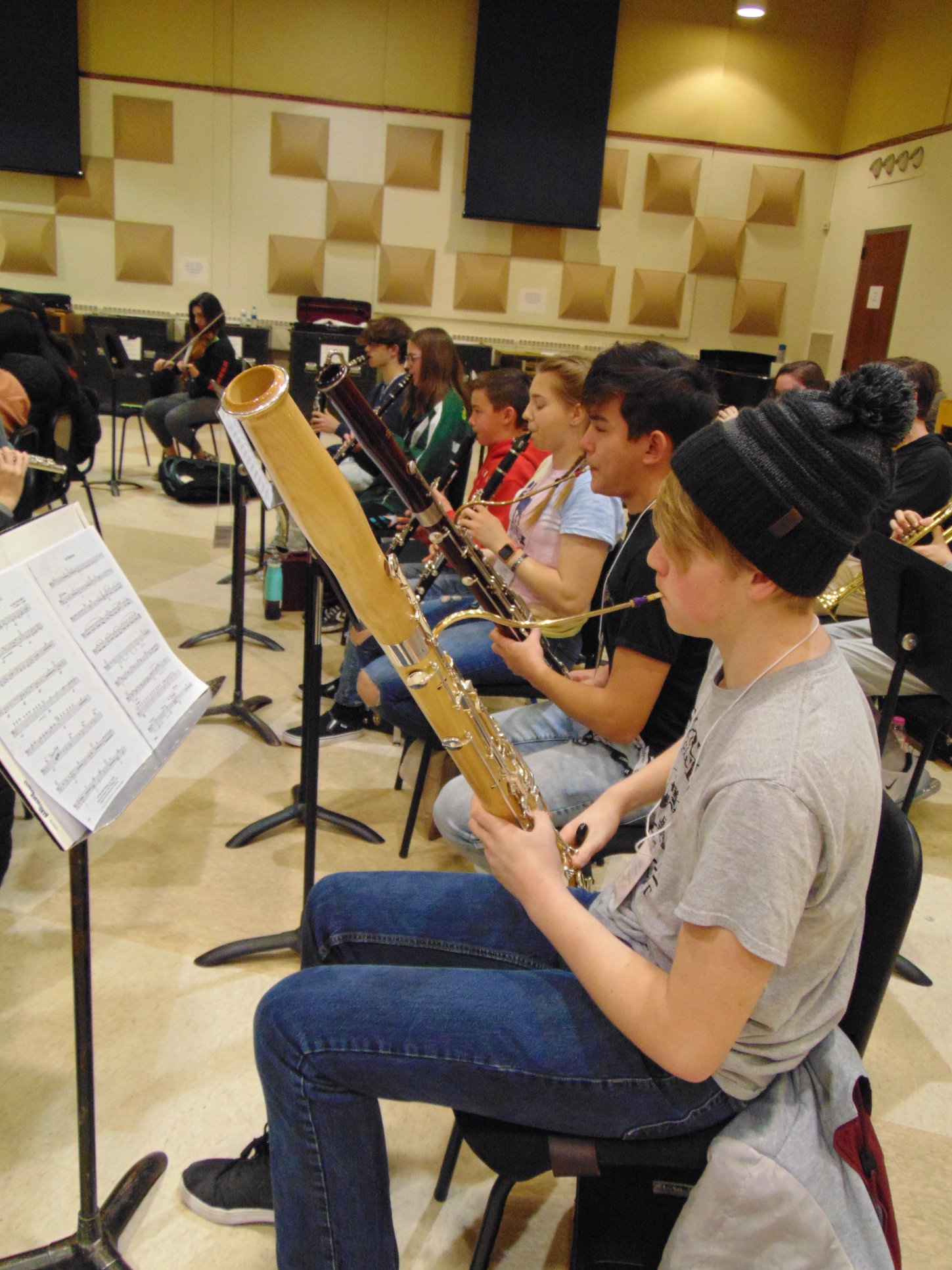 Play Video Pause Video
COME JOIN US!
AN INTRODUCTION TO THE ROWAN YOUTH ORCHESTRA
Interested in the Rowan Youth Orchestra? Watch this introductory video for RYO! Come join our community!
Play Video
Close Video
Come join Us!
More About Us
Overview
Details
Additional Information
Chair Seating Information
The Rowan Youth Orchestra, now in its 40th year, is under the Direction of Sue On  and is a full orchestra consisting of strings, woodwinds, brass, and percussion instruments. Members are typically in grades 8-12 from schools throughout southern New Jersey, Pennsylvania, and Delaware. While no formal audition is required, we would like to meet with you one-on-one prior to the first rehearsal to get to know you and to assign you a seat in the ensemble! These one-on-one chair seating interviews will take place on Saturday, September 9th starting at 2pm. Click the button below to reserve your time slot! See the Chair Seating Information tab for more information and what to prepare!
RYO is designed for musicians who are highly proficient on their instrument and are confident navigating key signatures with up to four sharps and four flats. We also look for musicians who have started exploring solo repertoire, such as concertos, showcasing their technical proficiency and maturity as musicians. Numerous unabridged pieces are included in our repertoire, giving musicians the chance to broaden their musical experiences. Previous experience in ensemble playing is also highly valued because it promotes teamwork and group cohesion.
Schedule Your Interview!
Faculty: Sue On, Rowan Youth Orchestra Artistic Director
When: Sundays, 6:00 p.m. - 8:00 p.m.
Where: Wilson Hall, Room 156
Rehearsal Dates: 9/10/2023 - 4/28/2024 
Performances: December 3, 2023 & April 28, 2024 
Cost: $510. Payment plans available. Inquire at rowancommunitymusicschool@rowan.edu. 
Registration: Opens July 1, 2023. An Earlybird Discount will be offered to anyone who registers in the month of July! 
Register Here!
A 10% discount is available for students taking private lessons through Rowan CMS. Please contact Rowan CMS for more details.
We will also be offering a Refer-a-Friend discount this year! For every friend you bring to rehearsal who registers for the full-year, we will offer a $25 tuition discount! 
Register Here!
While no formal audition is required, we would like to meet with you in person, individually, to hear you play before the first rehearsal! This is low-stakes and nothing to worry about. Here's what to prepare:
Prepare a brief excerpt of music that demonstrates your best musicianship. 
Not sure what to prepare? Check out these suggestions from our conductor, Ms. Sue On-Anderson: CLICK HERE
The one-on-one meetings will take place here at Rowan's Glassboro campus, Wilson Hall Room 107 on Saturday, September 9, 2023 (the day before the first official rehearsal of the group). 
How to Sign-Up for Your Time Slot:
Click the button below to register. If you don't see any available time slots, please let us know so we can add more.
The more the merrier! Bring a friend!! We're offering $25 for each friend you refer to the group that registers for the year!!
Schedule Your Interview!