Welcome to Rowan Community Music School!
Welcome to Rowan Community Music School!

---
 
Dear Community Music School, RYO, RYSO and AYBB Students, Parents & Guardians:
You may have heard by now that Rowan University has
 extended spring break for the University students through Friday, March 27, to allow faculty time to convert course content to be delivered virtually in the event the campus would close as a result of a COVID-19 outbreak.
As an additional precaution, the University has decided to cancel all activities and events that bring outside guests to the campus starting Monday, March 16 until April 30. 
This includes all Rowan Community Music School lessons, workshops and ensembles
.
We know how much you value the music lessons and ensembles, and we are making every effort to maintain the continuity of instruction as best we can under these unique circumstances. Here is an update of the impact and status of each activity:
Music Lessons
-
All Community Music School teachers have been alerted to the cancellation of in-person lessons starting March 17 and will be provided guidance and information to continue instruction virtually utilizing online resources, i.e. Facetime, Google Meet, Skype, etc. Some of our teachers are already familiar with these virtual instructional platforms and should be able to transition smoothly. We understand that there will be a learning curve for many, but we are dedicated to providing the assistance necessary to have this be a successful and temporary alternative to in-person lessons. In-person lessons will continue once the campus ban for guests has been lifted.
o
The Community Music School office and/or the teachers will provide instructions for students and parents to help facilitate the virtual lessons.
o
In the few circumstances where remote instruction is not an effective solution or not possible, we may be able to extend lessons later into the spring and/or summer.
o
The Community Music School recital is scheduled for Saturday, May 16. Details regarding the status of the recital will be provided at a later date.
RYSO (Rowan Youth String Orchestra) & RYO (Rowan Youth Orchestra)
-      Both ensembles will
-
Tuition refunds for RYSO will be pro-rated for the season.
-      We would like to reserve the opportunity to have the RYO members return in May after the campus ban on guests has been lifted to participate in conductor auditions. Details will be provided at a later date.
AYBB (Atlantic Youth Brass Band)
-
AYBB will have their regularly scheduled rehearsal this Sunday. All rehearsals from March 23 through April 26 are cancelled. Since the AYBB concert is scheduled later in May (May 18), the directors have decided 
not
 to cancel AYBB for the entire season, and resume rehearsals after the campus ban has been lifted. The concert will be presented as scheduled.
Feel free to contact us with any questions you may have. 
We thank all of our students for their participation in the Community Music School programs and wish all of our students and families the very best as we continue to deal with the many impacts of the coronavirus.
Community Music School Staff, Teachers and Ensemble Directors
---


---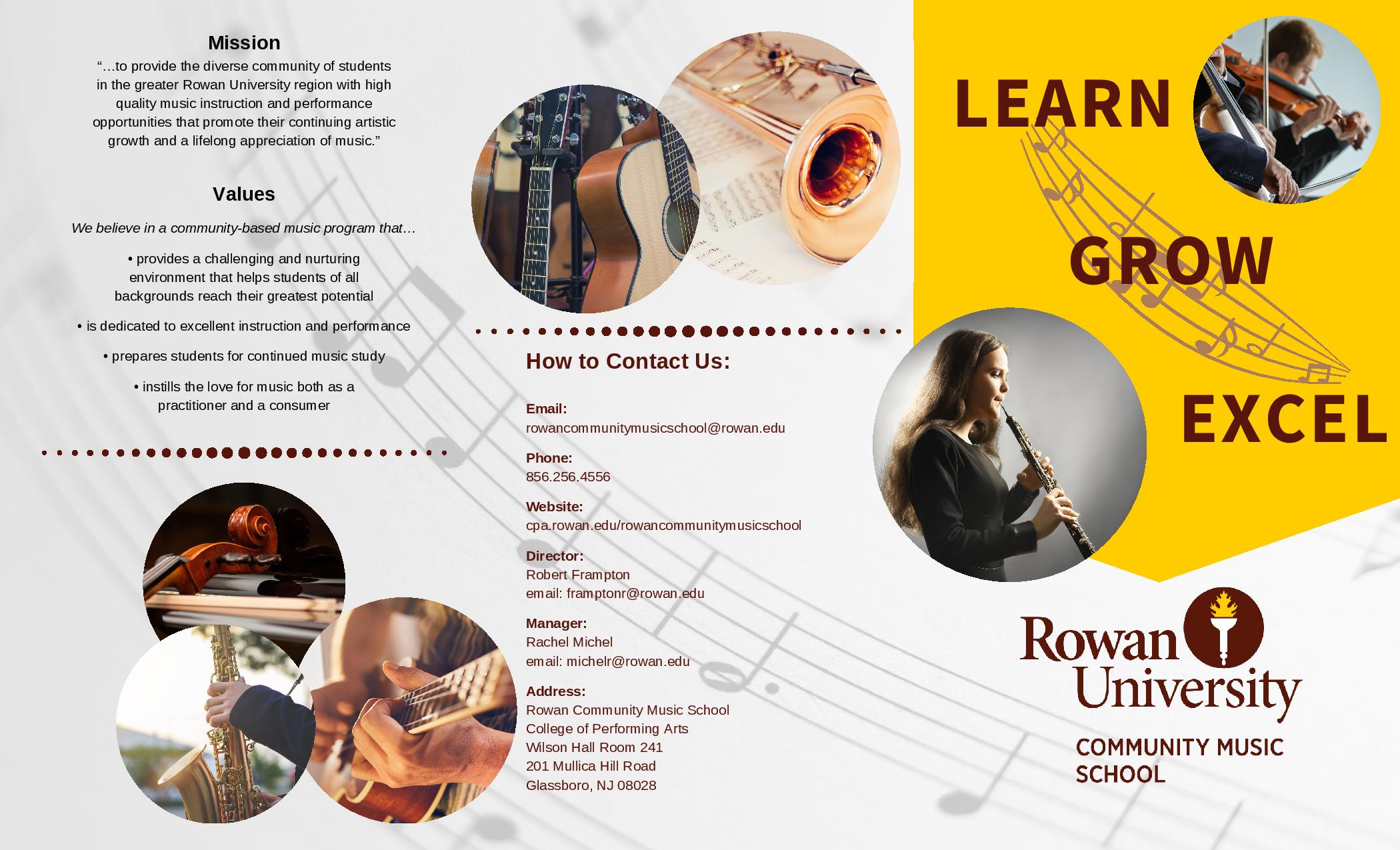 Our Brochure is downloadable & printable!
Trial Lessons?!
Want to find a new teacher? Like 1 or more of our teachers? New to taking lessons? If you have answered any of these questions with a 'yes' - consider taking a trial lesson this spring semester!! (30, 45 and 60 minute lesson lengths available). All trial lessons are paid trial lessons. Email Rowancommunitymusicschool@rowan.edu for more information!