Anamaria Achitei
Anamaria Achitei
Anamaria Achitei

Cello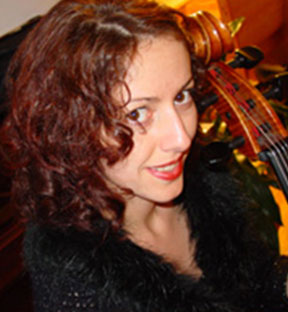 Contact Info
Biography
Anamaria Achitei, a native of Romania, started playing violin at the age of six and cello at age ten, the later became her profession. After daily musical training in Romanian schools she obtained her Bachelor's degree in cello performance. Her studies brought her to United States where she received her second BM, MM and partial AD in cello performance. She was always a student that received full tuition, room and board, assistantship or stipend at the schools she followed: Lynn University (Boca Raton, FL), Carnegie Mellon (Pittsburgh, PA), Rowan University (Glassboro, NJ), Rutgers University(New Brunswick, NJ). At the present time she is on a special visa status (O-1 visa) granted by the I.N.S. to people that have exceptional abilities in arts.
Her progress was followed closely by renowned musicians as Johanne Perron (Canadian cellist prodigy and Yale graduate), Anne Williams Martindale (Pittsburgh Symphony principal cellist), David Premo (Pittsburgh Symphony associate principal cellist), Jonathan Spitz (New Jersey Symphony principal cellist).
Her talent brought her two national prizes at the Romanian National Cello competitions, and she was featured several times as a soloist as a result of winning the university concerto competitions.
She has toured and performed throughout Europe since the age of thirteen: Hungary, Serbia, Austria, Italy, Germany, France, Holland, Belgium, Spain and Portugal. She plays regularly under the baton of Rosen Milanov and for many years has played with the South West Symphony orchestra conducted by Paul Nadler (guest conductor of the Metropolitan Opera).
Her orchestra experience includes performances with Baltimore Symphony, Symphony in C (NJ), Harrisburg Symphony (PA), Delaware Symphony (DE), Delaware Valley Symphony (PA), Lancaster Symphony, (PA), Riverside Sinfonia (NJ), West Moreland Symphony (PA), Symphony of America (FL), Key West Opera and Pops (FL), Key West Chamber Opera (FL), Miami Symphony (FL), Boca Pops (FL), Banatul Philharmonic and Arad Philharmonic (Romania).