Alumni & Friends
Alumni & Friends
Alumni & Friends
Stay Connected! 
From exciting performances and events to special programming just for our alumni, we want to keep you in the loop on all things Performing Arts! We hope you'll connect with us by: 
Check out some of our upcoming events!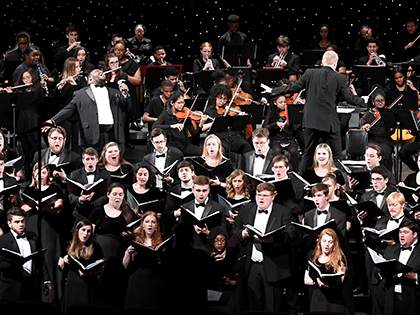 Centennial Concert 3/2
Featuring alumni and faculty emeriti and Rowan's Concert Choir, Symphony Orchestra and Wind Ensemble
We want to hear from you!
We're #RowanPROUD of our alumni and want to hear from you! Share your milestones, memories, promotions and performances with us. We'd love to share your stories with current students, faculty and future Performing Arts Profs.
Share what you've been up to!
Rowan University Alumni Association
Visit the Rowan University Alumni Association for more information about alumni benefits, services and how to stay connected! 
We would like to keep you informed of exciting performances, activities to get involved in and activities at Rowan University. Please update your information so we can keep in touch! 
Follow the Alumni Association on Facebook, Instagram and LinkedIn
Give to the College of Performing Arts
The College of Performing Arts welcomes and appreciates your financial support that will continue to provide the experiences inherent to a comprehensive performing arts education and brings remarkable guests artists to campus.