2023 Student Award Recipients
2023 Student Award Recipients
CPA Medallion Awards
The medallion award is the highest honor a graduating senior can receive to acknowledge superior performance in a particular field. The medallion distinguishes the student as exceptional, placing them in the ranks of Rowan University's finest graduates. 
The College of Performing Arts is proud to announce our 2023 award recipients:
| | |
| --- | --- |
| Ann B. Ward Creative Acheivement in Fine and Performing Arts Award | Asia Todd |
| Dr. Barbara Chamberlain Award for Outstanding Excellence in Performing Arts Education | Hope Friddell |
| Dr. Barbara Chamberlain Award for Outstanding Excellence in Music Production | Eric James Krassow |
| Dr. Barbara Chamberlain Award for Outstanding Excellence in Singing | Mattie Ballard-Millet  |
| Joseph Robinette Excellence in Theatre and Dance Award | Stephen A. Minder |
| Phillip Graneto Excellence in Theatre Award | Erica E. Gerold |
| W. Clarke Pfleeger Award for Musical Excellence | Lianna Johnson |
| Jacobs Music Steinway Award | Bryan O'Lone |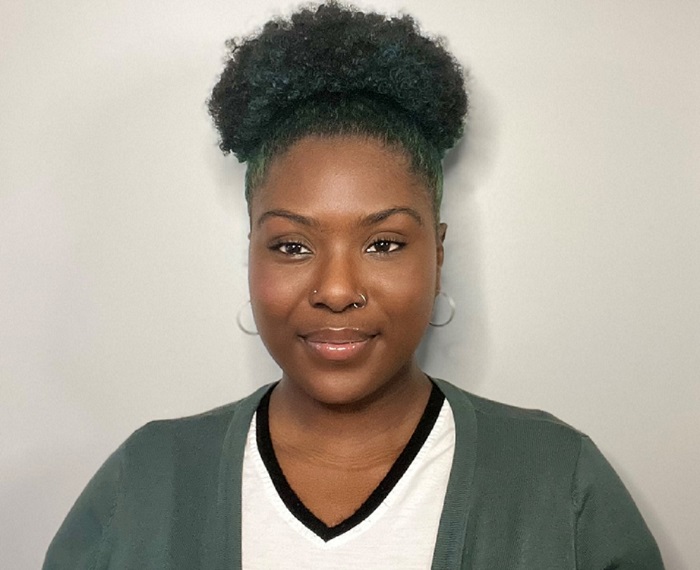 Asia Todd
Ann B. Ward Creative Achievement in Fine and Performing Arts Award
Asia Todd is a senior at Rowan university double majoring in Theatre and Radio, Television, and Film with concentrations in acting and directing. Her most recent credits include The Penny Executive (various characters), Melancholy Play (Frances), A Feminine Ending (Director), and Ways of White Folk (Assistant Director/Mama). Having been involved in theater since the 6th grade, Asia admires her continuous passion and growth within the art form and can't wait to see how it continues to evolve. She is so, so honored to be receiving the Ann B. Ward Creative Achievement in Fine and Performing Arts Award and would like to thank all those involved in the decision making process.
"If you would've told me 4 years ago that I'd be receiving an award for performing, I would've thought you were joking. Fast forward to today and I'm still pretty shocked! It feels so rewarding to see that all of my hard work and dedication has paid off in some way. I'm very grateful! P.S. Is it too early to start calling myself an award winning actress?"
 "Asia Todd exemplifies the best that Rowan University's Department of Theater an Dance strives to produce; a well-rounded, hardworking student who has used our resources to become an educated, inspiring young artist with a massive amount of potential. Her work in The Penny Executive was on par with a seasoned professional. The directing she did on A Feminine Ending was insightful and authentic. I am so pleased to see Asia given this honor, and look forward to her career with great interest." - Tom Fusco, Coordinator of Design and Technology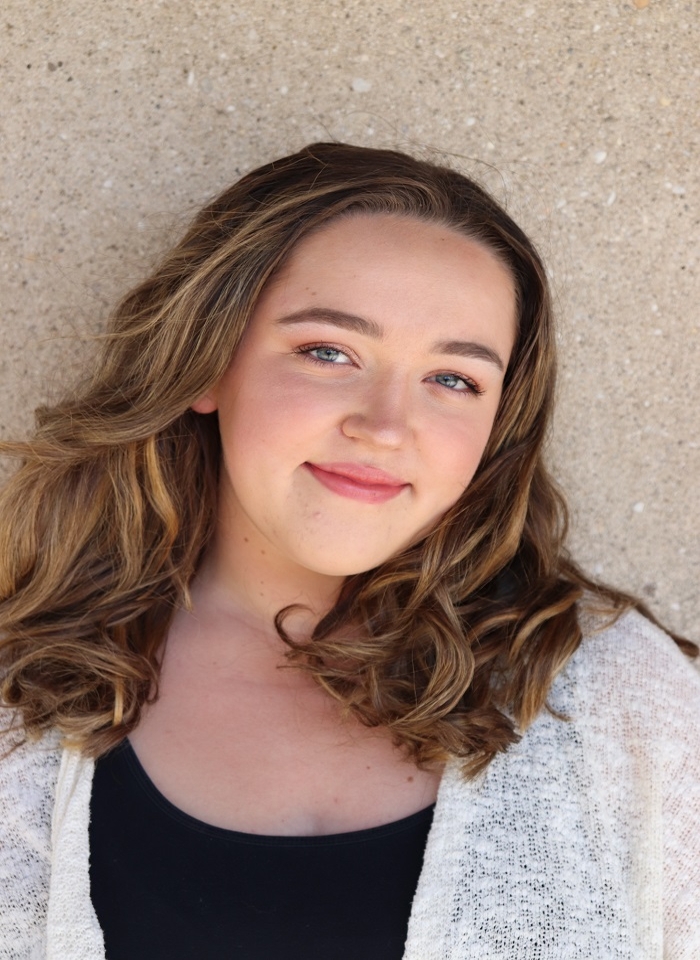 Hope Fiddell
Dr. Barbara Chamberlain Award for Outstanding Excellence in Performing Arts Education
Hope Friddell is currently in the last few months of her Bachelor's in Vocal Music Education at Rowan University. With a passion for teaching and a love for music-making, Hope is determined to offer her future students a well rounded, supportive, and fun experience in the music classroom. While studying at Rowan, Hope was an active member of the University's Concert Choir where she served as section leader for the 2022-2023 academic year, the Chamber Ensemble Voces, and for the Collegiate chapter of the American Choral Directors Association where she worked as Secretary. Alongside the 2023 Dr. Barbara Chamberlain Award for Outstanding Excellence in Performing Arts Education, Hope was the proud recipient of the 2022 Clarence W. Miller Choral Excellence Scholarship. She will forever be grateful for the knowledge, opportunities and most importantly, community that Rowan has given her while she's completed her studies.
"I've always felt boundless support from Rowan's professors and faculty, but to be recognized with such an honor is unfathomable. There truly aren't words that could properly justify the gratitude I have to this institution and its spirited community."
"Simply put, to become a music teacher it takes perseverance, kindness, diligence, and true musicianship. Hope has displayed these attributes at every point throughout her time and continues to be a model for the types of music educators Rowan wants to share with the world."- Dr. Adrian Barnes, Co-Coordinator of Music Education (Instrumental)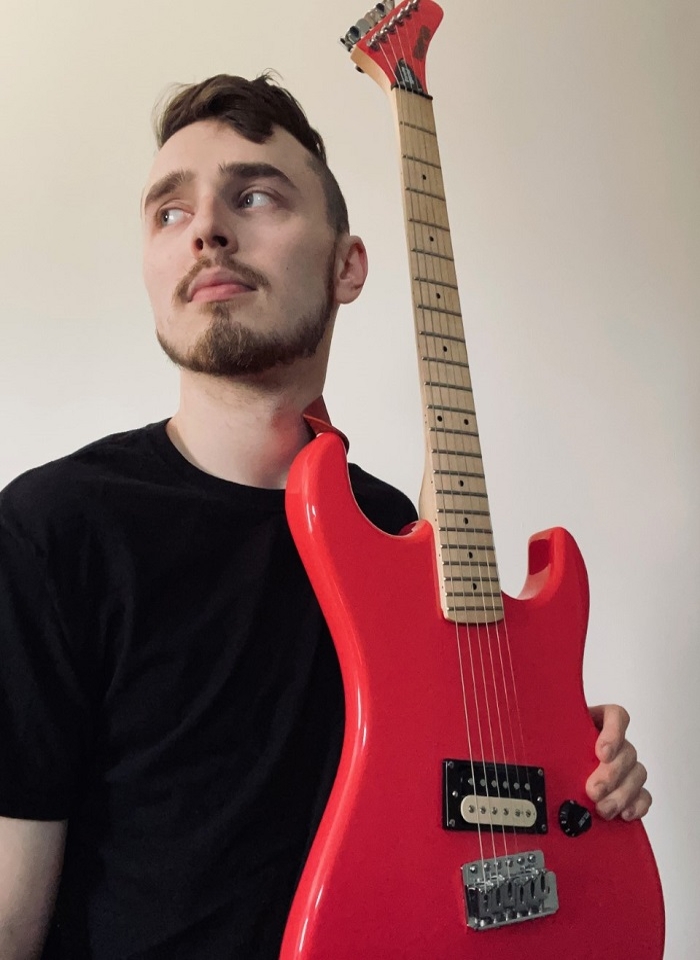 Eric James Krassow
Dr. Barbara Chamberlain Award for Outstanding Excellence in Music Production
Eric Krassow will be graduating with a B.A. in Music Industry with a specialization in Music Technology and Music Business along with an Entrepreneurship Minor. In Eric's thirteen years of pursuing music, he always has had an ear and a passion for creating music. Whether it be performing throughout high school at various events, writing full length albums, or mixing for concerts, Eric has a determination to perfect his craft and expand his love of music to others around him.

Throughout college Eric has been constantly seen in the recording studios. His discography consists of four albums that were written, produced, recorded, and engineered by him under the artist name of "Krassow". Eric's works on digital streaming platforms include the albums "Odyssey", "Diabolus In Musica", "The Long Halloween", and "Encore". In the future Eric looks forward to being able to write more music as well as help other artists pursue their dream albums and releases.

In 2021, Eric signed up for the Work Study program in the Music Industry Department. He has been involved in extensive studio maintenance, recordings, live streams, live events, and training. Eric appreciates working with his peers and meeting new people and artists that come through the Rowan Music Studio. Eric also demonstrates a high level of professionalism in the studio while maintaining a fun and high energy work environment.

Eric currently works at the Rowan Recording Studio, Live Nation, and interns at Cambridge Sound Studios. In 2022 Eric took every opportunity that he could get for more time working in the Music Industry. There is not a day that goes by where Eric cannot be seen playing around with an instrument or tinkering with a new piece of equipment. He is very proud of his career and would like to continue pursuing his work in album production.

Eric would like to thank all his teachers and professors for encouraging him and providing him with the resources and tools to make his dreams come true. Additionally Eric would also like to give his biggest thanks and gratitude to his family and friends. Without their undying love and support, Eric would not be the person he is today.
"It is a huge honor and privilege to be receiving this award. The Medallion Award is recognition that I will never forget and keep close to me in my future endeavors. I am grateful for this award and would like to thank all the Music Industry staff for this prestigious award."
"Eric has been highly involved in all aspects of the Music Industry program and consistently produced high quality recordings. His service to our department as a student-worker has been outstanding. You could see him engineering audio in the studios, running live sound at shows, helping students in the labs and studios with their projects and supporting faculty and events. Eric has elevated so many aspects of the Music Industry program." - Mathieu Gendreau, Music Industry Program Director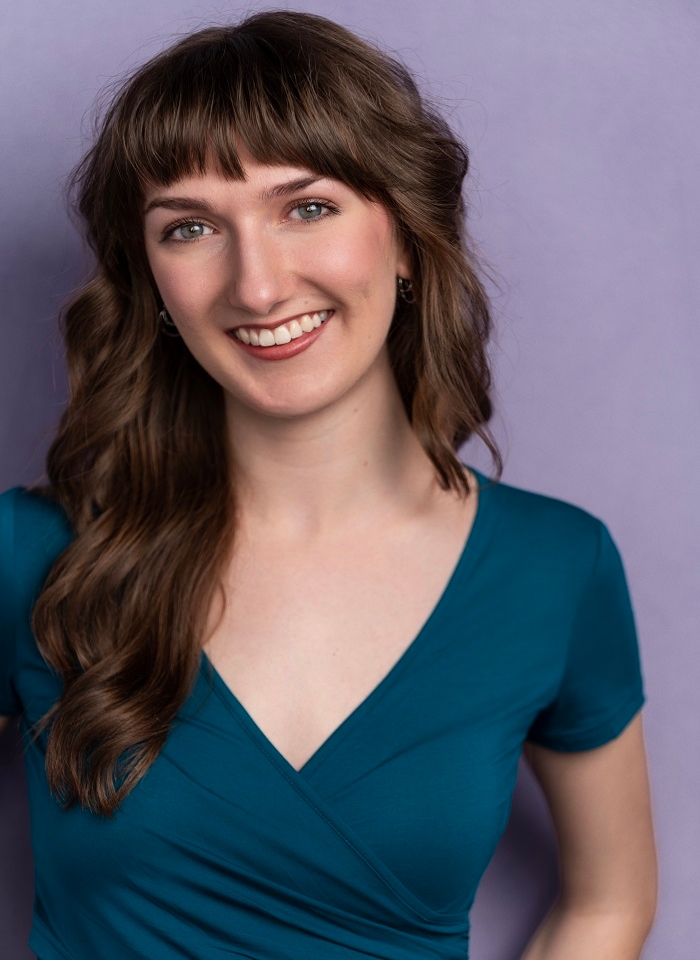 Mattie Ballard-Millet
Dr. Barbara Chamberlain Award for Outstanding Excellence in Singing
Mattie Millet (she/her) is graduating with a BA in Theatre, concentration in Musical Theatre, and minors in Creative Writing and Dance. Having grown up in Biloxi, Mississippi, she has loved singing for as long as she can remember. Throughout her time at Rowan, Mattie has performed in numerous RUTD Mainstage productions, including Heathers: The Musical (Ms. Fleming), Plum Bun (The Actress/Ensemble), and Equus (Dora Strang). She has been very involved in student life, being a member of both Campus Players and Alpha Psi Omega and working as an Admissions Ambassador. Mattie has been in two Rowan Lab Theatre productions, The Dumb Waiter (Gus) and How I Learned to Drive (Female Greek Chorus). This past January, she performed in her favorite musical, Into the Woods, at the Broadway Theatre of Pitman, where she portrayed Cinderella's Mother and served as the female swing. For her senior project, she is co-directing, with her good friend Hannah Kittrell, and performing in the In the Mood for Love Cabaret to fundraise for Broadway Cares/Equity Fights AIDS. Mattie would like to thank all of her professors and peers for helping her grow into the artist she is today. She would especially like to thank Chris Roche for his mentorship and guidance, Kristin Titus DiAmore for being the best voice teacher a girl could ask for, and her friends and family for their endless love and support. 
"I feel very lucky and grateful to receive this Medallion. Because of my time at Rowan, I've become a much more vulnerable singer and fallen in love with my voice all over again. This award serves as a reminder to be proud of how much I've grown and to keep working hard at developing new skills and techniques."
"Mattie has been a stellar student in her four years at Rowan. She approaches her vocal work as a science and has found a way to get the mix just perfectly." - Dr. Christopher Roche, Coordinator of Musical Theatre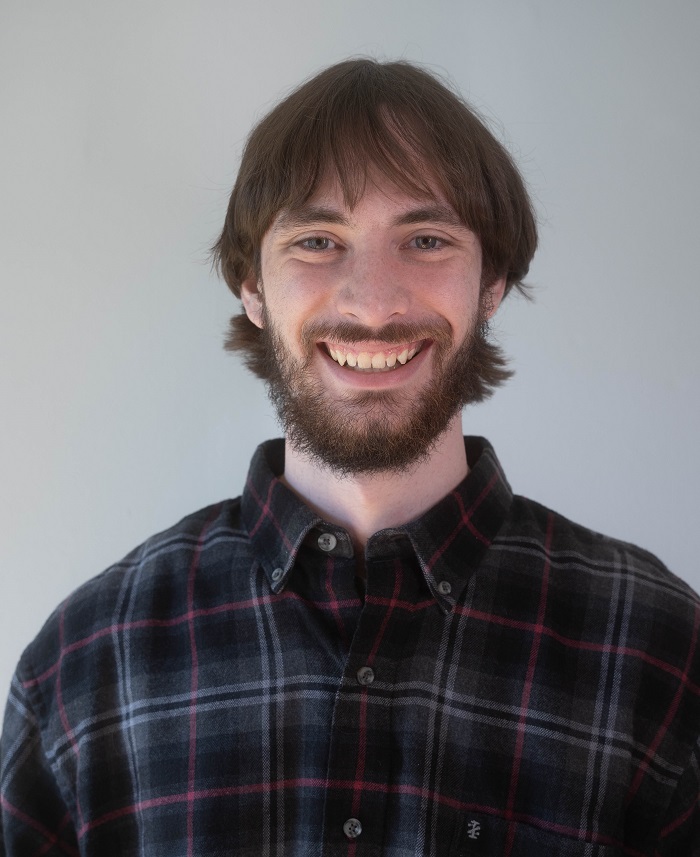 Stephen A. Minder
Joseph Robinette Excellence in Theatre and Dance Award
Stephen Minder will be graduating with a B.A. in Theatre Arts with a concentration in Theatrical Design and Technology and a minor in Marketing. Stephen has been involved in theatrical production since he was seven years old, helping build sets for his local community theater group. He went on to design lights for many productions at Shawnee High School before attending Rowan University. While at Rowan, Stephen has worked on every Mainstage production, a majority of Lab Theatre productions, and many senior project and student run productions. Stephen has also collaborated with Theatre Arts Management in Pfleeger Concert Hall, designing and programming lighting for Marie Rader Presenting Series events such as Axis Dance Company, Urban Bush Women, Rodrigo y Gabriella, as well as many others. Stephen has worked his way from electrician to Master Electrician, to Associate Designer, to Designer and Co-Designer for Rowan University over his time here. During his senior year, he designed lights for Exo-Skin-Esphere, the Rowan Dance Festival, and co-designed Head Over Heels with Robert Thorpe, his professor and mentor. In addition to lighting, Stephen has also put his experience with videography to use alongside his theatrical work, creating dance films such as Delicate Power, In Side, Wholeheartedly, Roots Ignite, and his senior project, The Monsters Within. Stephen is an active member of the national theater honor society, Alpha Psi Omega, and the United States Institute of Technical Theater (USITT). Stephen is honored and grateful to receive the Joseph Robinette Excellence in Theatre and Dance Award, and would like to thank Kathy O'Leary and Deanna Ford from TAM for all the opportunities they have given him, the whole of the Department of Theatre and Dance for creating art with him, and he especially would like to thank Robert Thorpe for his unwavering guidance and support during his time at Rowan University.
Stephen is honored to receive the Joseph Robinette Excellence in Theatre and Dance Award, and would like to thank everyone who has supported him along his journey and continues to support him on his path, and is eternally grateful for his professor, mentor, and friend, Robert Thorpe.
"Stephen Minder is one of the most accomplished Lighting Console Programmers and Lighting Designers I have ever had the honor to mentor. Stephen has worked on more shows at Rowan University than any other student in history. He has not only earned this award- he deserves this award.  Mere words cannot do justice to describe the overwhelming sense of pride I feel tonight seeing Stephen receive the Joseph Robbinette Award.I look forward to seeing what magic Stephen will create as he takes his next steps into the Professional World." - Robert Thorpe, Resident Lighting Designer/Facility Director, Tohill Theatre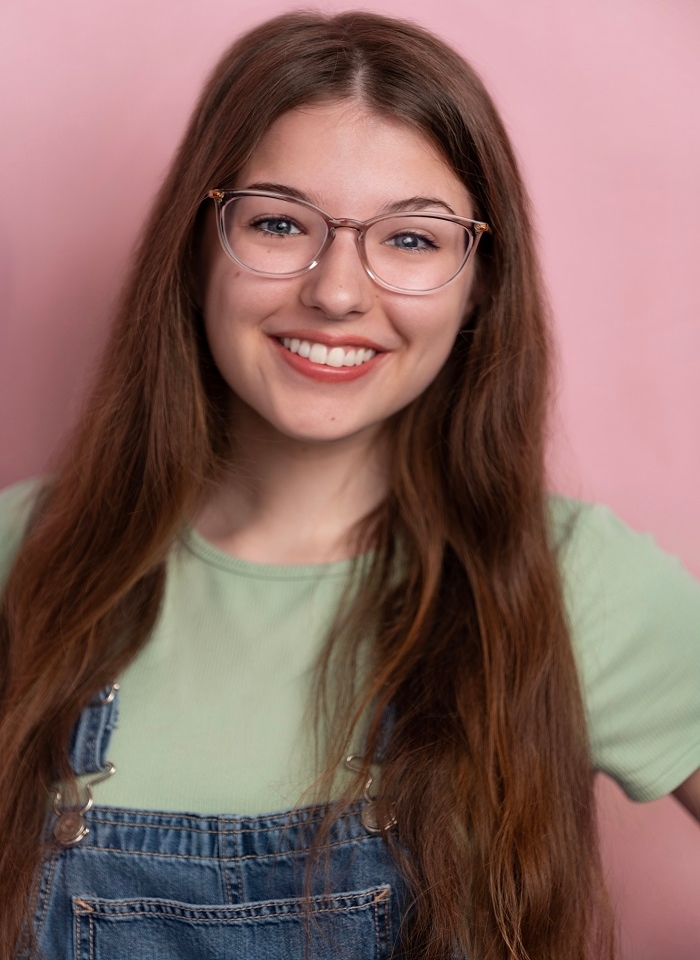 Erica E. Gerold
Phillip Graneto Excellence in Theatre Award
Erica Gerold (she/her) is graduating Summa Cum Laude with a Bachelor of Arts in Public Relations, and a Bachelor of Arts in Theatre Arts with concentrations in Musical Theatre, Acting, Directing, and Theatre Education. Hailing from Philadelphia, Pennsylvania, Erica is an actor, director, educator, and public relations practitioner. Over the course of her time at Rowan, she performed in numerous productions; most notably, Collective Rage: A Play in Five Betties (Betty #1), The Trail to Oregon! (Son), The Lovesong of J. Robert Oppenheimer (Lilith), Urinetown (Cladwell's Secretary), and Plum Bun (Esther Bayliss). Recent directorial credits include Clyt; or, the Bathtub Play (Director) and Perfect Arrangement (Assistant Director). Under the guidance of Dr. Anthony Hostetter, Erica performed in the world premiere of his one-woman, verbatim testimonial play Girl in a Striped Dress: the Holocaust Story of Rosalie Lebovic Simon. Subsequent performances and her professional debut followed at the Sara & Sam Schoffer Holocaust Resource Center at Stockton University. She will be reprising her role this month with two performances in New York, and intends to continue telling Rosalie's story for as long as she can.

Erica currently serves as the President of Campus Players and President of the Anthony J. Fulginiti Chapter of the Public Relations Student Society of America. She is also a member of the Theatre Honor Society, Alpha Psi Omega, and works as an Admissions Ambassador. She also served for two years on the Rowan Lab Theatre Executive Board as Publicity Coordinator, the Production Manager for the RUTD Senior Showcase, and as Marketing Intern for the Wilma Theater. Additionally, Erica has been awarded the Anthony J. Fulginiti Gold Medallion for Excellence in Public Relations.

Erica would like to thank her professors for their guidance in her upbringing as a theatre artist, especially Chris Roche and his family for bringing her to this school, Kristin Titus who helped her voice grow in ways she never imagined, and Lane Savadove and the Hostetter's for their mentorship. She would also like to thank her parents, sisters Alyssa, Bridget and Julie, roommates Emilia, Hannah, and Mattie, and her best friend Elliot for their endless love and encouragement. Today does not exist without their part in it.
"To have my hard work recognized by the Department of Theatre & Dance in this way is a dream come true. It has been my honor and joy to work alongside and learn from my professors and classmates these past four years. The people inside the walls of Bunce and Wilson Hall shaped me into the artist I am today and I am all the better because of them. As I move into my professional career, this medallion will serve as a reminder of my leadership and my academic and artistic excellence. I know I am heading in the right direction."
"Erica Gerold, a theatre major with concentrations in Acting, Directing, Musical Theatre, and Pre-teaching, with a second major in Public Relations has not just won the Phillip Graneto Excellence in Theatre Medallion. She has also won the Anthony J. Fulginiti Gold Medallion for Excellence in Public Relations. This graduating senior with a 3.88 grade point average, will settle for nothing less than the best she can do in any class, production, or leadership position. It has been a pleasure to watch Erica grow in her time at Rowan though her work on-stage and behind the scenes. She is a strong student leader who has served the Department of Theatre and Dance and her fellow students competently, quietly, and without complaint. Erica Gerold, who is seeking to combine her love for theatre and the arts with her expertise in Public Relations, has a promising, bright future ahead of her. I look forward to watching her continue to grow as a graduate of Rowan University." - Dr. Anthony Hostetter, Assistant Professor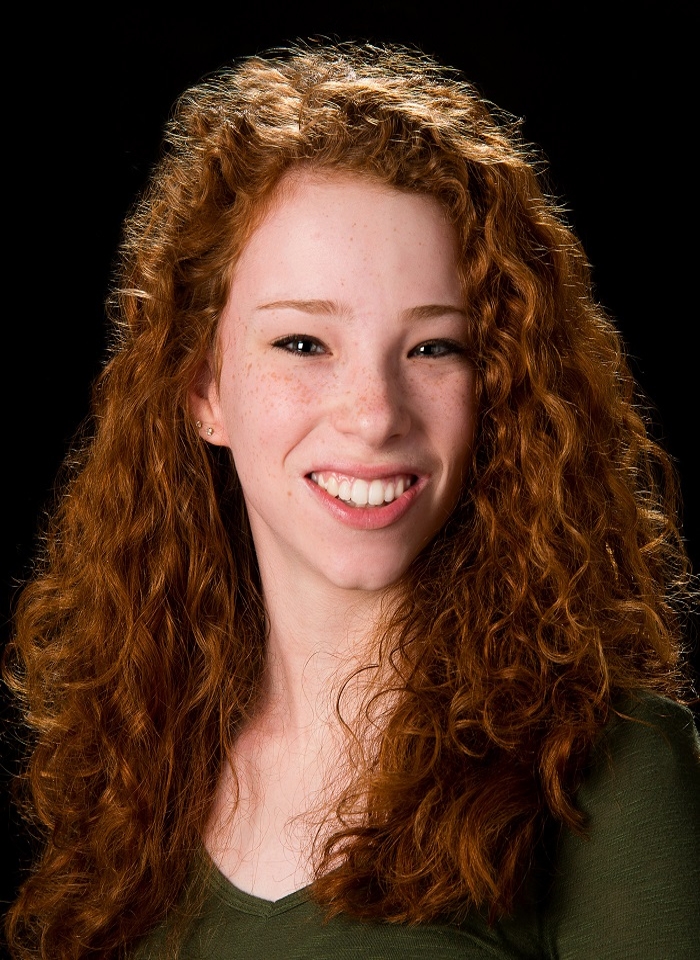 Lianna Johnson
W. Clarke Pfleeger Award for Musical Excellence
Lianna Johnson is a senior Music Performance major for Voice. In the Rowan Opera Company, she has sung the roles of Adele in Johann Strauss' Die Fledermaus and Musetta in Giacomo Puccini's La Bohème, and in scenes as Mrs. Wordsworth from Benjamin Britten's Albert Herring and Zerlina from Mozart's Don Giovanni. She is the Soprano II section leader in Rowan's Concert Choir, as well as a Community Assistant on campus.
"I'm honored to have been selected to receive this prestigious award! I'm very grateful to the music faculty for selecting me among so many talented, hardworking students, and I'd like to thank all the professors I've had during my time at Rowan for gifting me such an excellent education and experience. I'd especially like to thank my voice teacher, Marian Stieber, for everything she's done for me!"
"Lianna exemplifies the focus, practice ethic, scholarly mind and performance standard that is required of the Bachelor of Music in Performance. The faculty have chosen to award this medallion to Lianna for her academic excellence and strong consistent vocal performance."-Marian Stieber, Head of Vocal Division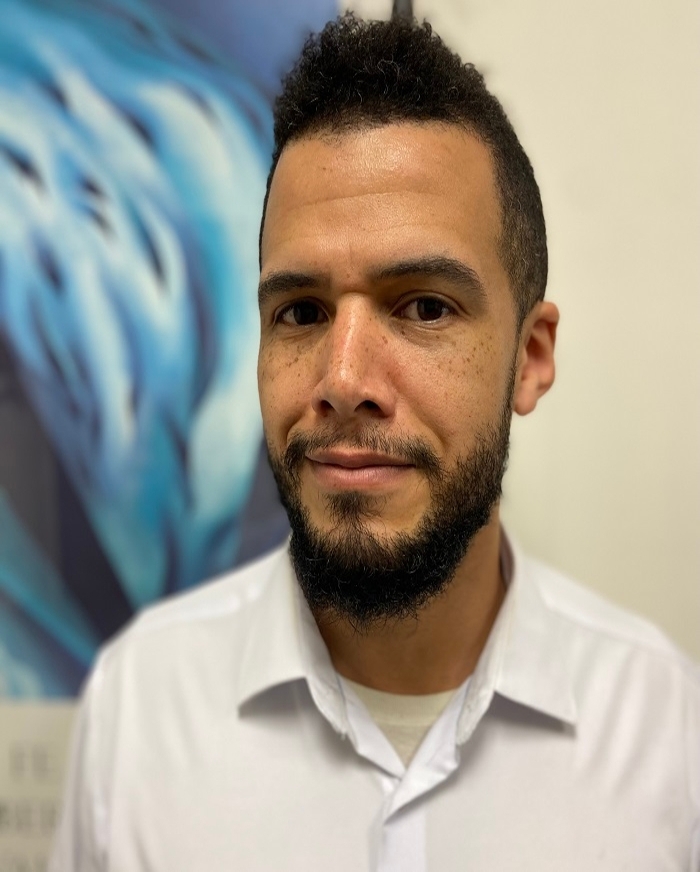 Bryan O'Lone
Jacobs Music Steinway Award
Bryan O'Lone, candidate for the Master of Music degree at Rowan University, is a recipient of the Hoyle Carpenter Memorial Scholarship and Jacobs Music Steinway Award.  Winner of Rowan University Concerto Competition - performed Piano Concerto in g minor of Sergei Prokofiev with Jiannan Cheng conducting Rowan University Symphony Orchestra.  Performed Prokofiev First Piano Concerto with Wesley Broadnax conducting Newark Symphony Orchestra.  Collaborative pianist in performances with Tim Schwarz, South Jersey Choral Directors' Association, Northern Lights Music Festival in Minnesota.  Composer - 24 Preludes for Piano.

B.M. - Rowan University.  Studies with Veda Zuponcic.  Additional studies with Max Levinson, Charles Abramovic, Matthew Bengtson, Marian Hahn, Vitalij Kuprij, Raffi Besalyan
"I am one of the most fortunate people in the world to have the opportunity to accept the challenge of bringing joy and inspiration to all people by performing music."
"The Jacobs Steinway Award is not presented annually; it is only presented in the years when we have an exceptional performer "equal in accomplishment to the best pianists graduating from any university or conservatory in the nation."  Bryan O'Lone brings his exceptional level of pianism to Rowan, both technical and musical.  His knowledge of the repertoire, and his work ethic make him an obvious candidate for the Jacobs Steinway Award." - Veda Zuponcic, Professor of Piano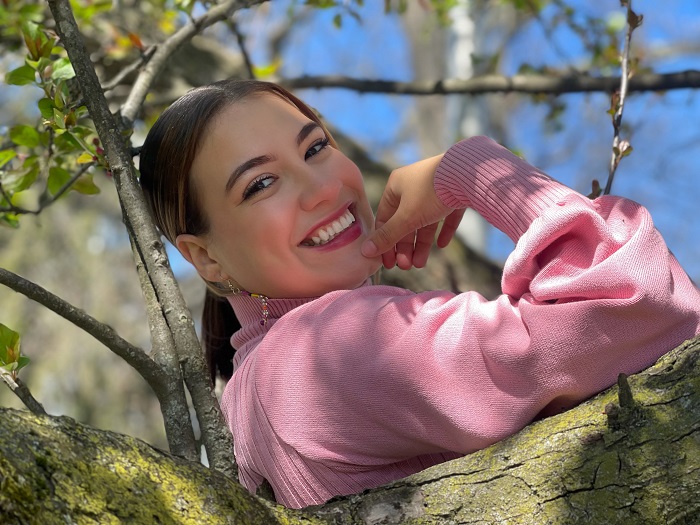 Sabrina Vargas
Robert D. Bole Humanitarian Award
I feel so honored and grateful to be the recipient of the Robert D. Bole Humanitarian Award, an award centered around compassion and concern for the well–being of others and commitment to community service. I can proudly say that my lifestyle fits into these aspects perfectly. Since coming to Rowan University Fall of 2019 I have been involved in all aspects of campus life, including academic achievement, social and extracurricular activities, and leadership roles. I maintained my GPA and achieved Dean's List status throughout my 4 years at Rowan. I am a member of multiple clubs in different areas of interest: faith-based mental health initiatives, greek life, and more, and I try to reach diverse communities and spread my positivity throughout Rowan University's campus. I can successfully say that I used all of the great resources Rowan has to offer. One of my favorite experiences of undergrad is participating in the Study-Abroad Program. This past January I was able to spread my love for service in Delhi, India. Conducting community service in a 3rd world country changed my life. I am excited to see how that experience will shape my bright future of community service globally and in the states. I am extremely passionate about the arts and how I can use the arts to reach those around me. I am a frequent volunteer at The Boys & Girls Club of Glassboro teaching the kids dance and the importance of self-expression. Spreading the message that the arts can save lives! It saved mine! I am resilient, ambitious, and a woman who has many goals and dreams. In the fall I will be continuing my education pursuing advanced studies at the University of Pennsylvania School of Social Policy and Practice-Nonprofit Leadership program, with the hopes of one day founding my own nonprofit organization for performing arts and community development. I am very grateful for this award, a great confidence booster that will encourage me to continue doing my best work. Thank you Dr. Leslie Elkins for recommending me and thank you to the Rowan University Department of Theatre and Dance for an amazing 4 years.
"Sabrina Vargas, recipient of the Robert D. Bole Humanitarian award is passionate about the well-being of others. Her dedicated work with a variety of organizations, including ASCEND-EOF and the Glassboro Boys and Girls Club broadens and diversifies Rowan Dance." - Leslie Elkins, Coordinator of Dance