Choirs
Choirs
Rowan University Choirs
---
Concert Choir
Christopher Thomas, conductor

The Rowan University Concert Choir is Rowan University's flagship choral ensemble dedicated to performing the pillars of historical repertoire in addition to presenting programs that seek to broaden awareness of music's ability to evoke response to an issue, concept, culture, or event.  
The 19|20 season includes an invited performance for the Eastern Division ACDA conference in Rochester, NY, and multiple performances of The Here and Now, a multi-movement setting of texts by Rumi, scored for choir and wind ensemble, by American composer Christopher Theofanidis.  The choir served as the chorus for the Rowan Opera Company's production of Amahl and the Night Visitors, and collaborate with the University Orchestra in a presentation of Ralph Vaughan Williams' Dona Nobis Pacem and Jake Runestad's Dreams of the Fallen, a setting of texts  by Iraq War veteran and award-winning poet Brian Turner.  In summer 2020, several members of the choir will perform throughout Barcelona, Madrid, and Valencia on a concert tour to Spain.
Past performances of the Concert Choir have included Requiem masses of Verdi, Mozart, Howells, and Duruflé, masses of Mozart, Haydn, and Rheinberger, and significant works by Britten, Finzi, Orff, and Ramírez.  In addition to historical repertoire, the choir has also performed contemporary works including To the Hands by Caroline Shaw, Circulo de tiempo by David Martynuik, Song of the Schulamite by Donald McCullough, and the world premiere of Open Minds by Rob Redei.  Past conductors of the choir have included Clarence Miller, Eugene Simpson, Robert Page, Lourin Plant, and Z. Randall Stroope.
Spring Semester 2020

Monday, Tuesday, Wednesday, and Thursday, 3:30-4:30pm

Wilson 153

Current Rowan Students Register Online

20319 MUS 08150 1 Concert Choir

No new students are being admitted

for the Spring 2020 semester
For more information please contact Dr. Thomas via email: thomasc@rowan.edu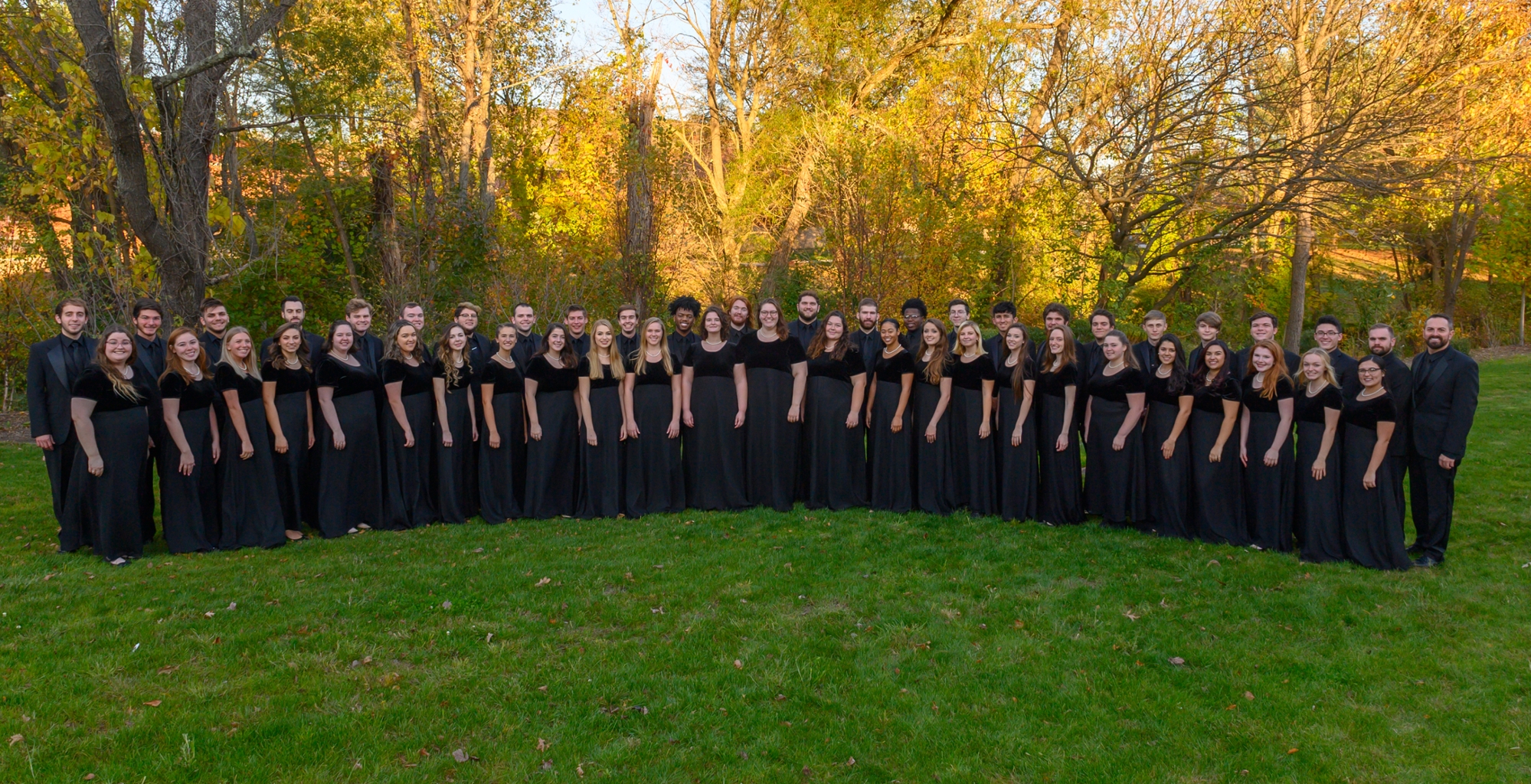 ---
University Chorus
Christopher Thomas, conductor
University Chorus is a mixed-voice ensemble that is open––by audition––to all majors from the entire campus community.  Literature is varied and representative of all periods of Western music including contemporary compositions and non-western genres.  Performances are scheduled throughout each semester and may include collaborations with other ensembles. In addition to performance, there is an emphasis on improving sight-singing, diction, and ensemble skills.  
Spring Semester 2020

Tuesday and Thursday, 5-6:15PM

Wilson 153

Current Rowan Students Register Online

20289 MUS 04044 1 Choral Union

Auditions for University Chorus happen during the first week of classes.  Register and attend the first class just as you would any other class!  

You'll sing Happy Birthday and some scales for Dr. Thomas to be sure this is the appropriate ensemble for you.  
For more information please contact Dr. Thomas via email: thomasc@rowan.edu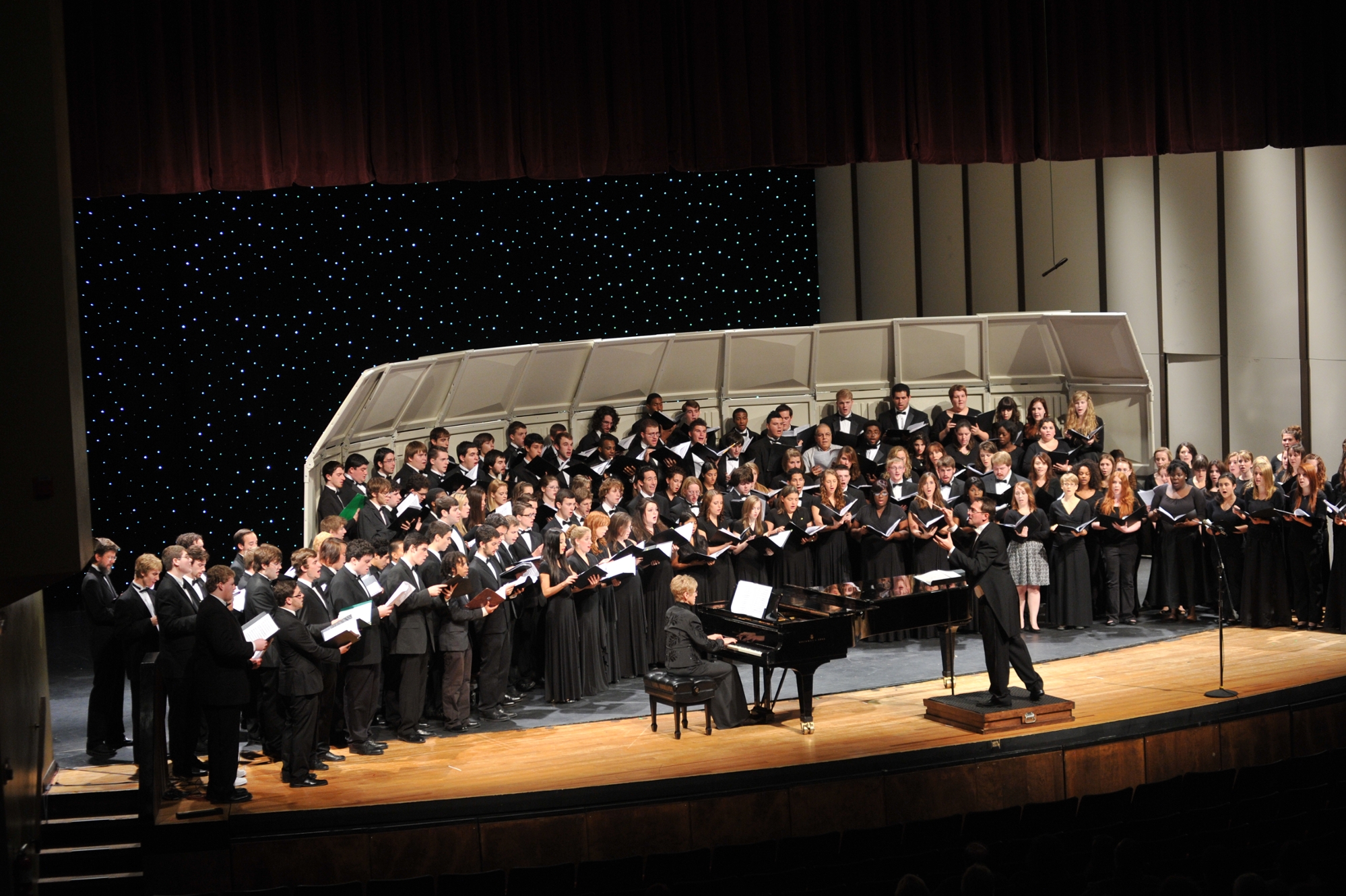 ---
Voces
Christopher Thomas, conductor
Voces, Latin for voices, is one of Rowan University's most prestigious chamber ensembles.  Comprised of ten to twelve of the Department's most flexible and strongest singers, the group often collaborates with professional musicians and ensembles through a range of standard and experimental projects.  Past performances have included historical presentations of seventeenth and eighteenth century oratorios accompanied on period instruments, improvised Jazz recitals, lightly-staged madrigal presentations, samba singing with jazz ensembles, and standard performances of traditional Western motets of all time periods.  
Spring Semester 2020

Mondays, 12:30-1:45

Wilson 153

Current Rowan Students Register Online

20287 MUS 01130 1 Chamber Music II

Membership is open to all members of the Concert Choir by audition.  
For more information please contact Dr. Thomas via email: thomasc@rowan.edu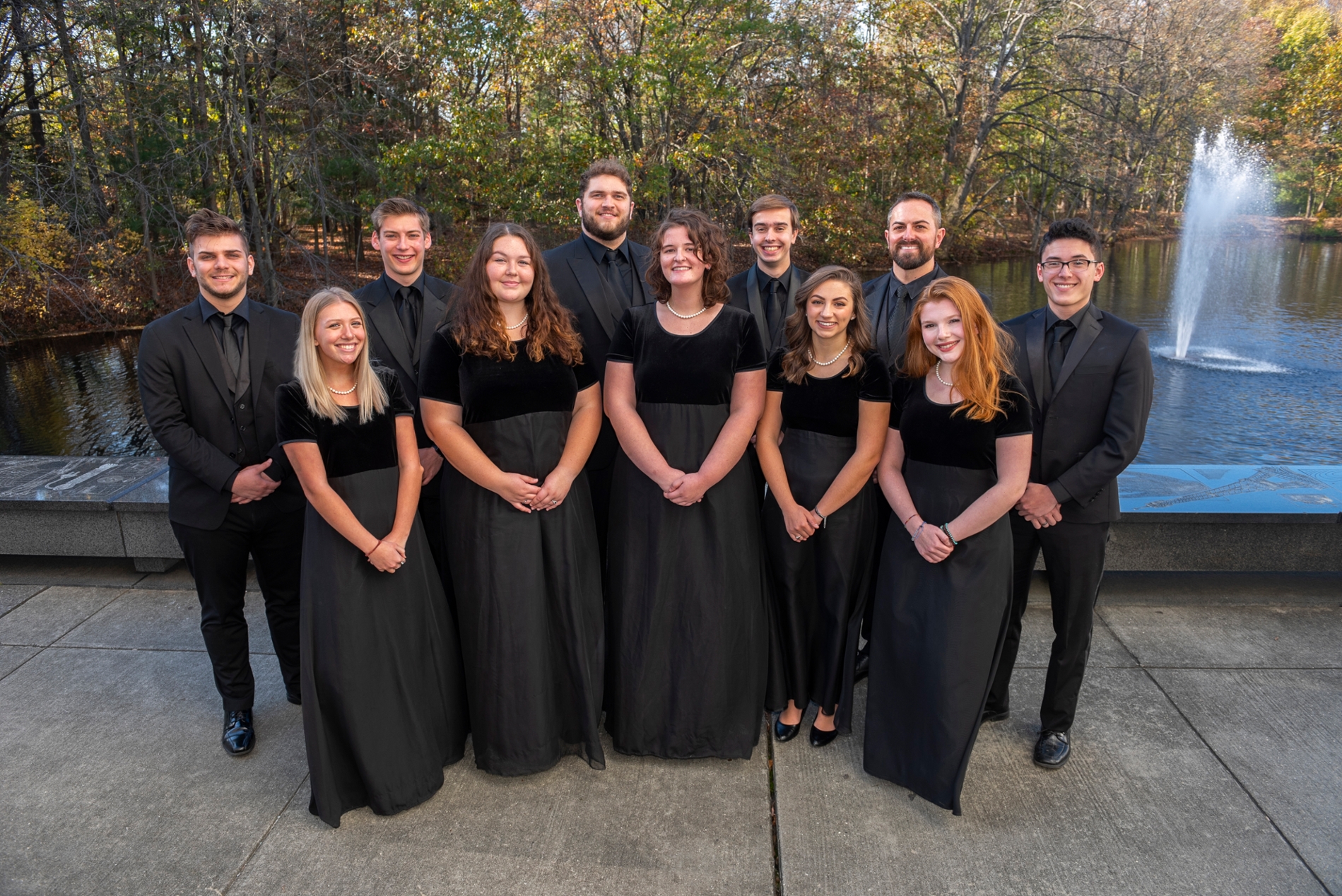 Watch Voces in Rehearsal : Bogoroditse Devo, raduysia by S. Khvoshchinsky
---
Cantati Tutti
Pamela Barnes, conductor
Cantati Tutti is Rowan University's newest Open-Access Choir!  This choir is open to music majors, non-music majors, and ALL members of the University community including faculty, staff, alumni, and other community members.  This inclusive non-auditioned ensemble includes members of all musical skill levels.
Spring Semester 2020

Monday Evenings 5-7:45pm

Current Rowan Students Register Online

20290 MUS 04051 1 Chamber Choir 

Faculty, Staff, alumni, or other community members Register with the Rowan University Community Music School
---
SHADOW DAYS FOR PROSPECTIVE STUDENTS
We love to host prospective students on our shadow days!  Open to high school juniors, seniors, and transfer students, a day of shadowing includes participating in full choir rehearsals, observation of one-on-one vocal lessons with our voice faculty, a luncheon with some of our student leaders in each major, and—if desired—an opportunity to attend other classes within the music major track.  This year's shadow days include:
January 28, 2020

February 25, 2020

March 24, 2020 

April 21, 2020
If you are a teacher interested in bringing an entire choir or class to Rowan, that can also be arranged.  You class can observe a rehearsal, tour campus, and receive a clinic from Dr. Thomas! Email him directly if you are interested!  thomasc@rowan.edu
---
CHOIRS ABROAD
Students in the choral program at Rowan have an opportunity to travel and perform internationally.  Since 2011, the choir has traveled to Czech Republic, Poland, Hungary, Italy, Germany, and Austria. Members of the choir are excited for Spain 2020!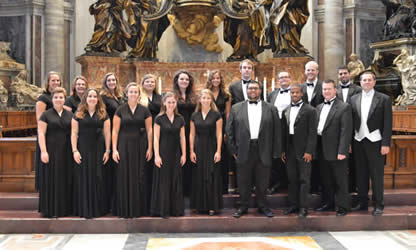 St. Peters Basilica, Vatican City, 2014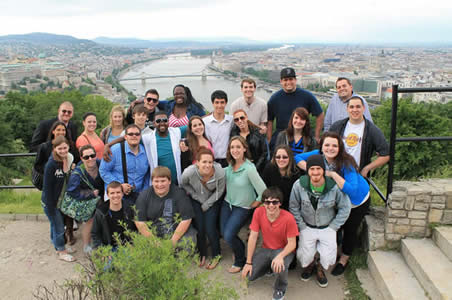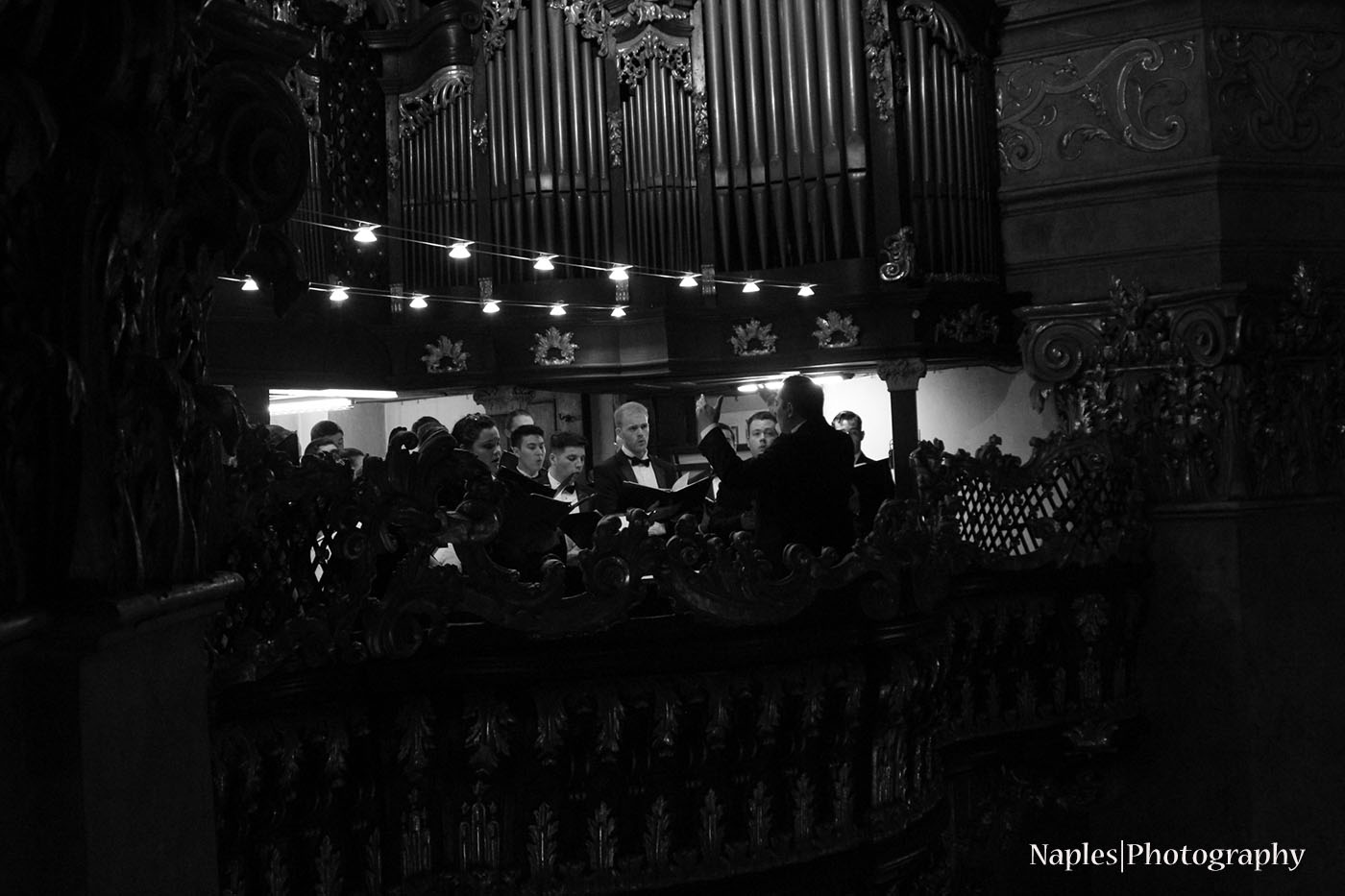 Vienna, 2016
---