Rowan Choirs
Rowan Choirs
Welcome to Rowan University Choirs! 
We're proud to offer performance opportunities for students of 
all

 majors. Explore this page to learn more about our ensembles and upcoming events.

Whether you are studying to become a professional musician or educator, engineer or psychologist,
we hope you will join one of our fine ensembles. 

*****************************************************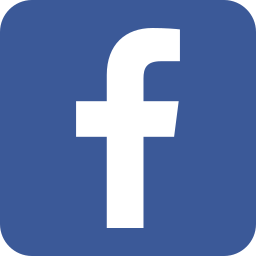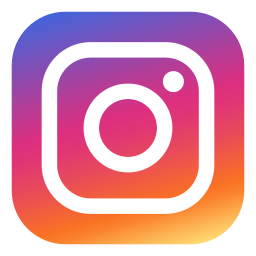 ---
Who We Are
Welcome to Rowan Choirs!  We are a vibrant community of singers of all majors connected through our love of music, singing, and community.  Whether you were in all-state choruses, grew up singing in a spiritual institution, or loved making music in middle or high school, there is a place for you to discover and grow your voice.  Our program thrives by living the following goals, ideas, and beliefs.  
Rowan Choirs works to:
Transform the lives of all majors on campus who sing through artistic, well-sung, and thought-provoking rehearsal and performance.

Serve the greater choral community by offering workshops and performance opportunities for secondary students and educators.
Contribute to the artistic sensibility of all members of the Rowan University community.  
Perform domestically and abroad to connect more deeply with the lineage of choral music in Western and non-Western cultures.
Perform one intentionally themed program every year that broadens our awareness of music's role as
art, endeavoring to evoke—or invoke—a response to an issue, concept, culture, or event. 
Perform contemporary music that includes a responsible balance of new and significant works of underrepresented composers and perform historical repertoire from each era.
Work collaboratively with non-vocal ensembles, even in experimental or non-traditional ways, to encourage community, creativity, and discovery.
Model professional responsibility and concern for creating music while thoughtfully nurturing one another as learners and performers.
Consider attending a concert, singing with us, or becoming a friend of the program.  Thank you for taking the time to learn more about us!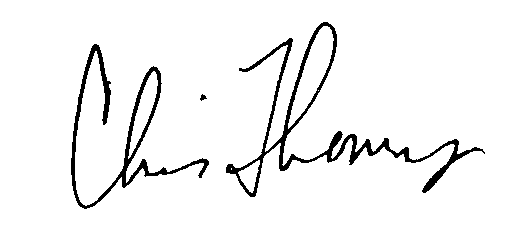 Christopher Thomas, DMA
Director of Choral Activities
Email
---
Join a Choir!
All majors from all across campus sing in the choirs!  Our singers include engineers, biological scientists, medical students, education majors, business majors, and dozens more.  Not only is singing in a choir a great way to feel connected to the campus community and provide an outlet for creative expression, but it can also fulfill your Artistic Literacy for the Rowan Core!  
If you are interested in singing in a choir, we recommend registering for University Chorus.  There is no audition and it is a one-credit class in banner.  If you are interested in auditioning for the most advanced choir, Concert Choir, you must register for an audition here.
***Voice Majors taking Applied Voice Lessons, including BM in Education, Music Therapy, Performance, Composition, Bachelor of Arts, and Voice Minors.  
Fall placement:

 Choral Placements for voice majors occur the day before classes begin.  Information for the choral placement audition will be emailed by August 15.  You will sing an excerpt of your solo repertoire, sight-sing, and perform a prepared section.  

Spring placement:

  Assignments remain the same for the entire academic year, but students placed into University Chorus for the fall semester may audition for Concert Choir in the spring semester by contacting Dr. Thomas.  

 

---
University Chorus
Dr. Lorraine Lynch, conductor
University Chorus is a mixed-voice ensemble open to all majors from the entire campus community.  Literature is varied and representative of different periods of music, including contemporary compositions and non-western genres. Choristers share in the excitement of the creative process as they prepare one concert each semester. All interested students are encouraged to register for the class in banner, or contact the conductor for more information. No audition is required.  Rehearsals are held each Tuesday and Thursday from 5:00-6:15pm.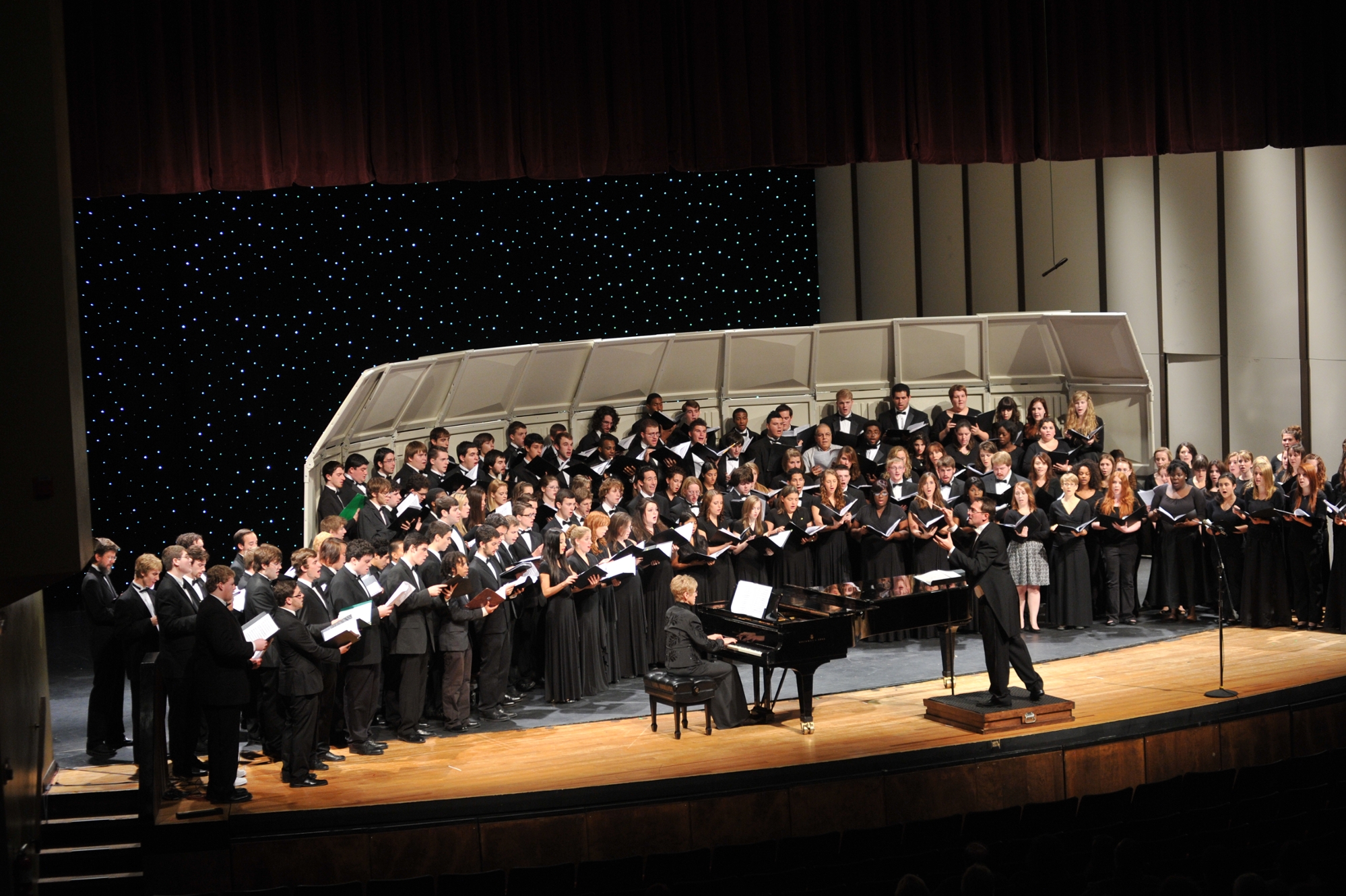 ---
Concert Choir
Dr. Christopher Thomas, conductor

The Rowan University Concert Choir is Rowan University's flagship choral ensemble with highly skilled and dedicated members.  The repertoire of the Concert Choir is the most advanced of all the choral ensembles, including world premieres, collaborations, and significant historical works.  Rehearsals are held Monday through Friday (3:30-4:30), with auditions for new members held before the start of each semester.  
In 2020, the Concert Choir performed by invitation for the Eastern Division ACDA Conference in Rochester, New York.  The program included "Kyrie" from Mass in E-Flat Major, Op. 109 by Josef Rheinberger; Sehnsucht, Op. 112, No. 1 by Johannes Brahms; "Forgiven" and "Now You Know" from Open Minds by Rob Redei; There is that in me by Ivo Antognini (2020 Raymond W. Brock Memorial Commission); Gropen arr. Gjermund Larsen, and Stomp on the Fire by Andrea Ramsey.

View our program booklet
Past performances of the Concert Choir have included Requiem masses of Verdi, Mozart, Howells, and Duruflé, masses of Mozart, Haydn, and Rheinberger, and significant works by Britten, Finzi, Menotti, Orff, Ramírez, Thoefanidis, and Vaughan Williams.  In addition to the historical repertoire, the choir has also performed contemporary works, including To the Hands by Caroline Shaw, Circulo de tiempo by David Martynuik, Song of the Shulamiteby Donald McCullough, and the world premiere of Open Minds by Rob Redei.  Past conductors of the choir have included Clarence Miller, Eugene Simpson, Robert Page, Lourin Plant, and Z. Randall Stroope.
Audition for the Concert Choir!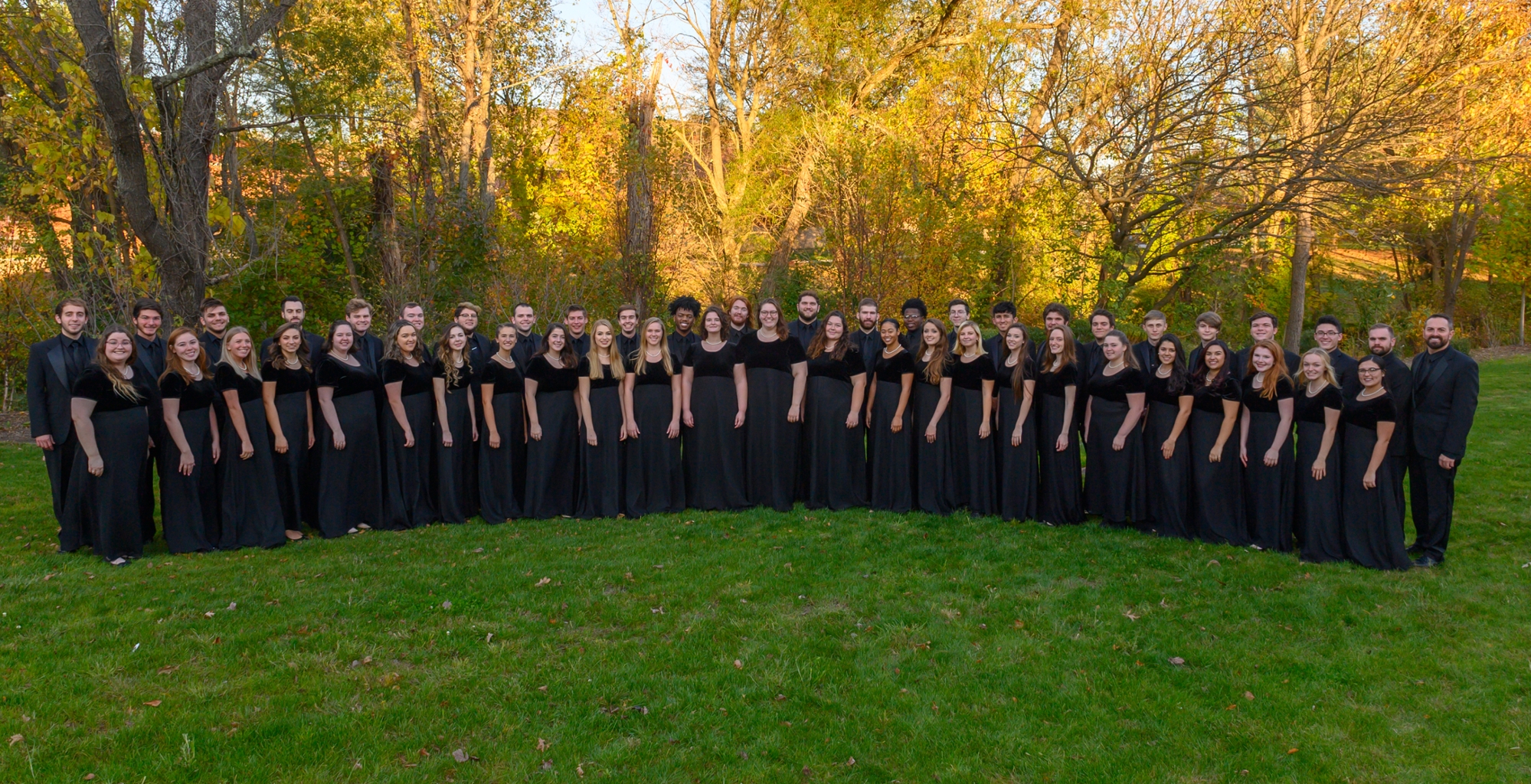 ---
---
Voces
Christopher Thomas, conductor
Voces, Latin for voices, is one of Rowan University's most active chamber ensembles.  Composed of eight of the Department's most flexible singers, the group often collaborates with professional musicians and ensembles through a range of standard and experimental projects.  Past performances have included historical presentations of seventeenth and eighteenth-century oratorios accompanied by period instruments, improvised Jazz recitals, lightly-staged madrigal presentations, samba singing with jazz ensembles, and standard performances of traditional Western motets of all periods.  Auditions for Voces for vacant positions occur at the beginning of each semester.  Singers must already be a member of the Concert Choir.  
Watch Voces in Rehearsal: Bogoroditse Devo, raduysia by S. Khvoshchinsky
---
Shadow Days for Prospective Students
We love to host prospective students on our shadow days!  Open to high school juniors, seniors, and transfer students.  You'll have an opportunity to dive in and experience a day at Rowan as a music major and have lots of one-on-one time with faculty and students.  If one of the dates below do not work, email Dr. Thomas to set up a private shadow day.  
Vocal Music Education
Shadow Days

February 28, 2023
March 7, 2023
April 4, 2023

Vocal Performance
Shadow Days

February 15, 2023

Itinerary
9:15 Welcome (Wilson Hall)
9:30-10:45 Secondary Choral Methods
11:00 Tour, Conversation, Lunch
12:30 Conducting
2:00 Opera, Lessons, and Classes
3:30 Concert Choir

Itinerary
9:15 Welcome (Wilson Hall)
9:30-10:45 Diction for Singers
11:00-12:15 Options
12:30-1:45 Lunch
2:00 Divisional
3:30 Concert Choir 
If you are a teacher interested in bringing an entire choir or class to Rowan, observing a rehearsal, touring campus, and receiving a free clinic from Dr. Thomas, email him directly.


Prior to your shadow day
Complete and bring: Waiver
Request Parking by emailing Lou Hall (secretary in the music office) the Year, Make, Model, Color, License Plate number and state.  hall@rowan.edu
---
14th Tenor|Bass Festival - October 18, 2023
The Tenor|Bass festival is open to 600 high school tenors and basses. Bring one student or your entire tenor|bass section!
$15 per student, which includes lunch and music 

Schedule
•8:15-8:30 / Registration
•8:45-9:00 / Group Warm-Up
•9:00-9:20 / Sing-A-Long with the "Teacher Band"
•9:20-10:20 / Rehearsal with Dr. Thomas
•10:20-10:30 / Break
•10:30-10:50 / Performances by Rowan faculty and students
•10:50-11:35 / Rehearsal with our guest conductor
•11:35-11:45 / Performance by Rowan Tenor|Bass choir
•11:45-12:15 / Lunch (2 slices of pizza and a soda or water)
•12:15-1:15 / Final Group Rehearsals with Dr. Thomas and our guest conductor
•1:15-1:30 / Perform!

Everyone registers with their best guess regarding numbers.  Final numbers will be solicited two weeks before the event (October 6).  Final invoices will be sent based on those numbers.  Most schools bring payment on the day of the event.
---
Choirs Abroad
Students in the choral program at Rowan have an opportunity to travel and perform internationally.  Since 2011, the choir has traveled to Czech Republic, Poland, Hungary, Italy, Germany, and Austria. Covid interrupted 2020 plants to travel to Spain, but we are excited to be planning a trip to Portugal in the summer of 2024!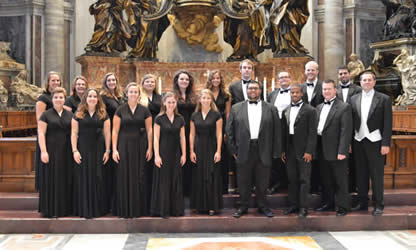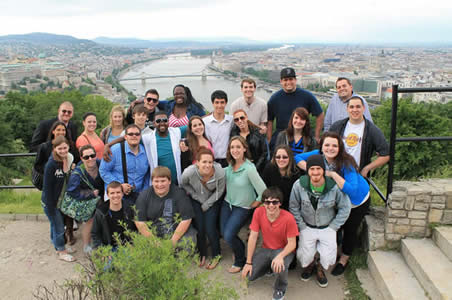 St. Peter's Basilica                              Budapest, Hungary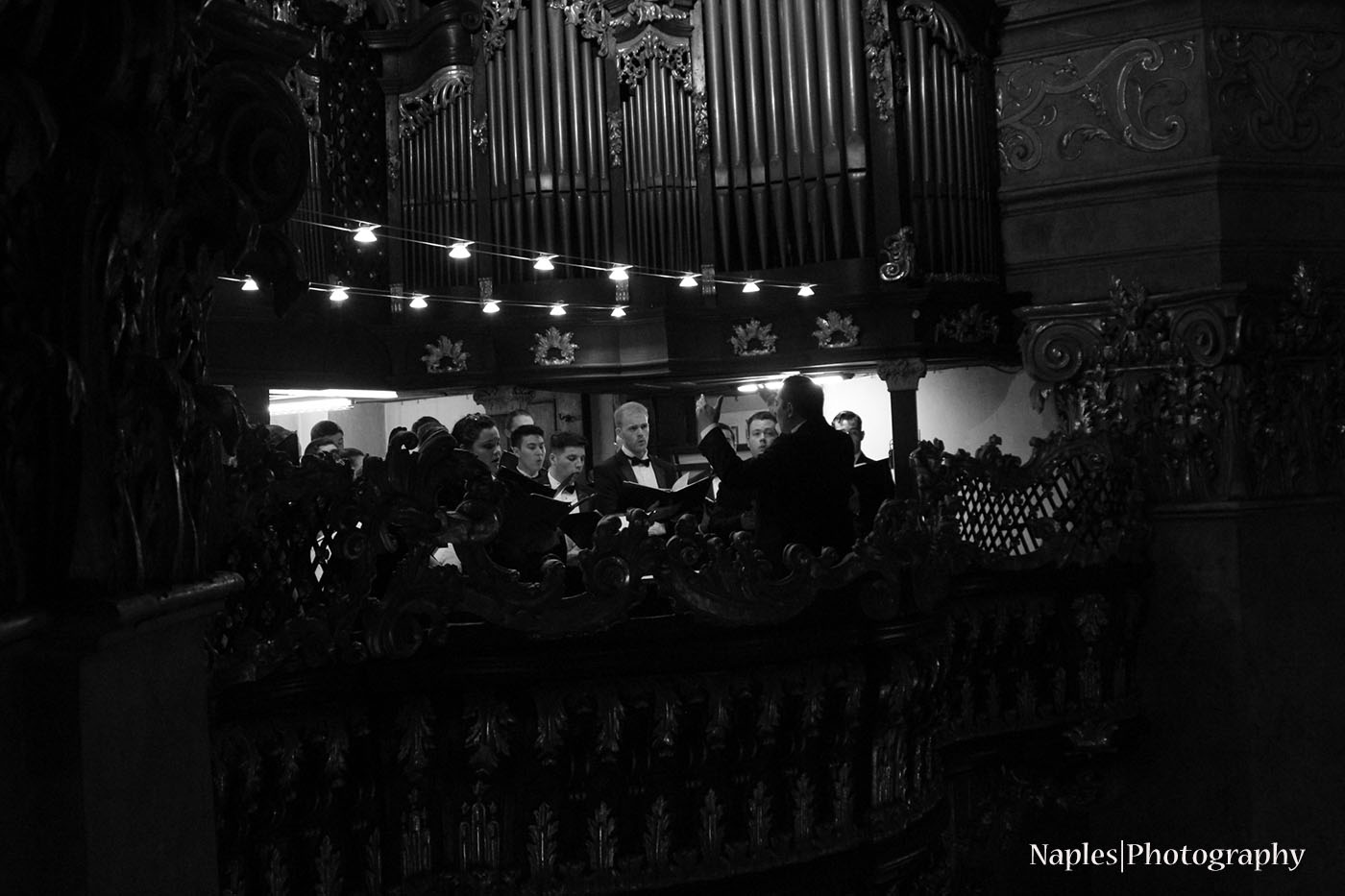 Vienna, Austria
---