Bands
Bands
---
Wind Ensemble
Joseph Higgins, conductor
The Wind Ensemble is the premier band of the College of Performing Arts at Rowan University. Its members are advanced and versatile musicians who perform the finest large ensemble and chamber music literature, including world premiere performances from today's most innovative and exceptional composers. Collaborative programming showcases our student-musicians interacting with Rowan's outstanding faculty and visiting guest artists from around the world. With each unique performance, audiences join the Wind Ensemble on a journey that uses music to explore a theme, idea, or place. The ensemble was recently invited to perform at the prestigious 2020 CBDNA Eastern Division Conference. Rehearsals are held on Mondays (12:30-1:45pm), Tuesdays & Thursdays (2:00-3:15pm).
For more information or to schedule an audition, please contact Dr. Higgins via email: higgins@rowan.edu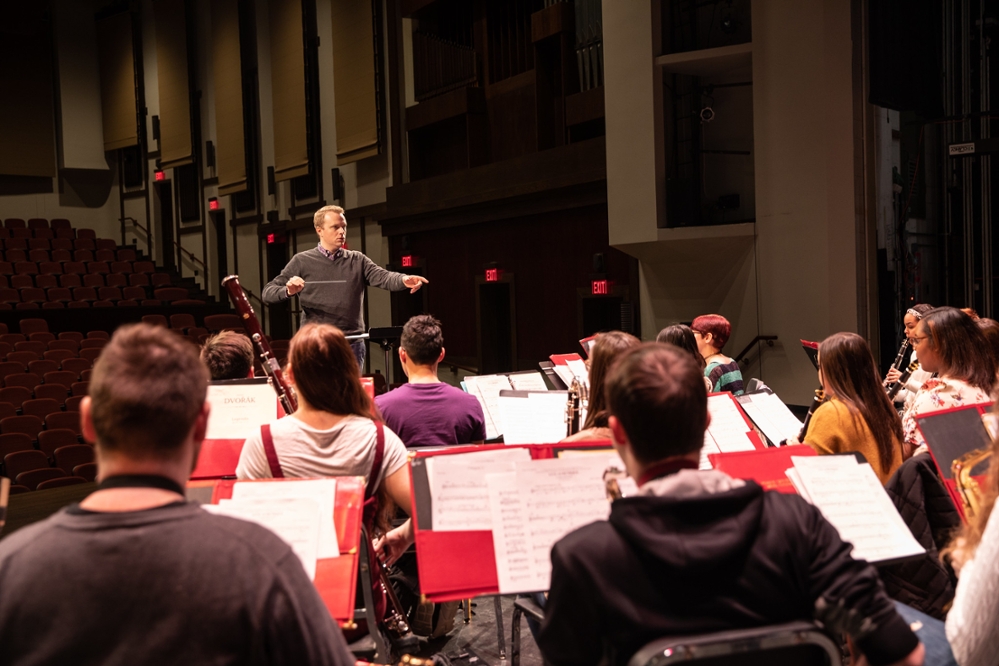 Rowan University Wind Ensemble rehearses in Pfleeger Concert Hall, Spring 2019.
---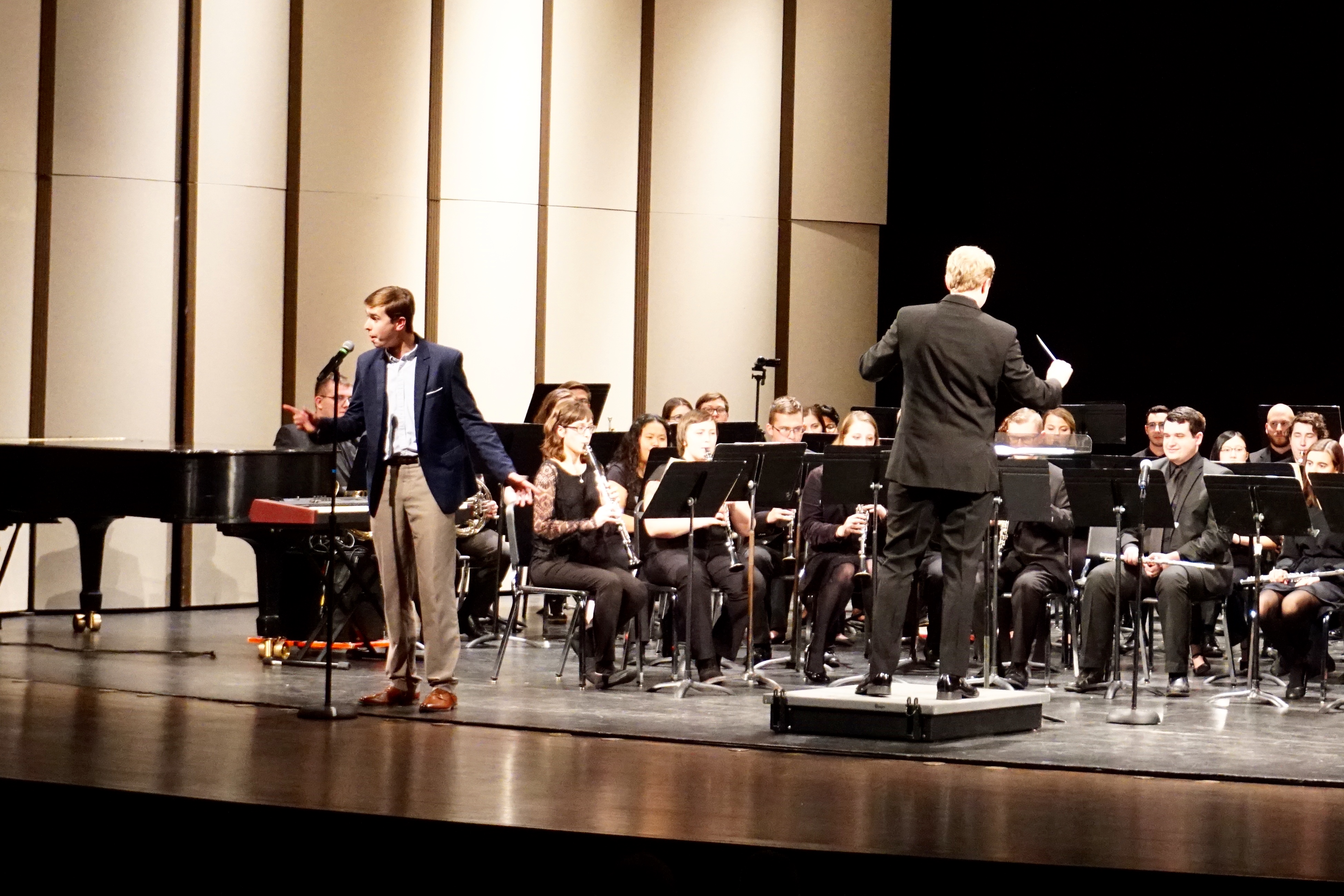 Rowan University Symphonic Band performs Aaron Copland's "I Bought Me A Cat", featuring baritone Joseph Barton, Fall 2018.
---
Concert Band (AKA "College Band")
Mark Kadetsky, conductor
The Rowan University Concert Band is comprised of music majors as well as talented students from many other disciplines (AND faculty members from all campus colleges!). Exploring a variety works for band, the ensemble prides itself in achieving a consistently high level of performance. Student-musicians share in the excitement of the creative process as they prepare two concerts each semester. All interested students are encouraged to contact the conductor for more information. Rehearsals are held each Tuesday and Thursday from 5:00-6:15pm.
Interested in joining us? We are always accepting new members on all winds/brass/percussion instruments! Please register for this course, or contact Dr. Higgins via email at higgins@rowan.edu to request more information.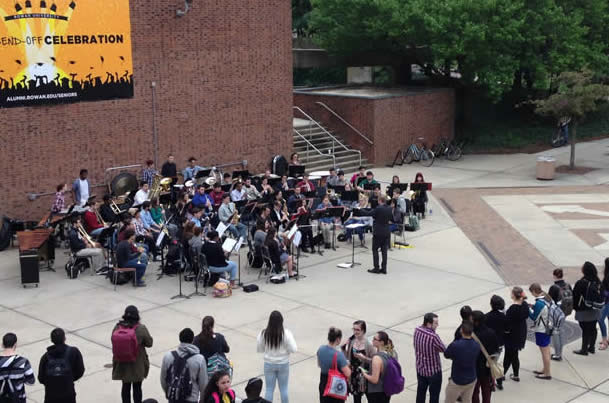 Rowan University Concert Band performs a free campus concert outside the Chamberlain Student Center.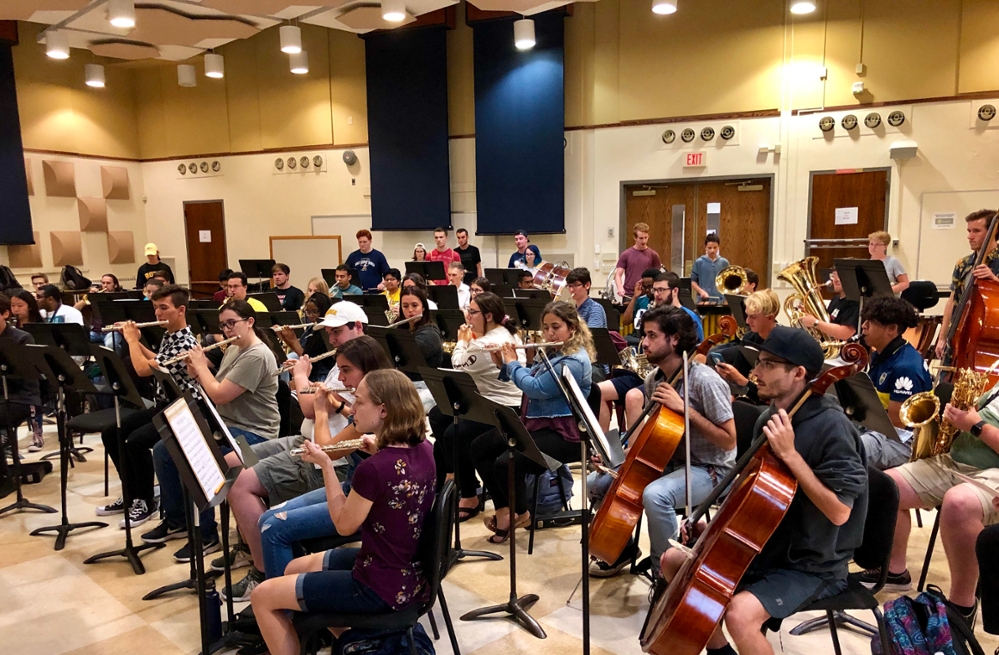 Rowan University Concert Band rehearses in Wilson Hall, Fall 2019.
---
The Rowan University Pep Band is a high-energy and wildly popular ensemble of brass, saxes, rhythm section instrumentalists, and vocalists. This group can be seen around campus entertaining crowds at home football games, commencement ceremonies, and other athletic and special events throughout the year. Membership is selected by audition when spots are available. For information about Pep Band or to inquire about auditions, please contact the Pep Band Director, Keith Bianchini: bianchink0@rowan.edu

Rowan University Pep Band performs for 2019 Commencement Ceremonies
---
Spring 2022 - We are thrilled to welcome you back to Pfleeger Concert Hall for LIVE performances!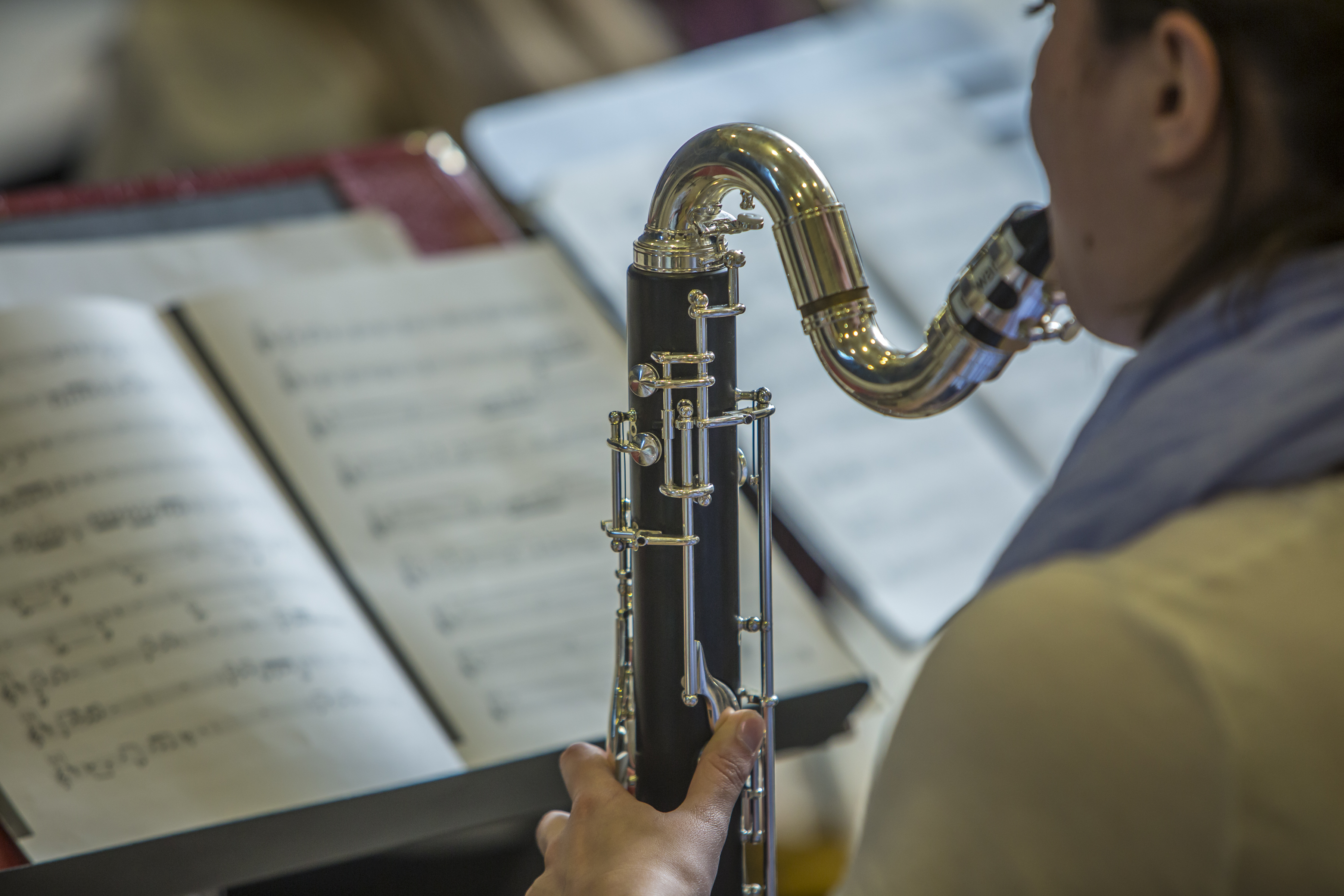 Symphonic Band & Concert Band: "Life Painting"
---Tuesday, February 22, 7:30pm in Pfleeger Concert Hall
Jess Turner – Bock Fanfares
Aaron Perrine – Life Painting
Carol Britten Chambers – Byzantine Dances
Frank Ticheli – Cajun Folk Songs
Camille Saint-Saëns – Carnival of the Animals
...and more!
Wind Ensemble: "Stone of Hope"
---Thursday, March 3, 7:30pm in Pfleeger Concert Hall
Ralph Vaughan Williams – Flourish for Wind Band
Pedro Iturralde – Pequeña Czarda
Eric Ewazen – Concerto for Bassoon and Wind Ensemble (featuring Zachary Feingold, bassoon)
Jennifer Jolley – March!
Denis DiBlasio – Stone of Hope (World Premiere!)
Buck McDaniel – Saxophone Concerto: So Love Was Crowned, but Music Won the Cause (World Premiere featuring Noa Even, saxophone)
Omar Thomas – Of Our New Day Begun
Symphonic Band & Concert Band: "Beneath the Canopy - An Earth Day Celebration"
---Thursday, April 21, 7:30pm in Pfleeger Concert Hall
Cait Nishimura – Beneath the Canopy
Yukiko Nishimura – Ancient Flower
John Carnahan – …And the antelope play
Jodie Blackshaw – Letter from Sado
...and more!
Wind Ensemble & Brass Band: "One Life Beautiful" featuring Rowan Bands Alumni
---Sunday, April 24, 2:00pm in Pfleeger Concert Hall
Steve Danyew – Magnolia Star
Traditional (arr. Donald Hunsberger) – Believe Me, If All Those Endearing Young Charms (featuring Bryan Appleby-Wineberg, trumpet)
Julie Giroux – One Life Beautiful
Gustav Holst – First Suite in E-flat
...and more!
EIGHTH BLACKBIRD (with the Rowan University Wind Ensemble)
---Friday, April 29, 8:00pm in Pfleeger Concert Hall
Viet Cuong – Vital Sines
...and more!