Bands
Bands
Welcome to Rowan University Bands! 
We're proud to offer performance opportunities for students of 
any

 and 

all

 majors. Explore this page to learn more about our ensembles and upcoming events.

Whether you are studying to become a professional musician or educator, engineer or psychologist, we hope that you will join one of our fine ensembles. 

*********************************************************
Presenting the Pride of the Profs – Rowan University Marching Band
We are thrilled to announce the Rowan University Marching Band! Be part of the tradition from the beginning. Enrollment for the inaugural Fall 2023 season is open to any woodwind, brass, drumline, front ensemble and colorguard members. No audition required to join!
Click Here for some Marching Band FAQs
Interested in joining?
ROWAN STUDENTS: Any current or newly admitted Rowan University Student should fill out the Marching Band Commitment Form. Students should also ensure they enroll in the Marching Band course for Fall 2023: CRN 41242, MUS 08268.
HIGH SCHOOL STUDENTS: Any high school student interested in enrolling at Rowan University and joining the Marching Band should fill out our Interest Form to receive emailed updates from our faculty. 
*************************************************************************************
A LOOK BACK: Over the years, we have curated Department-wide series that explore socially-conscious themes and subjects relevant to our community. Click here to learn more about our 2018-2019 "Untold Stories: Truth & Music" programming and 2017-2018 "Music of Social Justice" events.
---
Wind Ensemble
Joseph Higgins, conductor
The Wind Ensemble is the premier band of the College of Performing Arts at Rowan University. Its members are advanced and versatile musicians who perform the finest large ensemble and chamber music literature, including world premiere performances from today's most innovative and exceptional composers. Collaborative programming showcases our student-musicians interacting with Rowan's outstanding faculty and visiting guest artists from around the world. With each unique performance, audiences join the Wind Ensemble on a journey that uses music to explore a theme, idea, or place. The ensemble was recently invited to perform at the prestigious 2020 CBDNA Eastern Division Conference. Rehearsals are held on Mondays (12:30-1:45pm), Tuesdays & Thursdays (2:00-3:15pm).
For more information or to schedule an audition, please contact Dr. Higgins via email: higgins@rowan.edu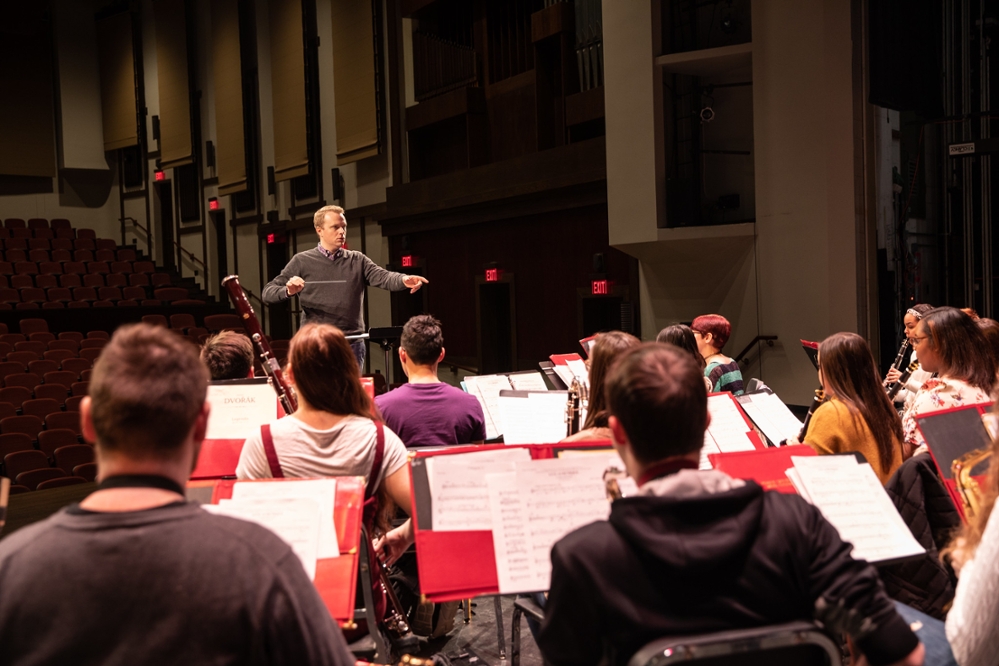 Rowan University Wind Ensemble rehearses in Pfleeger Concert Hall, Spring 2019.
---
Concert Band (AKA "College Band")
Megan Cooney, conductor
The Rowan University Concert Band is comprised of music majors as well as talented students from many other disciplines (AND faculty members from all campus colleges!). Exploring a variety works for band, the ensemble prides itself in achieving a consistently high level of performance. Student-musicians share in the excitement of the creative process as they prepare two concerts each semester. All interested students are encouraged to contact the conductor for more information. Rehearsals are held each Tuesday and Thursday from 5:00-6:15pm.
Interested in joining us? We are always accepting new members on all winds/brass/percussion instruments! Please register for this course, or contact Prof. Cooney directly via email at cooneym@rowan.edu to request more information.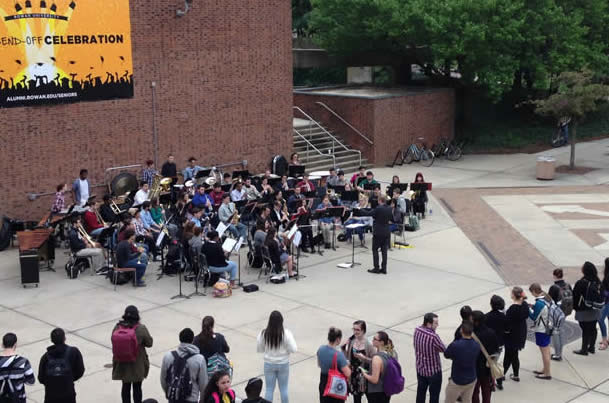 Rowan University Concert Band performs a free campus concert outside the Chamberlain Student Center.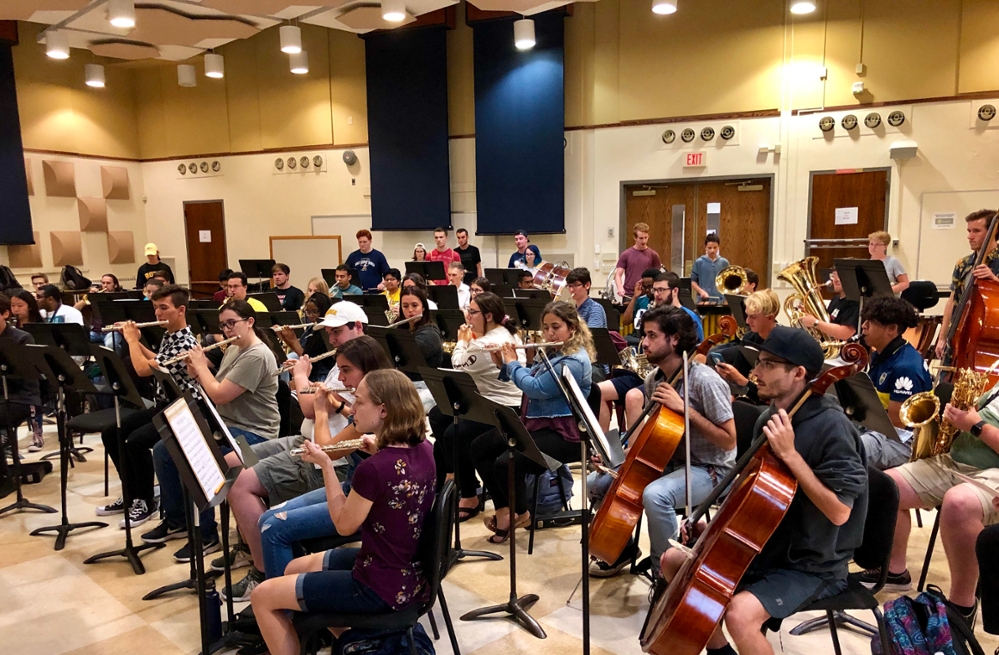 Rowan University Concert Band rehearses in Wilson Hall, Fall 2019.
---
The Rowan University Pep Band is a an exciting ensemble of woodwind (flute, clarinet, saxophone), brass (trumpet, horn, trombone, baritone, tuba), and percussion (drumset) musicians. We will rehearse on Tuesday evenings 6:30-7:45pm in Wilson Hall Rm 156 in preparation for performing in the stands at home football games and select basketball games. Students at all levels of experience are welcome. This ensemble is growing, and we need you!

HOW TO JOIN: Please start by emailing our director about your interest (Prof. Megan Cooney, cooney63@rowan.edu)! She may then instruct you to upload an audition video to YouTube and sharing the link, or by emailing the file(s) to Prof. Cooney directly. Audition video details are below.

WOODWIND & BRASS PLAYERS:

---E-flat Major Scale (quarter note = 100; 8th notes up/down 1 octave)
---Chromatic Scale (quarter note = 90; 8th notes up/down 1 octave)
---Record yourself playing the bracketed measures of THIS PEP BAND CHART (Attitude Dance).
https://drive.google.com/drive/folders/11zZX6dnyeroEvG0GtmoMFVJwdPj9SD3q?usp=sharing

DRUMSET PLAYERS:

---Record yourself playing 3 contrasting grooves of your choice, stating out loud what you're playing before you begin (ex: rock, swing, samba).
---Record yourself playing with the selected PEP BAND CHART (Attitude Dance).
https://drive.google.com/drive/folders/11zZX6dnyeroEvG0GtmoMFVJwdPj9SD3q?usp=sharing

Rowan University Pep Band performs for 2019 Commencement Ceremonies
---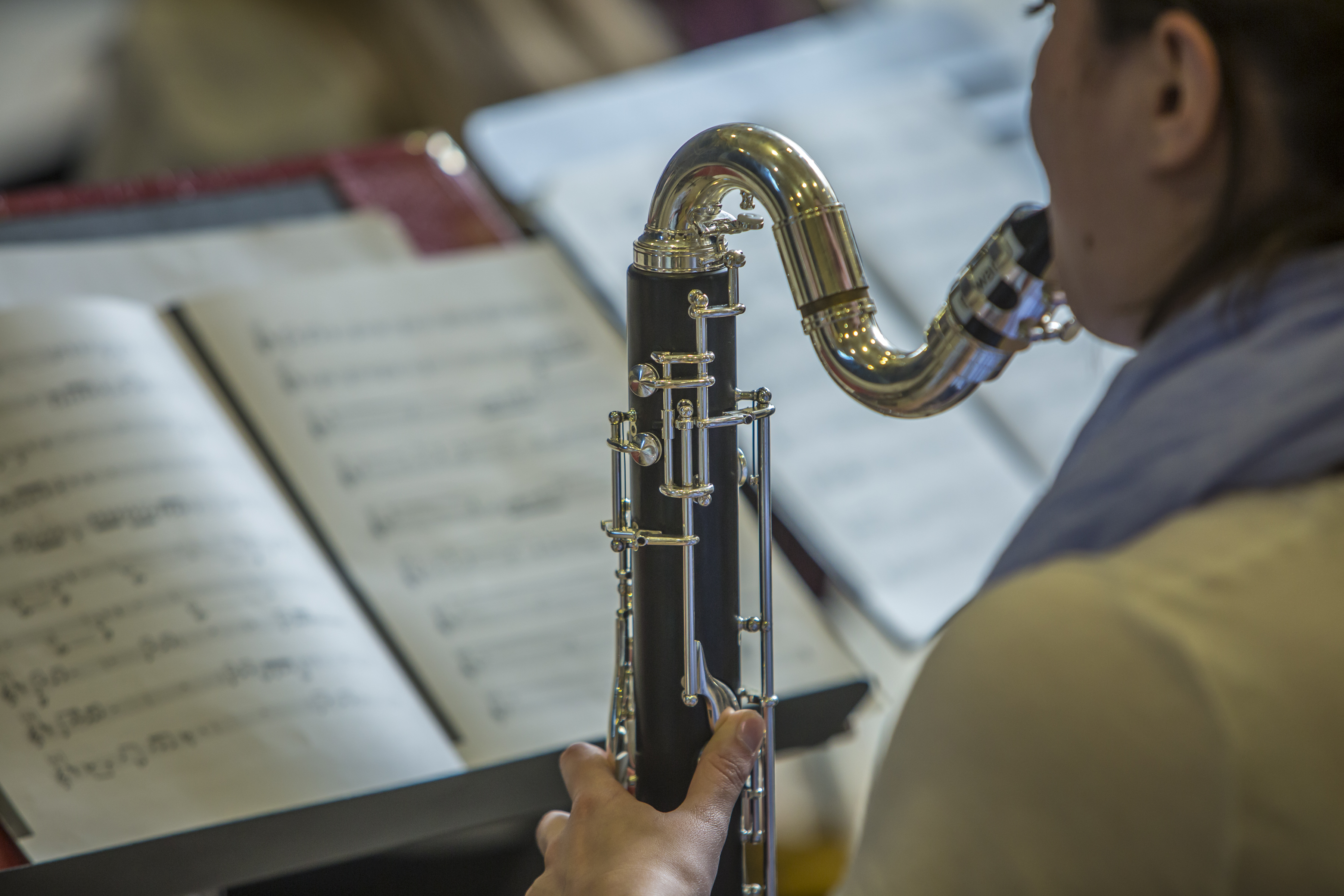 October 15, 2022: "Stand the Storm"
WIND ENSEMBLE & CONCERT CHOIR
Rollo Dilworth – 
Weather
Kevin Puts (arr. Spede) –
Millennium Canons
Carlos Simon –
Sweet Chariot
Omar Thomas –
Come Sunday
November 22, 2022: WindFest Concert
WINDFEST HS HONOR BAND:
Jess Turner –
Bock Fanfares
Jan de Haan –
Sweet Sunset
     Marie Charmaine Trudeau,
oboe
Alex Shapiro –
Tight Squeeze
WIND ENSEMBLE:
David Maslanka –
Traveler
Jennifer Jolley –
Ash
Omar Thomas – 
Come Sunday
COMBINED ENSEMBLES:
Ryan George –
Cafe 512
December 13, 2022: "In A Galaxy Far, Far Away"
WIND ENSEMBLE
Ralph Vaughan Williams –
Fanfare for Glorious John
Ralph Vaughan Williams –
Scherzo all marcia
Jennifer Jolley –
Ash
David Maslanka –
Traveler
Eric Whitacre (arr. Verena Mösenbichler-Bryant) –
Goodnight Moon
     Jessica Beebe,
soprano
John Williams (arr. Hunsberger) –
Star Wars Trilogy
Leroy Anderson –
Sleigh Ride
March 9, 2023: "Beginnings"
WIND ENSEMBLE
Adam Schoenberg –
Rise
, "Beginnings"
Vincent Persichetti –
Symphony No. 6
     II. Adagio Sostenuto
     III. Allegretto
Chris Brubeck (arr. David Henderson) –
Concerto for Bass Trombone
     Tyler O'Shaughnessy,
bass trombone
Allison Loggins-Hull –
The Loop
Denis DiBlasio –
Letting Go
(World Premiere)
Viet Cuong –
Moth
Adam Schoenberg –
Rise
, "Farewell Song" 
April 23, 2022: "Wild Symphony" (Sound Planet Music Festival Event)
WIND ENSEMBLE
Dan Brown – Wild Symphony