Bryan Appleby-Wineberg
Bryan Appleby-Wineberg
Bryan Appleby-Wineberg

Department Chair - Head of Brass - Trumpet - Professor (Full-Time)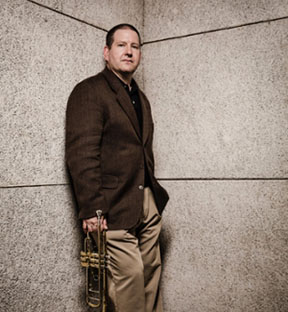 Contact Info
856-256-4500 x53504
Wilson Hall, 137
Biography
Dr. Bryan Appleby-Wineberg began teaching at Rowan in the Fall of 2001, and is Professor of Trumpet and Head of Brass. At Rowan he teaches Studio Trumpet and Trumpet Class for Music Education majors, conducts the Rowan University Brass Band as well as the Atlantic Youth Brass Band, and plays with the Faculty Brass Ensemble. For the 2009/2010 academic year, Bryan and his family were on sabbatical in the United Kingdom, where Bryan played solo cornet with the world famous Brighouse and Rastrick Band, as well as The Lindley Band in West Yorkshire, UK.
Bryan is currently Principal Trumpet of the Bay-Atlantic Symphony, Principal Cornet/Assistant Conductor of the Atlantic Brass Band (Ensemble-in-Residence at Rowan University), and a founding member of the professional trumpet ensemble Tromba Mundi, The World Trumpet Federation, and The Open Bell Podcast. He has performed with many ensembles including the Cleveland Orchestra, The Jupiter Symphony (NYC), The Indianapolis Symphony, the Jeunesses Musicales World Orchestra, The Kent Blossom Festival, Rutgers Summerfest, and Manhattan Chamber Orchestras, the DaCappo Opera Theater (NYC), The Chamber Orchestra of Philadelphia, The Riverside Symphonia, The Opera Company of Philadelphia, The Delaware Symphony, as a guest with the Kent Blossom (OH) Festival Alumni Orchestra under the direction of Leonard Slatkin, and was Principal Trumpet of the Haddonfield Symphony and Brass Quintet for four seasons. Prior to moving to New Jersey for graduate school, Bryan was Principal Trumpet of the Evansville Philharmonic Orchestra in Evansville, Indiana for three seasons and was Assistant Director of Bands and Assistant Professor of Trumpet at the University of Evansville.
He holds degrees from The Oberlin Conservatory of Music (B.M in Trumpet and Music Education) where he studied with Anthony Plog, Jean Moorhead Libbs, and Charles Couch of The Cleveland Orchestra; The Cleveland Institute of Music (M.M. in Trumpet) where studied with James Darling of the Cleveland Orchestra, did additional work with Cleveland Orchestra members Michael Sachs and David Zauder, and was awarded the 1994 Bernard Adelstine Prize in Trumpet; and The Mason Gross School of Music at Rutgers University (D.M.A. in Trumpet) where he studied with Peter Bond of The Metropolitan Opera Orchestra.
Bryan grew up in Ann Arbor, Michigan and spent 4 summers studying with Armando Ghitalla at The University of Michigan. He lives in Glassboro, New Jersey with his wife Sarah, a Midwife and Nurse-Practitioner in Women's Health, and they have two adult daughters, Hannah and Kathryn.