Jiannan Cheng
Jiannan Cheng
Jiannan Cheng

Director of Orchestras - Assistant Professor (Full-Time)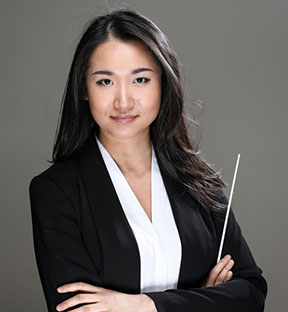 Contact Info
Biography
Professor Jiannan Cheng joined the faculty of Rowan University in the fall of 2020.  At Rowan she is Music Director of the Rowan University Orchestra, serves as the conductor for the opera productions, and teaches graduate and undergraduate conducting.  Before joining the Rowan faculty, she was the Director of Orchestral Ensembles at Fordham University, and held the position of Adjunct Instructor in Orchestral Conducting at the University of Cincinnati, College-Conservatory of Music, where she led concert performances and served as the music director of opera productions.
Mrs. Cheng made her European debut conducting and working with the Orchestra Giovanile Luigi Cherubini, Stuttgart Philharmonic, the Georgian Chamber Orchestra Ingolstadt, and the Munich Hochschule Symphony Orchestra. Ms. Cheng was a candidate for the 2017 German Conductors' Award, and second prize winner of the 2016 4x4 Competition for Composers and Conductors. Her teachers and mentors have included world-renowned conductors such as Riccardo Muti, Kurt Masur, and Marcus Bosch, to whom she served as an assistant in Heidenheim, Germany, and led a successful performance of Verdi's Nabucco. Other past professional positions include Conducting Fellow of the Cincinnati Symphony Orchestra, and the Miami Symphony Orchestra.
Mrs. Cheng completed her undergraduate studies at the China Conservatory of Music in Beijing. She earned her Master's degree from the University of Washington in Seattle, and is a Doctor of Musical Arts candidate in orchestral conducting at the University of Cincinnati, College-Conservatory of Music.