Lynn Gumert
Lynn Gumert
Lynn Gumert

Music Therapy - Adjunct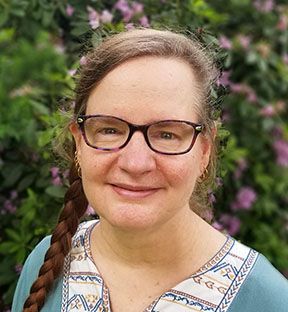 Contact Info
Biography
Dr. Lynn Gumert, music therapist, composer/arranger, educator, performer, and conductor, has been a music therapist since January 2019 and has been teaching in the Music Therapy program at Rowan University since September 2019. As a music therapist they have worked with children, adolescents, and adults in psychiatric settings; with older individuals experiencing the effects of dementia; and with children with developmental delays. They have served as Site Supervisor and Clinical Supervisor for music therapy practicum students through Rowan University and Montclair State University. They have also taught adaptive piano and voice lessons for children and adults.
As a composer and educator, they have taught courses in Gender and Popular Culture, Music Theory, Popular Music, Music Technology, World Music, Women in Music, and Composition at Montclair State University, Rider University, Rutgers University, Indiana University, and Gettysburg College. Their compositions have been performed in the U.S., South America, and Europe, including performances by the Contemporary Music Forum in Washington, D.C., the Festival of Women Composers International, Society of Composers Regional Conferences, the Midwest Composers Symposium in Oberlin, and the Seventh International Alliance of Women in Music Concert. They have received commissions for vocal, choral, early music ensemble, viola da gamba, and guitar compositions. They have also served in various capacities on the Board of the International Alliance for Women in Music (IAWM).
As a community artist, they have developed bilingual programs using music for building self-esteem and enhancing creative expression with groups ranging in age from pre-K to senior citizens and have worked with immigrant and migrant communities in New Jersey and Pennsylvania. They have served on Pennsylvania AIE artist roster panels for the Cultural Alliance of York County and the South Central PaARTners at Millersville University.
As Artistic Director of Zorzal Music Ensemble, they developed and managed multidisciplinary art projects that received funding from Pennsylvania Partners in the Arts and served as Artistic Director for projects funded by the Central PA Consortium. They also presented lecture-recitals on aspects of colonial-period Latin American music at the College Music Society International Conference in Costa Rica and at the Seventh International Festival of Women Composers in Pittsburgh.
Education and Credentials:
MA: Music Therapy, Montclair State University
DM, MM: Music Composition, Indiana University—Bloomington
MM: Music Composition, The Catholic University of America
Music Therapist, Board Certified (MT-BC)
Presentations:
Artistic Music Therapy: A Multi-Expressive Approach to Improvisation, public presentation of master's research, Saint Elizabeths Hospital, Washington, DC, December 2018
Composing a Life: The Music of Lynn Gumert, lecture and concert sponsored by SAI Music Fraternity, Gettysburg College, March 2004
Music Making in Colonial Period Mexican Convents, lecture-recital, Festival of Women Composers International, Indiana University of Pennsylvania, March 2004
Cultural Crossroads: Music of Spain and Spanish America, hybrid panel-performance, College Music Society International Conference, San Jose and Muelle, Costa Rica, June 2003
Incorporating Women Composers into Private Piano Studio Curriculum: Pennsylvania Music Educators Association, Lemoyne, PA, 4/2003
Awards:
Eighth Aliénor International Harpsichord Competition
Bay Area Women's Philharmonic Competition
Grants:
Mellon Foundation Grants; Middlesex County Cultural and Heritage Commission Arts (MCCHC) Artistic Innovation grant; Jump Street-Pennsylvania Partners in the Arts (PPA) grant; Gettysburg College professional development grant
Residencies:
UCross Foundation Residency Program, Clearmont, WY
Jean and Louis Dreyfus Foundation Fellow, Millay Colony for the Arts, Austerlitz, NY
Publications and Recordings:
​Undercurrents for viola da gamba; commissioned by Philip Serna; 2011. Scheduled to be released in 2021 on the recording, Shattered Glass: New Music for Viola da Gamba by Women Composers.
Gumert, L. (2016). Roomful of Teeth: Roomful of Teeth (2012) and Render (2015) [CD review]. Journal of the Society for American Music, 10(02), 233-237.
Crossroads/Encrucijadas, CD including original compositions "D'estas aves" and "La Niña Guerrera" and original arrangements of Sephardic music. Zorzal Music Ensemble, Dec. 2008