Christopher Hochstuhl
Christopher Hochstuhl
Christopher Hochstuhl

Voice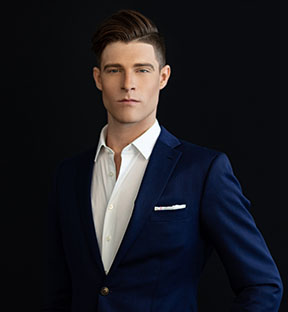 Contact Info
Biography
Tenor Christopher Hochstuhl's second passion in life is teaching voice.  With his background in voice pedagogy, he specializes in teaching both musical theatre and classical singing. He has also worked with singers interested in jazz and alternative rock.
Mr. Hochstuhl's students have received leading roles in their high school and community musicals, won competitions and received awards from NJ NATS and community theaters, and regularly sing in their school's select ensembles and in regional honor choirs. Students have also performed with regional theaters such as the Broadway Theatre at Pitman, the Count Basie Theatre, Papermill Playhouse, and the McCarter Theatre. Alumni from his studio have gone on for college degrees in both musical theatre and classical voice at universities such as Boston University, Montclair University, The College of New Jersey, and Rider University.
Mr. Hochstuhl believes that singing is more than talent, it is a learned and developed skill. He works with his singers to help them understand the voice, technique, and how their unique voice functions in their own body. In addition to developing the voice, students study audition strategies, performance and acting technique, and study a variety of vocal repertoire. The goal of Mr. Hochstuhl's teaching is to not only develop the voice but give students the necessary tools to recreate his or her best singing outside the voice studio.
As a performer, Mr. Hochstuhl has performed professionally in both the United States and Germany. Mr. Hochstuhl is currently performing in the Opernstudio NRW with the German state opera houses of Essen, Dortmund, Gelsenkirchen, and Wuppertal. Highlights from the 21/22 season included the title role in Offenbach's Orpheus in der Unterwelt in with Musiktheater im Revier Gelsenkirchen and singing Annas/Pontius Pilate in Oper Wuppertal's Jesus Christ Superstar. He also made appearance in Aalto Musiktheater Essen's productions of Puccini's La Boheme, Verdi's Don Carlo, and Puccini's Il Trittico. In the 22/23 season Mr. Hochstuhl will give performances as Amida in Cavalli's L'Ormindo with Ensemble Mattiacis Wiesbaden, Heinrich in Wagner's Tannhäuser and Vitellozzo in Donizetti's Lucrezia Borgia in Essen, and der Ausguck in Britten's Billy Budd and Edoardo in Verdi's Un giorno di regno in Gelsenkirchen. Mr. Hochstuhl made his German debut in 2019 with the Stadttheater Giessen, performing the tenor lead in the new opera Glaube.Liebe.Abschied. 
Within the USA, Mr. Hochstuhl has performed with American opera companies such as Sarasota Opera, New York City Opera, the Caramoor Festival, Teatro Nuovo (NY), Opera Wilmington, Opera Idaho, and the Hawai'i Performing Arts Festival, and performed as a soloist with regional ensembles such as Boston's period orchestra AnticoModerno, The Bach Collegium of Saint Peter's Lutheran (NYC), the Princeton Pro Musica, the New Jersey Choral Arts Society, the concert series of Reform Congregation Keneseth Israel, and the Philadelphia Sinfonia. Mr. Hochstuhl performs a variety of classical repertoire, his favorites being the music of the late-baroque, classical, and bel canto eras. Mr. Hochstuhl also regularly programs and performs both golden-era and contemporary musical theatre.
Mr. Hochstuhl holds a Master of Music in Voice Performance and Pedagogy from the Westminster Choir College. He is a union member of the American Guild of Musical Artists (AGMA) and the National Association of Teachers of Singing (NATS).