Kevin Stahl
Kevin Stahl
Kevin Stahl

Game Audio - Music Technology - Adjunct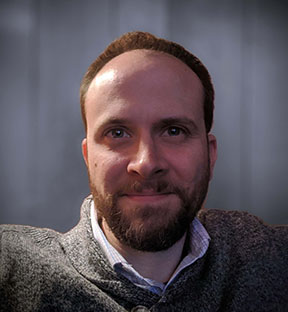 Contact Info
Wilson Hall, 118
Biography
Kevin Stahl is an award-winning film composer, video game composer, sound designer, producer, drummer, and music educator. He earned his Master of Music in Composition and Bachelor of Music in Jazz Studies from Rowan University and is co-founder of Idryonis Studios, a movie post-production studio that provides special effects, sound design, music scoring, and application development to a myriad of entertainment and corporate clients..
As a Composer and Executive Producer, he has overseen productions, composed music and sound design, and provided computer programming support for hundreds of movies, television shows, webseries, and video games, including major interactive products for commercial release and for internationally renowned clients such as Virgin Galactic, The United States Navy, Entertainment Technology Corp, and InMotion Simulation, plus many more. He has received numerous awards and accolades for his film scores, and his unique immersive soundtracks for theme park rides, virtual reality motion simulators, and museum attractions are enjoyed at major destinations around the globe. Kevin's music has been placed in TV and radio commercials, and television shows on nearly every major network in America and Europe. In addition, Kevin's growing catalogue of concert works have received premieres and performances across the United States, including a world-premier at the Kennedy Center in Washington, DC.
Kevin's unique blend of technical skills, musical talents, and entrepreneurial acumen enables him to forge working relationships with distinguished organizations such as the Philadelphia Orchestra and W. W. Norton & Company publishers who utilize his skills and talents to solve unique technical and creative challenges. As a drummer and bandleadert, his very busy performance schedule includes regular public and private performances with his jazz big band, Rendition Big Band, and regular performances with the Straight Ahead Big Band and Jump City Jazz Orchestra. He routinely performs in pit orchestras for professional musical theater organizations such as the Media Theater, and the Arden Theater, and he maintains a busy performance schedule with his jazz fusion quartet, Fourcast.
His commitment to music education extends beyond his role as Assistant Professor at Rowan University. He serves as Adjunct Professor of Music Composition at West Chester University where he teaches Film Scoring, Video Game Composition, Music Theory, and Private Lessons. Kevin also serves as Adjunct Professor of Music Technology at Drexel University. Kevin is the director of a high school jazz ensemble at Upper Moreland High School in Pennsylvania, and is a frequent jazz clinician and guest speaker on diverse topics such as music technology, film scoring, composition, and jazz drumming. Kevin maintains a selective private lesson studio of approximately 15 serious students who study drums, music technology, or composition with him. Further serving his commitment to educational outreach, Kevin adjudicates jazz festivals in Southeastern Pennsylvania, serves as Percussion Coordinator for the Montgomery County Honors Band and is the instrumental coordinator for a music summer camp in Upper Moreland, PA.
Kevin's original soundtracks and other jazz/classical crossover albums can be found on Spotify, YouTube, Apple Music, Amazon, or wherever you get your music. You can learn more about his professional career by visiting his website at http://iamKe.vin or following him on Twitter at @kstahl.
Kevin lives in Pennsylvania with his wife and four children, who keep him busier than any other career ever could!
Education:
Master of Music in Composition, Rowan University
Bachelor of Music in Jazz Studies, Rowan University
Website:
Twitter: