Melanie Stewart
Melanie Stewart
Melanie Stewart

Associate Dean - Associate Professor (Full-Time)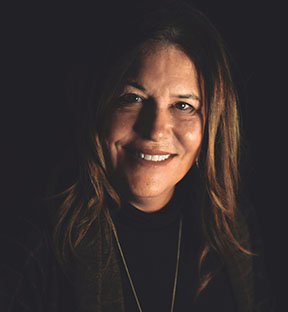 Contact Info
856-256-4548
Wilson Hall, 211
Biography
Throughout her career Melanie Stewart has actively linked her professional work as a performer, choreographer, director and producer to her academic career as the Associate Dean of the College of Performing Arts and as a Professor of Theatre and Dance.  She holds two degrees in dance; a B.A. in Dance at Webster College and an M.F.A. in Choreography/Performance from Temple University.
Stewart creates darkly absurd movement-driven theatre focusing on the nuanced, weird, and vulnerable side of American culture. From 1984-2016 she was the Artistic Director of Melanie Stewart Dance Theatre producing over 50 original works of dance and movement driven theatre for the concert stage, in dance/film/video, and in education, both nationally and abroad. Through the integration of movement, text, and image, she investigates the ability of the body to carry meaning in original narratives. Her creative work reveals the emotional undercurrents that drive the body to action, resulting in compelling dance theatre that is often ironic and intensely human.
As a critically acclaimed choreographer and director, Stewart's awards include numerous grants and fellowships from The National Endowment for the Arts, Dance Advance/Pew Charitable Trusts, The Pennsylvania Council on the Arts and the New Jersey Council on the Arts.  She is also a Leigh Gerdine Distinguished Alumna Award winner from Webster University. Her recent productions include;  Small Gifts (2020), In America, That is to Say No Where (2019),  A Soldier's Tale (2019), Interactive Wizard of Oz (2019), Credo in Us (2018) and, Interactive Alice in Wonderland (2018).
Stewart has conducted numerous teaching residencies nationally and abroad; including such schools as Temple University, University of the Arts, Sacramento State University, Dennison University and The University of Ulster in Northern Ireland. Presently, she is teaching Medical Improv for students at Rowan's School of Osteopathic Medicine and Cooper Medical School and teaches Physical Theatre for the Department of Theatre and Dance on Rowan's main campus.
Her research presentations and articles on the role of theatre in medical school training include:  "Theatre Improvisation in Osteopathic Medical Education" at The National Conference on Osteopathic Medicine (OMED) with Dr. Aubrey Olson and  "Teaching Empathy?  Implementing Theatre Pedagogy in the Medical School Curriculum"  co-authored with Dr. Elisabeth Hostetter for Critical Stages/Scenes Critique.
As an active member of the cultural community in South Jersey, Stewart is the Chair of Creative Glassboro Arts Advisory Board, Chair of the Glassboro Health Equity Coalition and serves on the Board of Directors for the South Jersey Cultural Alliance and, in Philadelphia, for Ego Po Classic Theatre.