Marie Trudeau
Marie Trudeau
Marie Trudeau

Oboe - Adjunct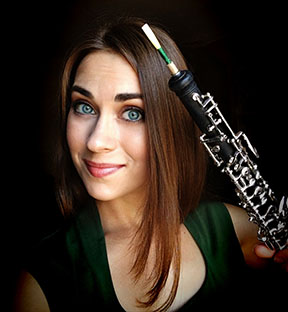 Contact Info
Biography
Marie Trudeau is a dynamic oboist who prides herself on her pedagogy methods as much as her approach to performance. She performs with the Allentown Symphony, Reading Symphony, Bay Atlantic, Kennett Symphony, and many others in the tristate area. Marie performs throughout the country in locations like Key West, Los Angeles, and New York as well as internationally.  In 2018 she performed as principal oboe with the Philadelphia Festival Orchestra in China and has been invited to teach two festivals in Italy. She has also assisted seminars in Carmel, California.
Since 2010, Marie has focused on historical performance in addition to modern oboe, which includes performances in Carnegie Hall on both the two keyed Baroque and the eight keyed Classical oboe. On modern oboe, she is part of a project of ongoing R&B, Motown, and Soul tune recordings for comedian Tracy Morgan.  She can be heard on the Grammy nominated Jazz album, "Pictures at an African Exhibition," composed by Darryl Yokley, released in 2018. Other original music that has been written for her to premiere includes the Nine Inch Nails inspired "Differential Moods" by Matthew Schoendorff and the beverage inspired "Happy Hour" by Phil Popham.
Marie runs clinics and sectionals for ensembles around the state. She works with the New Jersey Youth Symphony, and previously for Drew University and Rutgers University. Since 2018, she has been on faculty at the Lewis School and Clinic of Princeton. There, she develops specialized music courses for an extremely neurodivergent clientele. Marie works with a diverse array of students including those with dyslexia, auditory processing challenges, ADHD, and language-based learning differences.  In 2020, she resurrected a non-profit organization called Total Harmony Effect with colleague Deryck Clarke.  T.H.E. serves to promote music education for underprivileged areas and puts on recitals for students yearly. Marie appreciates a continual expansion of musical knowledge by approaching it from every lens and finds delight in sharing that with her students.
As an avid reed maker, Marie has taken on clients from around North America. From 2014-2016 she supplied oboe reeds to the company, MKL and presently makes reeds for students and colleagues throughout the country. Since 2019 she has been the sole supplier for reeds at the University of Delaware and holds classes for students throughout the state.
Marie earned a DMA from Rutgers University in 2016. Prior to that she attended the Cleveland Institute of Music for her master's and Michigan State University for her bachelor's degree. Marie's dissertation "Prokofiev's Trapéze, Walking the Tightrope between Composing and Culture," which focuses on Prokofiev's Quintet for oboe, clarinet, violin, viola, and double bass, can be found at both the Rutgers University and Columbia University Libraries. Her main teachers have been Jonathan Blumenfeld, Robert Walters, Treva Womble, Betty Camus, Nancy King, and Jan Eberle.