Gordon Turk
Gordon Turk
Gordon Turk

Organ - Adjunct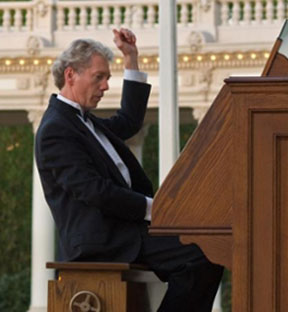 Contact Info
Biography
A critically acclaimed concert organist, Gordon Turk has performed throughout the United States, Europe, and Asia. He was winner of the John Cerevalo Prize for "Excellence in the performance of the music of J. S. Bach", and has been a prizewinner in the national improvisation competition of the American Guild of Organists.
Dr. Turk travels nationally and internationally for concert performances, and has played in Carnegie Hall, NYC, the Kimmel Center in Philadelphia, and other landmark concert halls in the US. He has performed in the legendary Bolshoi Philharmonic in St. Petersburg, Russia, and other cities of Russia, and in international organ festivals of Switzerland and the Ukraine. He has made two concert tours in Japan, and recently returned from his second concert tour in the Ukraine, playing solo performances and also concertos with orchestra.
Gordon Turk was selected as one of the leading organists of the nation, to play in the opening recitals for the inauguration of the new pipe organ at Philadelphia's Kimmel Center in May 2006. In June he appeared at Kimmel Center in concert with American folk singers, Peter, Paul and Mary, and in November returned to Kimmel to play another organ recital. He has also collaborated with other musicians of note, in concert: Phillip Smith, Principal Trumpet, NY Philharmonic; Joseph Alessi, Principal Trombone, NY Philharmonic; David Kim, Concertmaster, Phila. Orchestra; Elizabeth Hainen, Principal Harp, Phila. Orchestra; Kathleen Bride, Chair, Harp Dept., Eastman School of Music.
He has made television appearances in concert, and has played live concert broadcasts for National Public Radio. He has performed in concert and conducted master classes at universities throughout the US and in Europe, as well as for national and regional conventions of the American Guild of Organists, and has also served as Dean of the Philadelphia chapter of the AGO.
A graduate of the famed Curtis Institute of Music, he studied piano with Vladimir Sokoloff and organ with Alexander McCurdy. He also studied with New York composer and organist McNeil Robinson at the Manhattan School of Music, earning the Master's degree and the Doctor of Musical Arts, both with honors. He taught as Professor of Organ at West Chester University in PA, from 1992 - 1999.
As Resident Organist of the historic Auditorium in Ocean Grove, NJ, he plays weekly recitals on the organ of over 11,600 pipes, during the summer season. He is also Founder and Artistic Director of the Summer Stars Chamber Music Festival, presenting outstanding talents from the US and abroad. He has recorded several CDs, and his CD "French Spectaculars on the Ocean Grove Auditorium Organ" recorded on the Dorian label, has been critically acclaimed.
Dr. Turk is Organist and Choirmaster of St. Mary's Episcopal Church, Wayne, PA. In this capacity he directs three choirs of volunteer and professional singers in a comprehensive program of choral music, including performances with orchestra. He is also active as a consultant for the building of new pipe organs and restoration of historic instruments. He is professor of organ instruction at Rowan University. A composer of works for chamber orchestra, organ, voice, and chorus, his composition "Elegy" for string orchestra and oboe was featured in live TV broadcasts in Japan.