Pamela Turowski
Pamela Turowski
Pamela Turowski

Director of the Rowan Youth Wind Ensemble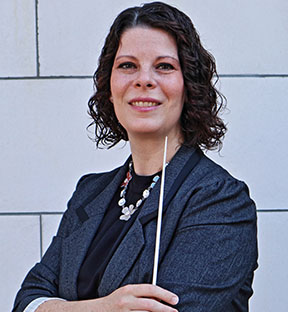 Contact Info
Biography
Pamela L. Turowski, Ph.D., is Music Director of the Academy of Performing Arts at the Burlington County Institute of Technology in Medford, New Jersey. She teaches career and technical education courses in instrumental and vocal performance in classical, jazz, and popular musical styles, music theory and applied piano, music technology, and music history. Additionally, she conducts the Jaguar Jazz Band and Spring Musical Pit Orchestra. Dr. Turowski is the new Artistic Director of the Rowan Youth Wind Ensemble, part of the Community Music School at Rowan University. Prior to her appointment at BCIT, Dr. Turowski supervised student teachers for Mansfield University, served as a Graduate Teaching Assistant at Temple University, and taught beginning band, general music, and early childhood classes throughout New Jersey and Pennsylvania.
Dr. Turowski has presented at many regional, national, and international conferences in music education including those sponsored by the National Association for Music Education, the Society for Music Teacher Educators, the Suncoast Music Education Research Symposium, International Conference on Music Learning Theory, the New Jersey Music Educators Association, the Pennsylvania Music Educators Association, and the New York State School Music Association. Her presentation topics include emphasizing musicianship and skills-based learning, jazz education, music and movement, improvisation, composition, creativity, collaboration, and informal music learning.
Dr. Turowski's research interests include music teacher preparation, co-constructivist education, informal music learning, and music technology. She co-authored a chapter in Music Education: Navigating the Future (2014, Routledge) and published articles in PMEA News, and Pan Pipes. For her dissertation, she explored elementary band students' familiarity with repertoire common to band method books, and how their familiar repertoire predicts achievement in singing, playing by ear, and improvising.
Dr. Turowski received a Ph.D. in Music Education from Temple University. She has an MA in Music Education from the Eastman School of Music and a BM in Music Education from Rowan University.