Veda Zuponcic
Veda Zuponcic
Veda Zuponcic

Piano - Music Appreciation - Professor (Full-Time)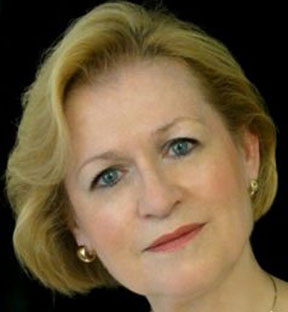 Contact Info
Wilson Hall, 215
Biography
Since 1972 Veda Zuponcic has been Professor of Piano at Rowan University, where she has built a reputation as a pragmatic and successful pedagogue of students of all ages.
Born in Aurora, Minnesota, she studied at Indiana University with the great pedagogue and pianist, Sidney Foster. While at Indiana she completed both B.M and M.M. degrees in Piano Performance, and distinguished herself by winning the Rachmaninoff 3rd Piano Concerto Competition, and the Performers Certificate. Further studies were with Ilona Kabos in New York and London, and with Abbey Simon and Seymour Bernstein.
A recipient of a Martha Baird Rockefeller grant, Miss Zuponcic made her formal European debut in 1971. Critics in London, Vienna, Amsterdam and Berlin noted her powerful and fluent technique, the intelligence that informed her performances of music as diverse as Elliott Carter and Haydn, and her natural affinity for Romantic composers. As a prizewinner in the Alfredo Casella Competition, Naples, Professor Zuponcic toured Italy under the auspices of the U.S. Dept. of State. Her American debut at Lincoln Center's Alice Tully Hall in 1973 was followed by recital and orchestral performances throughout the United States, including New York, Philadelphia, Chicago, Washington D.C., Detroit, Atlanta and Minneapolis.
In the past decade she has become a sought-after performer in the concert halls of Eastern Europe and the former Soviet Union, having played more than 100 concerts and recitals in Moscow, St. Petersburg, Dubrovnik, Tbilisi, Arkhangelsk, Tashkent, Kiev, Kishiniev, Zagreb and Kharkov among others. After her first Moscow performance, Musykalnaya Zhisn wrote: "Zuponcic played commandingly, intelligently, strongly with great natural energy and fire but without artificial exaltation. She is a genuine virtuoso." And at the Dubrovnik Festival: "Zuponcic gave us a technically brilliant performance of Liszt's Venezia e Napoli. She elevated this music beyond sheer pyrotechnics by her devotion to the melodic elements."-Slobodna Dalmacia. The London Times called her "An absolute Mistress of Romantic Syntax." After her most recent New York recital at Carnegie Hall's Weill Recital Hall, New York Times critic Allen Kozinn wrote: "In Schumann's Kreisleriana, the storminess and bristling speed she applied to the fast movements were offset by the warmth and poetry she lavished on the introspective ones." Professor Zuponcic has garnered similar critical acclaim for concerts around the world.
Her extensive touring on four continents includes a 1998 tour of Japan. Professor Zuponcic's orchestral appearances have included the Russian State Symphonic Orchestra, the Moscow Philharmonic, the Zagreb and Seville Orchestras, the New Jersey Symphony Orchestra, the Savannah Symphony Orchestra, and the Tbilisi Symphony. She has appeared as soloist on American tours with the Moldovan Chamber Orchestra and the Moscow Chamber Orchestra. Other appearances include the Leningrad Chamber Orchestra, the Krasnodar Symphony, the Utica, NY Symphony, the Kharkov (Ukraine) Symphony, the South Jersey Symphony, Central Jersey Symphony, Hoboken Chamber Orchestra, the Moldovan State Symphony, and the Tashkent Chamber Orchestra. Professor Zuponcic is in frequent demand as a clinician, and has presented workshops and masterclasses throughout the world, including the Barcelona Liceo, the Moscow State Conservatory, the Tashkent Conservatory, Temple University, the University of Wisconsin, Northern Illinois University, Croatian National Conservatory, Kharkov Institute of Arts and Shizuoko Musical College. In 1992 she was an Exchange Professor at the Moscow State Conservatory where she taught a full class of students and gave a series of lectures on American piano music. She has lectured on many topics of piano pedagogy for MTNA state organizations, including the Texas, Minnesota and New Jersey State Conventions. She is currently on the faculty of the International Master Classes in Alushta, Ukraine.
Her students have been prizewinners in the Philadelphia Orchestra Competition; San Angelo, TX Competition; the Bartok Kabalevsky Competition, the Washington D.C. International competition, the Stravinsky Competition, ARTS Competition, Kingsville, TX Competition; Josef Hofmann Competition; and MTNA Collegiate, Senior and Junior High School Competitions. Professor Zuponcic can be heard frequently in concert at Rowan University and on her two solo CDs for the Melodiya Label, The Romantic Piano, and Americans from Moscow: Works by Carter, Dello Joio, Fine, Copland and Gershwin.