Music of Social Justice
Music of Social Justice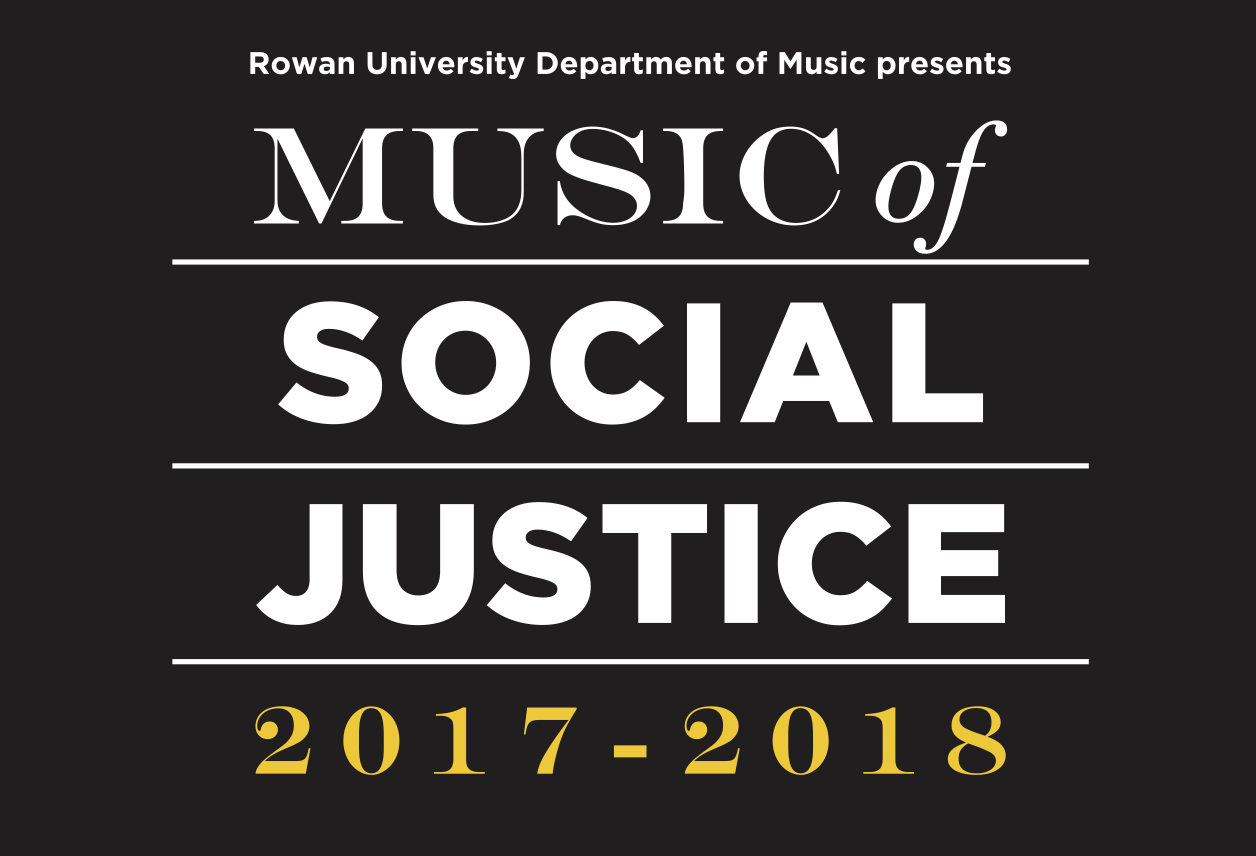 "When we enlarge our view of the world,
we deepen our understanding of our own lives."
Yo-Yo Ma
A LOOK BACK:  In case you missed it, please enjoy this full concert video of the Wind Ensemble and Concert Choir performing "Music of Social Justice" on April 28, 2018 at 8PM at Rowan University.
FEATURED ON NJPEN.COM: Click here to read more!
The 2017-2018 academic year and performance season of the Rowan University Department of Music featured a special series: Music of Social Justice. Our goal was to encourage cultural competence through art, to explore topics of gender and racial inequality, poverty, trafficking, human rights, and other significant social justice issues. Through this year-long series of events, students and audiences had the opportunity to communicate "cross-culturally, to experience a stronger sense of empathy, a deeper understanding, and a greater respect for others despite any contrasting ethnic, religious, political, gender, historical, and personal constructs that may define how they view and experience the world."
Descriptions of all series events are below: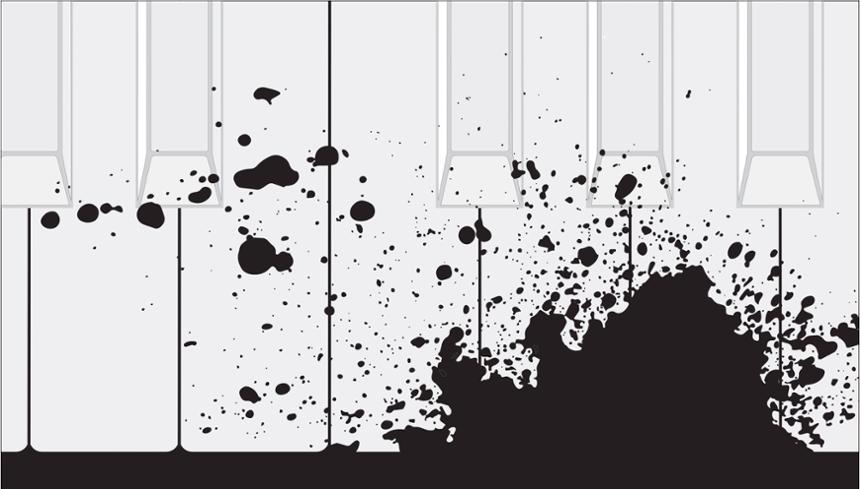 Rowan University Women in the Arts Festival: Flute Choir (10/25/17, 11:00am)  In collaboration with the Women's Center, our Flute Choir, conducted by Adeline Tomasone, performs selections from their Fall Semester repertoire. Join them outside at Memorial Circle for this celebration of women in the arts.
Rowan University Women in the Arts Festival: Guest Lecture & Discussion (10/25/17, 6:30pm)  Dr. Colleen Sears, Assistant Professor of Music at TCNJ, will lead a discussion about the intersection of music education and social justice. Her research focuses on issues of gender equity and access in arts education. This event will be held onstage in Pfleeger Concert Hall.
Wind Ensemble (10/28/17, 8pm) "Philadelphia Voices: Women Composers in Concert"  Launching a season of concerts that highlight women composers, this program presents works by women composers, including: Mysterium by Jennifer Higdon, Shadja-maalika by Asha Srinivasan, and the east-coast premiere of Broadloom by Philadelphian Kala Pierson. Two featured composers will be in attendance at the concert to speak with the audience and introduce their music. The Rowan University Wind Ensemble will be joined onstage by the excellent Philadelphia Wind Symphony (Paul Bryan, conductor).
String Ensemble (11/5/17, 7pm) "Remembering the Past - Anticipating the Future"  This concert features "Dabke" from A Voice Exclaiming by Syrian composer Kareem Roustom. The String Ensemble will also perform Dmitri Shostakovich's powerful Chamber Symphony, Op. 110a (from String Quartet No. 8), which was written in 1960 and dedicated to "the victims of fascism and the war."
Faculty Recital (2/7/18, 8pm) "From the Underground"  Violinist Timothy Schwarz and pianist Daniel Weiser perform works by minority composers, highlighting the unique struggles different minority groups have encountered throughout history.
Jazz Band (2/16/18, 8pm) "The Kennedy Dream: A Tribute to Composer Oliver Nelson with Guest Artist Oliver Nelson, Jr."  The Jazz Band performs excerpts from The Kennedy Dream by Oliver Nelson, an American jazz saxophonist, clarinetist, arranger, composer, and bandleader. He is best remembered for his groundbreaking 1961 Impulse! album The Blues and the Abstract Truth, widely regarded as one of the most significant recordings of the modern jazz era. The Kennedy Dream is a semi-orchestral suite in which the compositions are launched by brief sections of JFK's speeches on equality and positive change. The music reflects the changing times, as identified by Nelson, ranging from commercial movie score-like music to soulful or straight-ahead jazz, bop, and the modern big-band sound. This special performance will feature narration by Rowan University Provost James Newell. There will be a pre-concert talk by Denis DiBlasio at 7:45pm. UPDATE: We are thrilled to announce that composer's son, Oliver Nelson, Jr., will be in attendance at the concert and pre-concert conversation!
***Our MUSIC OF SOCIAL JUSTICE events in March are also a part of Rowan Univeristy's WOMEN'S HISTORY MONTH programming. Check out the full programming below!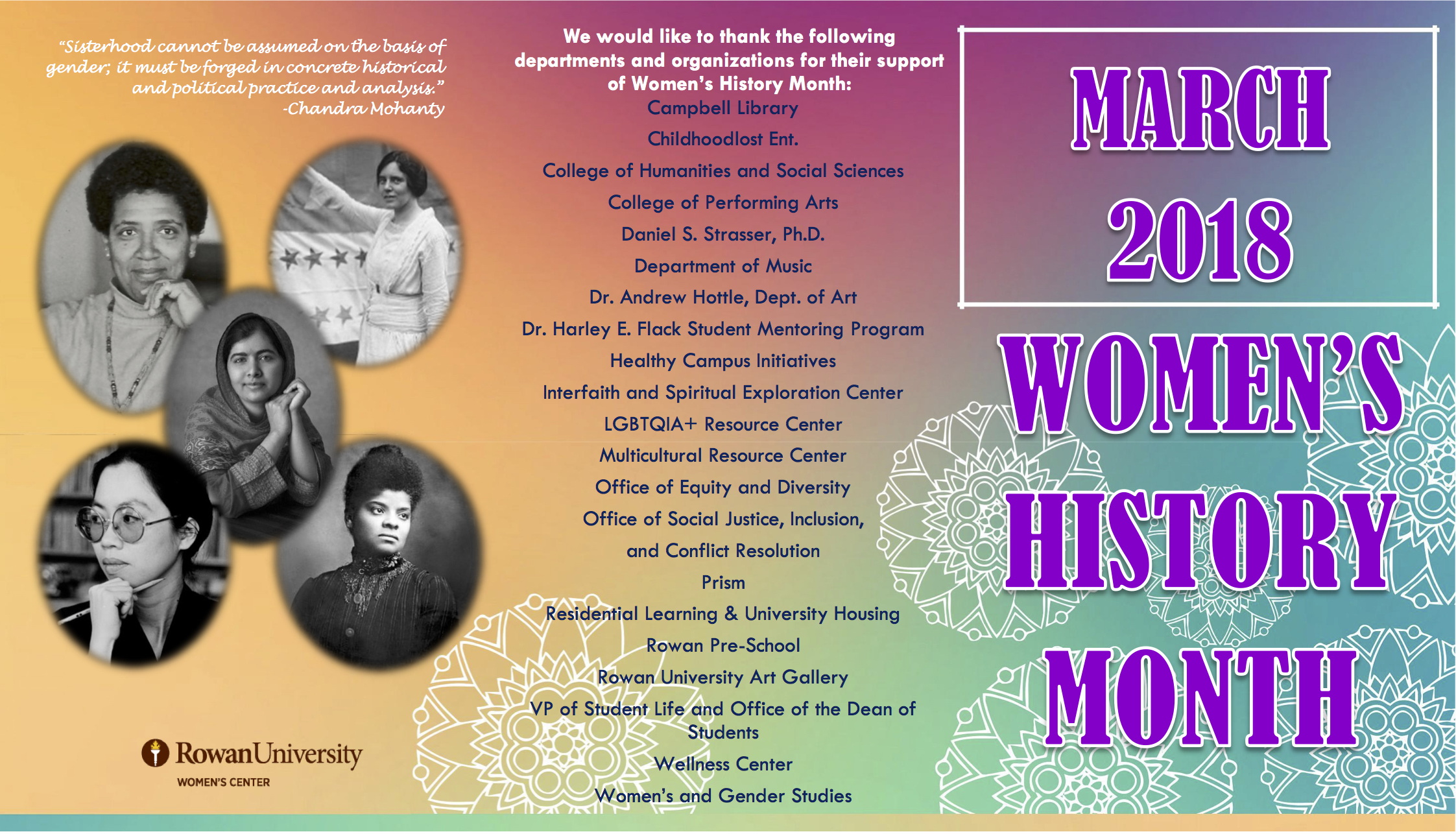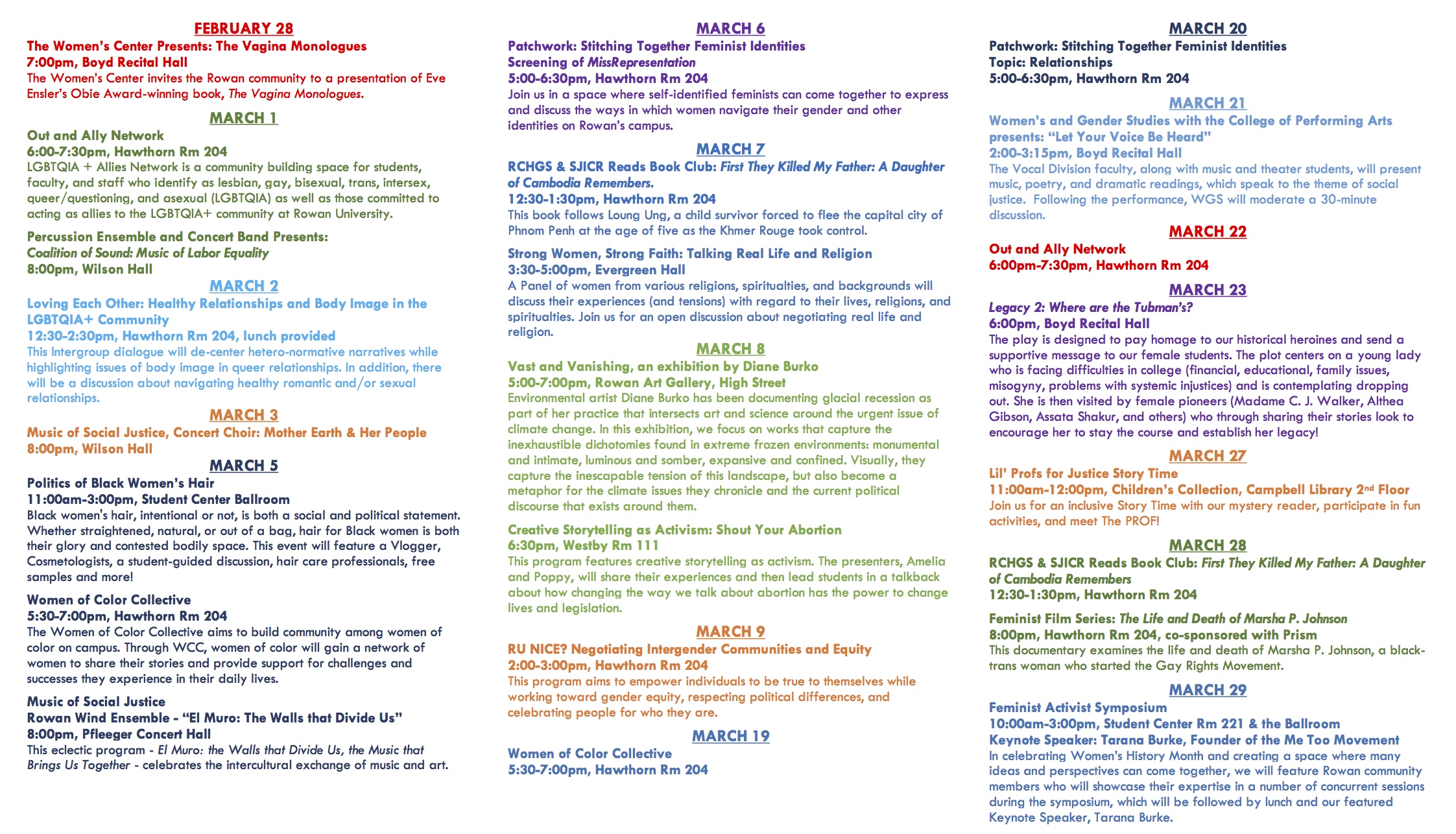 Concert Band, Percussion & Chamber Ensembles (3/1/18, 8pm) "Coalition of Sound: Music of Labor Equality"  The concert begins with Louis Andriessen's unforgettable Workers Union by the Rowan University Percussion Ensemble. Other chamber ensembles, including the Saxophone Quartet, perform music that celebrates workers' rights and laborers' successes throughout history. The Concert Band, under the direction of Dr. Joseph Higgins, then closes the program with John Mackey's Foundry, Gustav Holst's Song of the Blacksmith, and Elena Roussanova Lucas' Harvesting the Fields of Russia.
Wind Ensemble (3/5/18, 8pm) "El Muro: the Walls that Divide Us, the Music that Brings Us Together"  Please join us for this eclectic program that celebrates the intercultural exchange of music and art. Denis DiBlasio, Rowan professor of jazz and composition, has composed a piece inspired by the poetry of Maya Angelou. The Wind Ensemble performs the world premiere of this new work, along with Ricardo Lorenz's El Muro ("The Wall"). We are thrilled to be joined by both Ricardo Lorenz and composer Nicole Piunno, whose Autumn Air will also be premiered by the Wind Ensemble. Finally, Dr. Rie Suzuki performs Jonathan Leshnoff's new concerto for clarinet and winds, which was commissioned in part by Dr. Joseph Higgins and the Rowan University Wind Ensemble. 
Concert Choir (3/3/18, 8pm) "Mother Earth & Her People"  The concert features Pulitzer Prize-winner Caroline Shaw's To the Hands, a work for voices and strings inspired by the unimaginable struggles of homelessness and displacement. Other concert selections focus on the social issues of environmental sustainability.
Vocal Recital (RESCHEDULED for Wednesday 4/25, 2pm) "Let Your Voice Be Heard: A Reflection of Songs and Readings on Social Justice"  The Vocal Division faculty and students join with students from the Department of Theater and Dance to perform songs, poetry and dramatic readings on a theme of social justice.
String Ensemble (4/21/18, 7pm) "Thinking (WAY) Outside The Box"  This unique concert experience features African-American composer Jessie Montgomery's Voodoo Dolls for string orchestra, Mexican composer Arturo Rodriguez's Introducción, Canción de Cuna y Fiesta, and Caroline Shaw's To The Hands with the Rowan University Concert Choir (an encore performance from 3/3/18). The concert also features a winning high school ensemble from the 2018 Rowan String Festival and the 2018 String Ensemble Concerto Competition winner.
Concert Choir & Wind Ensemble (4/28/18) "Music of Social Justice"  This culminating Music of Social Justice Series event features music focused on gender inequality and civil rights issues. The program includes Adolphus Hailstork's American Guernica, a musical meditation on the 1963 16th Street Baptist Church bombing in Birmingham, AL. We are also proud to present a premiere performance of Anthony Plog's Magdalene, a cantata inspired by a recovery center in Nashville, TN, for women survivors of human trafficking, prostitution, and addiction. This unforgettable concert features many special guest soloists, narrators, and composers, including a special collaboration with Play On, Philly! musicians (an after-school music program for Philadelphia-area high school students). The Concert Choir is conducted by Dr. Christopher Thomas, and the Wind Ensemble is conducted by Dr. Joseph Higgins.