Untold Stories: Truth & Music
Untold Stories: Truth & Music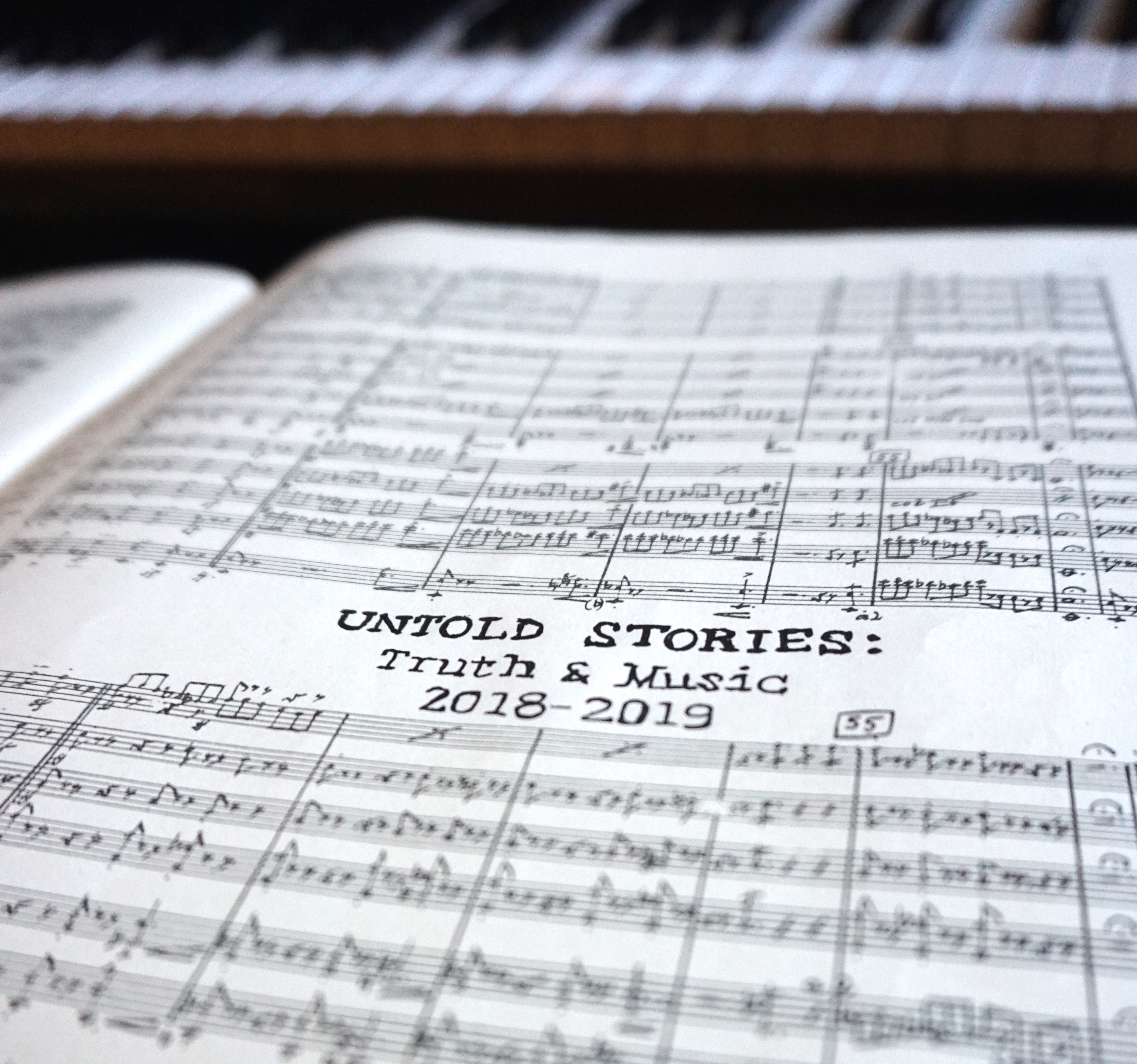 "There is no truer truth obtainable by man than comes of music."
- Robert Browning
A LOOK BACK:  Through musical performances and thought-provoking discussions, our 2018-2019 special series aimed to reexamine musical traditions in a way that reveals new meaning (ex: gangsters and pop culture, Richard Wagner and complicated legacies, music and the Holocaust) and to explore complex contemporary issues through music (ex: mental health awareness, environmental sustainability, cultural appropriation). Explore the full event listing below:
Faculty Spotlight: Guitars and Memoirs
Brian Betz & Joseph Mayes, 8:00 October 17, 2018 (Boyd Recital Hall)
Two of Rowan's talented faculty-artists share a variety of musical stories in what is sure to be an eclectic and memorable recital. Joseph Mayes presents his own published transcription of a suite by Johann Pachelbel. Originally written for theorbo, the suite's movements include the lovely subtitles: "The Discontented Lovers," "The Lovers Relieved," The Lovers Sigh," and "The Lovers Jest." Another highlight of the program is a prelude by Francis Kleynjans, composed in homage of Spanish guitarist Fernando Sor (1778-1839); the work contains musical references to Sor that are given new meaning in Kleynjans' twentieth-century language. The recital concludes with a combined performance of the Brazilian bossa nova "The Girl from Ipanema."
Requiem
Concert Choir, 7:30PM October 20, 2018 (Church of St. Luke and The Epiphany in Philadelphia, PA) & 4:00PM October 21, 2018 (Episcopal Church of St. Andrew and St. Matthew in Wilmington, DE)
Experience the timeless requiems of composers Herbert Howells and Wolfgang Amadeus Mozart in this marvelous pairing by the Rowan University Concert Choir. Audiences have two opportunities to experience this program in special off-campus performances.
The Folksingers
Wind Ensemble & Concert Band, 8:00pm October 25, 2018 (Pfleeger Concert Hall)
Composer Percy Grainger described his masterpiece setting of British folksongs, Lincolnshire Posy, as a "bunch of wildflowers." He set out to capture a "musical portrait of each singer's personality no less than his habits of song, his regular or irregular wonts of rhythm, his preference for gaunt or ornately arabesque delivery, his contrasts of legato and staccato, his tendency towards breadth or delicacy of tone." In this impressive program by the Wind Ensemble and Concert Band, we present a concert of beautiful musical "wildflowers," many of which have become the foundation of the wind band repertoire. We also look at the complex history of folksong collection: whose music has been preserved, and whose is in danger of being lost forever? In addition to works by Grainger, Ralph Vaughan Williams, and Edvard Grieg, a selection of Aaron Copland's Old American Songs will feature vocalists from the Department of Music. The Wind Ensemble also performs the colorful and evocative Avelynn's Lullaby by Joel Puckett.
This performance features special guest Dr. Laura Donnelly, Ethnomusicologist and Rowan University World Music Instructor. She will provide context for the evening's program with her presentation entitled "Mediating Melodies: Preservation and Appropriation in Folksong Collection."

Music & Organized Crime: Parallel Histories
Jazz Band & Concert Choir, 8:00pm November 1, 2018 (Pfleeger Concert Hall)
Explore the mafia in popular culture, insider stories of notorious gangsters, and a concert of the music they loved. This evening of music and conversation features guest lecturer George Anastasia.
Music from Theresienstadt
String Ensemble, 3:00pm November 4, 2018 (Pfleeger Concert Hall)
Theresienstadt was a concentration camp under the Nazi regime, built to act as a community for the cultural elite. Many artists, musicians, and poets resided there, including former members of the Boston Symphony, Vienna Philharmonic, and other iconic institutions. Used by the Nazis for propaganda, some 150,000 people were held there against their will. Many of these Jewish men and women were later sent to other concentration camps, while over 10,000 were killed in the facilities at Theresienstadt. This concert features two works written in Theresienstadt: Gideon Klein's String Trio and Pavel Haas' Study for Strings. The program also features Concerto for Viola and Strings by Dutch composer Leo Smit. We open the concert with Concerto Grosso No. 1 by Ernest Bloch, who wrote music influenced by his Jewish heritage in the decades before Hitler rose to power.
Splendid Wood
Percussion Ensemble, 8:00pm November 19, 2018 (Pfleeger Concert Hall)
Under the director of Dr. Matthew Witten, the Rowan University Percussion Ensemble performs Splendid Wood by Jennifer Higdon. Grammy Award and Pulitzer Prize Winner Jennifer Higdon, based in Philadelphia, describes this composition as "a joyous celebration of the sound of wood, one of nature's most basic materials, a part of all sorts of things in our world, but used most thrillingly and gloriously in instruments. Wood is the material that gives the marimba its unique sound, with a 'round' sort of attack and a tone that blossoms out. This work reflects the evolving patterns inside a piece of wood, always shifting, and yet every part is related and contributes to the magnificence of the whole. This is a celebration of the splendor of the marimba."
The Percussion Ensemble is also joined by talented members of the Department of Theatre & Dance for a performance of John Cage's Credo in Us. The dancers will present a bold visual statement about the overuse/abuse of plastic that endangers our environment.
Canadian Seas: Fortunes Made, Lives Lost
Statesmen Men's Choir & WOCHO Women's Chorus, 8:00pm November 27, 2018 (Pfleeger Concert Hall)
The lives and adventures of fishermen in Nova Scotia, Canada, are captured in this eclectic set of pieces that tell a unique and powerful story. The Statesmen program features: "We'll Rant and We'll Roar" (Newfoundland Folksong) - arr. Mark Sirett; "Ave, Maris Stella" (Latin Canticle) - arr. Diane Loomer; "All the Diamonds" - Bruce Cockburn/arr. Larry Nickel; "Fogarty's Cove" - Stan Rogers/arr. Ron Small; "Frobisher Bay" - James Gordon/arr. Diane Loomer; "Sarah" (Newfoundland Folksong) - arr. Jonathan Quick; "We Rise Again" - Leon Dubinsky/arr. Stephen Smith
The Nature of Water
Dr. Matthew Witten: Faculty Spotlight Recital, 8:00pm December 14, 2018 (Boyd Recital Hall)
This eclectic program features Jacob Druckman's Reflections on the Nature of Water. Composed in six movements, the work considers water in the abstract, both the physical (the sound, touch, taste, and look of water, ice, and steam) and the conceptual (the role of water as we know it in nature, in our urban lives, and in ourselves). Join Dr. Witten for this musical exploration of the importance of water in all of its powerful and unpredictable forms.
Sound Planet, Part I: Earth Song
Symphonic Band & Concert Band, 8:00pm February 28, 2019 (Pfleeger Concert Hall)
Many artists are inspired by the most pressing issues facing our world, and perhaps no issue is more terribly urgent than climate change. In this two-concert event, we use music to explore environmental sustainability and important ecological crises. Sound Planet (Part 1) begins with Resonances 1 by Ron Nelson, during which performers surround the audience for an all-encompassing musical experience. Chen Yi's Spring Festival, Frank Ticheli's Earth Song, and the world premiere of Roger Zare's Water Bear Jig are also featured. The concert will culminate in a unique performance by over 150 students from the Department of Music. This surprising concert finale encourages the audience to "move through" the sound, hearing the world around them in new and exciting ways.
Sound Planet, Part 2: High Water Rising
Wind Ensemble, 8:00pm March 7, 2019 (Pfleeger Concert Hall)
Sound Planet (Part 2) opens with Profanation from Leonard Bernstein's Symphony No. 1. Based on the biblical story of Jeremiah, Profanation tells of a prophet's warning of the coming destruction of Jerusalem, much like the dire warnings from climate change experts who have been ignored for decades. The Wind Ensemble is proud to then feature guest soloist Dr. Timothy Powell in "Falcon Fantasy" from Frank Ticheli's Concerto for Alto Saxophone, as well as guest artist Gerry DeLoach in the world premiere of a new work by composer Denis DiBlasio. The second half of the concert explores rising sea levels with new music from Björk and the consortium premiere of Anthropogenic Tides by Tina Tallon.
Open Minds
Concert Choir, 8:00pm March 9, 2019 (Pfleeger Concert Hall)
Experience the world premiere of the oratorio Open Minds by composer Rob Redei and poet Deborah Kennedy. From the poet: "Everyone knows someone dealing with a mental health issue, they just don't know who, because we don't tell you. The media is full of caricatures and extremes – crazy funny, crazy scary or celebrities misbehaving. We don't see all of those who manage, who work to seem 'normal,' and the struggles they face when plans and pills fail. There isn't much upside in 'coming out'  but until we do, stigma and misunderstanding will remain. Open Minds gives voice to people with mental health challenges and the people who love and care about them. Here are minds laid bare, in the hopes of opening the minds of others." The concert also features Please Stay by Jake Runestad, a piece that aims to destigmatize mental illness and challenges us to support those who are battling with thoughts of self-harm and suicide. 
Remembrance: Music of the Holocaust  *Yom HaShoah 2019 Memorial Concert*
Wind Ensemble, 8:00pm May 2, 2019 (Pfleeger Concert Hall)
REMEMBRANCE: MUSIC OF THE HOLOCAUST ***This event is a part of the Untold Stories: Truth and Musicseries.*** On Yom HaShoah 2019 ("Holocaust Remembrance Day"), please join the Rowan University Wind Ensemble for an evening of music that commemorates the lives lost during the Holocaust. We will celebrate composers who were killed in concentration camps, as well as the artists who fled Europe and later composed musical tributes from their new homes in the United States. The first half features Shabtai Petrushka's Three Jewish Melodies, a rarely-performed original work for band by an important Israeli composer, and the concert concludes with Jan Meyerowitz's powerful Three Comments on War, composed in 1964 but only recently republished for modern performance. Other program highlights include film music from Schindler's List, featuring violinist Timothy Schwarz, and Aaron Copland's Fanfare for the Common Man.
We are also honored to present the world premiere of Bruce Yurko's In Memoriam Dean Witten on this May 2 concert program. This powerful new work is a musical homage to Professor Witten, who served as Director of Percussion at Rowan University from 1979-2018. Rowan Bands are grateful to composition professor Bruce Yurko for creating such a meaningful tribute to this great musician and educator.