carmina burana
carmina burana
Carmina Burana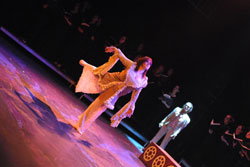 by Carl Orff
April 7-9, 2005
Pfleeger Concert Hall
Production Credits
Conductor - Robert Page
Choreographer - Paule Turner
Associate Conductor - Lawrence Hoenig
Costume Design - Heidi Barr
Lighting Design - Robert Thorpe
Assistant Light Design - Kristin Niemiec & Rachel Stewart
Set Design - Bart Healy
Assistant Set Design - Michelle Minnichbach
Video Designer - Les Rivera
Technical Director - Tom Fusco
Props - Shelly Minnichbach & Jerry Kaba
Stage Manager - Joanna Congalton
Assistant Stage Manager - Jennifer Layton
Costume Shop Supervisor - Stephanie Nichols
Wardrobe Crew - Kate Tool
Wardrobe Crew - James Battaglia
Set Construction - Stagecraft II and IV
Light Board Operators - Kristin Niemiec & Andrea Simcox
Sound Board Operators - Stephanie Melchiore & Jeff Bettencourt
House Managers - Carolyn Braun & Steve Martin
Vocal Soloists
Soprano - Christina Bihler
Baritone - Elem Frey
Tenor - Jon Garrison
Dance Ensemble
Laura Bautista
Dana Bender
Lauren Cawley
Alison Christiano
Jessica Clucas
Amanda Coppola
Arielle de Rouen
Mary Egan
Cheryl Francaviglia
Gina Gagliano
Ashely S. George
Angelina Jerbasi
Megan Kovarovic
Jessica Leenig
Deborah Morford
Sean Murphy
Lauren O'Shea
Desiree Papadakis
Lauren Reina
Jen Yorkanis
Soprano I
Christina Bihler
Lauren Cawley
Casey Clark
Michelle Cook
Rebecca Dilks
Katelyn Judge
Eve Michaleski
Jennifer Micofsky
Jenna Paulus
Jennifer Weir
Michelle Whitescarver
Alicia Wiktorski
Soprano II
Angela Capobianco
Kathleen Deffley
Jennifer Kaye
Stevi Kramer
Deanna Palermo
Kristina Soyadyan
Lauren Supernavage
Ashley Valente
Alto I
Nicole Dietz
Chantel Smith
Calley Steel
Maria Sumareva
Amanda Vincentini
Alto II
Amanda Coburger
Paula Matos
Raye Teyssier
Tenor I
Kyle Allen
Carl Ellinwood
Jared Haase
Paul Nicosia
Dominique Wooten
Joe Zlotek
Tenor II
Michael Grasty
Geoffrey Langley
Edward Mann
Bryan McCabe
Eric Marozine
Vladislav Schubrat
Alex Timofeev
Linh Vu
Josh LaPergola
Bass I
Frank Colosa
Brian Cromer
Justin Files
Jon Galletti
Matthew Higgins
Jarred Lynch
Kaleb Magnusson
Todd Pritchard
Matthew Rentzel
Kevin Rigby
Matthew Vicari
Bass II
Antonio Baldasari
David Clowney
Craig O'Brien
Paul Riegliano
Kyle Robinson
Stephen Zielinksi
Production Note
Although our Carmina Burana is different from the original, we still stress the importance of "the circle." Our show is a journey from the past� to the present� to the future and uses different important figures from these times to show how we got to where we were and will be going. I think that even though there is a clear "divide between good and evil" in the beginning, by the end of the piece it should be evident that good is evil and, if it is not, it will be. Basically, we are in trouble. If I were asked to relate the show to today, I would compare it to the war going on in Iraq. In this war, there are no "good guys" and "bad guys"; it is all the same. In our piece, the sides of good and evil begin to get blurred as we begin to present the future, the same way that we have been blurred in the present.

We are using women to tell the story of men, and I think we are saying that women are not oblivious to what has been going on in our world. Yes, it's true that men have been the important, powerful figures in the past, but look at where we are now. We are stuck in a terrible pattern of corrupting everything we get our hands on. Nothing new has the chance to survive.

We don't seem to learn from the mistakes of our past. We continue to make the same mistakes over and over, but understanding the past helps us to understand why we are where we are today.