Danse Macabre
Danse Macabre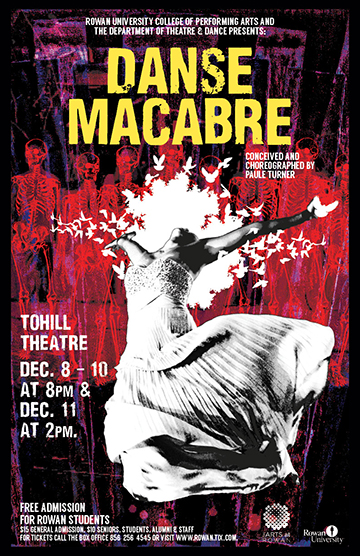 Danse Macabre
December 8-10 at 8PM, December 11 at 2PM

"...no matter one's station in life, the Dance of Death unites all"

Paule Turner will again join creative forces with Music Professor, Dr. Lourin Plant to premier Danse Macabre. Fascinated with the late-medieval allegory, this original work of dance theatre meditates on the universality of death and brings together Rowan University's Contemporary Dance Company and Collegium Musicum Assemble in a Grand-Guignol inspired dance of death. With live music, dance and puppetry, Danse Macabre promises to be a visceral dark, gothic, quirky fantasy pondering the fragility of life.

Production Credits
Conceived and Choreographed by Paule Turner
Musical direction by Lourin Plant