Our Country's Good
Our Country's Good
Our Country's Good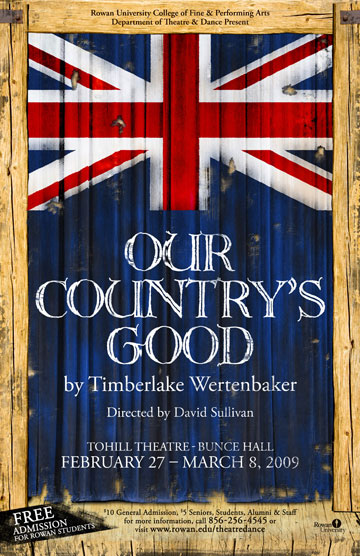 by Timberlake Wertenbaker
February 27-28; March 1, 5-8, 2009
Thursday - Saturday @ 8pm
Sunday @ 3pm

This production is intended for mature audiences.
Production Credits
Directed by David Sullivan
Set Design by Bart Healy
Costume Design by Stephanie Nichols
Lighting Design by Robert Thorpe
Sound Design by David Cimetta
Synopsis
It's 1788 in the prison colony of New South Wales, Australia. As an experiment, the Governor permits Lt. Ralph Clark to stage a comedy of manners, The Recruiting Officer, with a group of convicts. The play creates strong opposition from some of the Royal Marine guards who seek to disrupt the production, but ultimately the colony witnesses the transformative power of theater.