WHO WILL CARRY THE WORD?
WHO WILL CARRY THE WORD?
WHO WILL CARRY THE WORD?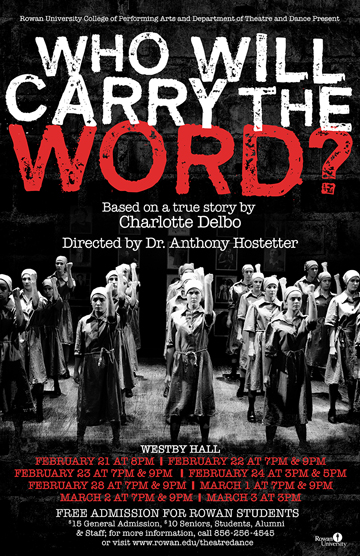 Based on a true story by Charlotte Delbo
Directed by Dr. Anthony Hostetter
Westby Performance Lab | Westby Hall 105

14 PERFORMANCES
February 21 - 8PM
February 22 - 7PM
February 22 - 9PM
February 23 - 7PM
February 23 - 9PM
February 24 - 3PM
February 24 - 5PM
February 28 - 7PM
February 28 - 9PM
March 1 - 7PM
March 1 - 9PM
March 2 - 7PM
March 2 - 9PM
March 3 - 3PM

RSVP on Facebook
Production Credits
CAST
Francoise: Kaitlin Kemp '14
Denise: Christina Higgins '15
Gina: Lauren Berman '15
Mounette: Claire Kane '14
Yvonne: Alli Angelou '16
Sylvie: Katie Verde '14
Claire: Andrea Krapevka '14
Renee: Katie Keissling '16
Marie: Leah Cohen '16
Madeline: Frankie Contino '13
Elisabeth: Janet Gleason '14
Monique: Lauren Ackerman '16
Regine: Sam Price '15
Agnes: Katie Knoblock '13
Laure: Nia Ali '15
Hortence: Jessie McCormick '16
Dee Dee: Allyn Merida '14
Berthe: Catherine Kustra '14
Helene: Michele Germano '16
Helene's Mom: Kelsey Rivera '15

-----------------

PRODUCTION
Scenic Design: Matheus Fiuza '14
Lighting Design: Robert Thorpe
Sound Design: David Cimetta
Costume Design: Jessica Zellers '12
Stage Manager: Felicia Graumann '13
About Who Will Carry the Word
Based upon the true story of Charlotte Delbo, Who Will Carry The Word? depicts the lives of 20 women sharing a barracks in Auschwitz. Their goal: to keep the strongest of them alive so that someone can share their experiences with the world. A celebration of the human spirit, Who Will Carry The Word? is a sobering and very moving portrait of the resilience of ordinary people placed in extraordinary and, in this case, horrifying circumstances.