Jessica Arnold
Jessica Arnold
Jessica Arnold

Musical Director - Collaborative Pianist - 3/4-Time Faculty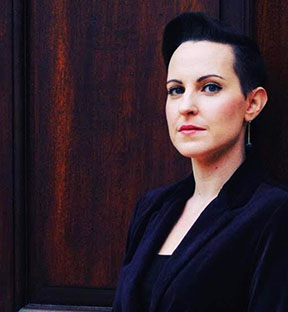 Contact Info
Biography
Professor Jessica Arnold is a collaborative pianist and vocalist. Combining her love of singing and acting, she enjoys teaching Crossover Contemporary Music/Pop/Musical Theatre, pulling from her experiences singing and playing Contemporary music and her classical training in voice and piano.
Some of Jessica's musical accomplishments include being selected as a Piano Young Artist at Songfest in 2019 where she played in Masterclasses for Collaborative Pianists, Graham Johnson, Margo Garrett, Alan Smith and composers Jake Heggie and Libby Larsen. She was also selected to be a Piano Young Artist in 2017 at the CoOperative Program at Westminster Choir College where she had lessons with Eric Weimar of Chicago Lyric Opera and Thomas Bagwell, formerly Assistant Conductor at the Metropolitan Opera, now Conductor of Royal Danish Opera. She also participated in a Piano Masterclass with Collaborative Pianist, Craig Reutenberg. She then was hired as a Staff Pianist in the summers of 2018-2019 for the CoOPERAtive program at Westminster Choir College. In 2017, she was personally invited to study with famed coach and collaborator, Dalton Baldwin, at his summer programs in Nice, France and Salzburg, Austria. 
Jessica began accompanying professionally at the age of 13 for the Bel Canto Childrens' Chorus of Sussex County, NJ where she discovered her love of singing and realized she wanted to be a teacher of Voice and Piano. She has accompanied numerous High School and Middle School choirs in Northern New Jersey. She has taught piano/voice lessons for 17/15 years. From 2015-2020 she served as a Staff Accompanist at Westminster Choir College. She has also worked as a Chorus Master for the New Jersey State Opera, and musical director for various other productions in The Tri-State area.
Jessica obtained her Voice Performance BA from Seton Hall University and was subsequently asked to remain as accompanist for the Seton Hall University Choir from 2010- 2013, as well as the accompanist for the Seton Hall Music Department. In 2017, she got her MM degree in Piano Coaching and Accompanying from Westminster Choir College where she studied with JJ Penna and famed opera coach Rachelle Jonck. She is currently a faculty member at Rowan University as a 3⁄4 Instructor in the Department of Theater and Dance, as well as on the Faculty of Rowan Community Music School's Musical Theatre Camp, and she teaches Voice and Piano lessons at Cornerstone Music Studios in Millstone, NJ.