Timothy Schwarz
Timothy Schwarz
Timothy Schwarz

Head of Strings - Violin - Viola - Assistant Professor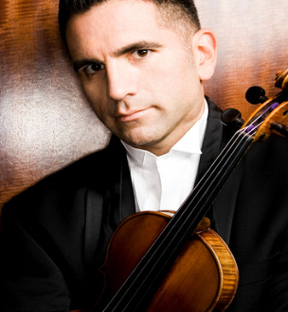 Contact Info
856-256-4500 x53502
Wilson Hall, Rm 133
Biography
Since his solo debut with the legendary Philadelphia Orchestra at age nine, violinist Timothy Schwarz has been praised for his "energetic performances" (Rome News) and "technique beyond reproach" (Buffalo Times). Schwarz regularly performs throughout Europe, Asia, and the Americas as a soloist and chamber musician.
His many CD's include the 2018 release of Anthems from Prometheus (Albany Records) "All credit to Timothy Schwarz for providing a performance as gripping from first to last as this one" (Fanfare Magazine), the 2013 release of Early Chamber Works by Jennifer Higdon (Naxos) "Top 10 Classical Albums in 2013" (Philadelphia City Paper) and his 2006 release of Timothy Schwarz, Live! "Good enough to be the only recording in your collection" (American Record Guide). Most recently, two prestigious 2020 awards were given to composer David Osbon for pieces written for and performed by Timothy Schwarz on Anthems from Prometheus.
With the 2020 – 2021 season greatly altered by the Coronavirus, Schwarz is focusing on creative performances and educational seminars. As part of Techne Music, Schwarz has given seminars on various careers in classical music, with guests such as Peter Winograd from the American Quartet, Molly Carr from Project: Music Heals Us, and Sheila Browne from the Juilliard School of Music. He has also been organizing seminars on orchestral excerpts with members of the Chicago Symphony and Philadelphia Orchestra, and topics such as string teaching online and discovering minority composers. The latter two seminars are in conjunction with the American String Teachers Association, which he is President-elect for the New Jersey chapter. Livestream performances in 2020 and 2021 include all 10 Violin Sonatas and String Quartet Op. 131 by Beethoven, and Violin Concerto No. 2 in E Major by Bach.
An avid educator, Schwarz is currently Assistant Professor and Head of Strings at Rowan University, and Artistic Director and Founder of Techne Music, which includes a summer chamber music camp and concert series. For a five-year period through 2001, Schwarz served three tours as Artistic Ambassador in South America, Asia, and Africa, performing over 100 recitals in 15 countries. As part of winning the Starling Violin Competition, he studied with Dorothy DeLay at the Cincinnati College Conservatory of Music. He later received a MM from the Peabody Conservatory and a DMA from Temple University. His violin, purchased in 2014, is a J. B. Vuillaume made in 1830, and his bow, purchased in 2019, is a Dominique Peccatte.
For further information and a performance schedule, visit www.TimothySchwarz.com.