Rie Suzuki
Rie Suzuki
Rie Suzuki

Clarinet - Adjunct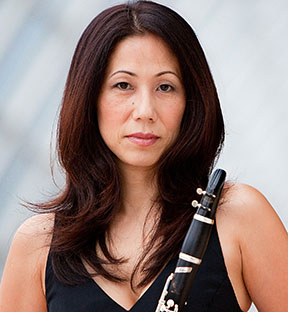 Contact Info
Biography
Acclaimed clarinetist Rié Suzuki made her Tokyo debut as a winner of the annual Yamaha-Japan Clarinet Association Recital Series while still a conservatory student at Musashino Academia Musicae. A native of Japan, Rié has since expanded her versatile professional titles to include soloist, recitalist, chamber & orchestral musician, and educator, performing and teaching throughout Asia, Europe, North and Central America.
Rié is currently a tenured member of The Chamber Orchestra of Philadelphia, and serves as principal clarinet of The Princeton Festival Opera Orchestra and Black Pearl Chamber Orchestra. Also, her other orchestral engagements have included performances with the Pennsylvania Ballet, Opera Philadelphia, The Philly Pops, among others. An avid chamber musician, Rié is a founding member of the Eastwinds Quintet, the New Horizons Chamber Ensemble, and Tripod Trio. Her recent soloist appearances include concerto performances with the Rowan University Wind Ensemble, co-premiering the wind ensemble edition of Jonathan Leshnoff's clarinet concerto "Nekudim," and with Black Pearl Chamber Orchestra, performing Mozart's Sinfonia Concertante. 
Her notable collaborations and tours include a recital series with the Poulenc Trio in Baltimore and Washington, D.C., a concert tour of Central America sponsored by U.S. Embassy with the Liberty Winds, a United States national tour of "Star Wars in Concert," and a concert tour of China performing at the Lianhuashan Music Festival in Shenzhen. Rié has also performed and taught at music festivals across the globe, such as AIMS (Graz, Austria), Apple Hill, Aspen, Endless Mountain, Kusatsu (Japan), Northern Lights, Princeton, and Sarasota Music Festivals.
Rié's live performances on broadcast include WQXR in New York (McGraw-Hill Young Artists Showcase), WRTI in Philadelphia, podcasts from the National Gallery of Art in Washington, D.C., as a guest speaker for "Messiaen's Quatuor pour la fin du temps" on WITF in Harrisburg, and an appearance on Nicaraguan National TV.
Her performances led to her recording on the Capstone Records with Soprano, Phyllis Bryn-Julson, the New World Records with the Philadelphia Virtuosi Chamber Orchestra, the Centaur Records with the Tripod Trio, the Naxos Records with the Philadelphia Philharmonia under JoAnn Falletta, and DVD on the Warner Brothers label with the Chamber Orchestra of Philadelphia. Her most recent recording of the commissioned work, Threes by Maurice Wright, was released in July 2020 under BCM&D Records label.
Rié Suzuki holds both a doctorate and graduate performance degrees from The Peabody Institute of The Johns Hopkins University where she was awarded the Orchestral Fellowship and a Peabody Career Grant (twice). Her principal teachers include Loren Kitt, Robert Coleman, Yuji Murai, and Tadao Funahashi, while her influential chamber music coaches have been Samuel Sanders and Mark Sparks. 
A devoted educator, Dr. Suzuki is a clarinet professor at Rowan University, as well as its Community Music School, where she holds the annual Rowan University Clarinet Day. Also, Dr. Suzuki works with PMAY artists through Temple University Music Preparatory Division and Settlement Music School where she is a Special Arrangement Chamber Music Coach for the Advanced Study Ensemble. During the summers, she gives masterclasses at Rowan University Summer Music Camp.
For more information, visit: www.riesuzuki.com.