Christopher Thomas
Christopher Thomas
Christopher Thomas

Associate Professor, Director of Choral Activities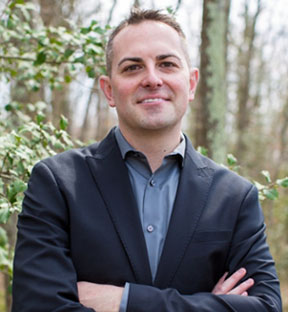 Contact Info
856-256-4500 x53530
Wilson Hall, 132
Biography
Christopher Thomas is Associate Professor of Music and Director of Choral Activities at Rowan University in Glassboro, NJ, Artistic Director of the 130+ voice Greater South Jersey Chorus in Haddonfield, NJ, and past-president of the New Jersey chapter of the American Choral Director's Association (NJACDA). 
At Rowan University, Dr. Thomas oversees three curricular choirs and conducts the Rowan University Concert Choir, the flagship choral ensemble of the Department of Music, and Voces, a chamber ensemble that performs early, contemporary, and improvisatory projects.  Additionally, Dr. Thomas teaches undergraduate and graduate courses in choral conducting and choral literature. Under his direction, choirs at Rowan University have performed at regional and state conferences of ACDA and NJMEA and internationally on tours throughout Austria, the Czech Republic, Germany, Hungary, Italy, and Poland.  Recent highlights of the choral program have included annual Tenor|Bass Festivals, which have been attended by more than 5,000 tenors and basses, a performance by the Concert Choir for the 2020 Eastern Division ACDA conference in Rochester, NY, the 2016 Eastern Division ACDA Conference in Boston, MA, and collaborations with the Rowan Opera Company, Orchestra, Wind Ensemble, and Jazz Band.  
Dr. Thomas has twice been invited to serve as assistant conductor and instructor for the Varna International Music Academy, culminating in performances of The Creation by Joseph Haydn and Mozart's Requiem in opera houses throughout Bulgaria.  Domestically, guest conducting engagements, including all-state and regional honor choruses, have taken him to California, Connecticut, Delaware, Illinois, Kentucky, Maryland, New York, New Jersey, Pennsylvania, Tennessee, Texas, Vermont, and Washington, D.C. His work as a guest conductor is consistently recognized as energetic, inspiring, enthusiastic, and inclusive of all levels of experience and ability.
In addition to his academic positions, Dr. Thomas is in his eighth season as the Artistic Director of the Greater South Jersey Chorus, which collaborates with regional orchestras and guest musicians to present major works and stand-alone performances. Under his leadership, the choir has grown in size and stature.  Recent performances have included Bond's Credo, McCullough Let My People Go!, Beethoven Ninth Symphony, Puccini Messa di Gloria, James Whitbourn Annelies, Handel Messiah, Haydn The Creation, Mozart Solemn Vespers, Respighi Laud to the Nativity, Vivaldi Gloria, and Conrad Susa Carols and Lullabies.
Dr. Thomas studied music education at Millikin University with Dr. Brad Holmes and earned his graduate degrees in Choral Conducting at the University of Arizona under the direction of Dr. Bruce Chamberlain and Elizabeth Schauer.