Diego Villamil Gomez
Diego Villamil Gomez
Diego Villamil Gomez

Violin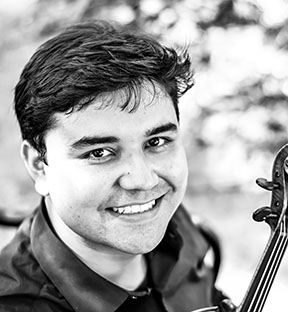 Contact Info
Biography
A native from Bogotá, Colombia, Diego Esteban Villamil Gómez is a versatile violinist who is devote to teaching, especially young artists. Diego has been faculty at the Play, On Philly! Summer Program, Techne Music Festival and Alla Corda Music Festival. He also was a teaching artist at Play, On Philly!, and a faculty member of Rowan CMS and the Delaware School of Music.
His accomplishments include being concertmaster of the UNT Concert Orchestra, USM Symphony Orchestra, and the Youth Philharmonic Orchestra of Colombia. He also has been member of the several symphony orchestras of Mississippi, New Jersey, Texas and Colombia.
As a Baroque violinist, Diego is part of the Baroque Ensemble Fantasmi under the direction of Paul Leenhouts, where he is the principal violin and soloist. He also plays with several baroque ensembles of the Dallas area, including American Baroque Opera Co. and the Orchestra of New Spain.
Diego holds a B.A in violin performance from the National University of Colombia, a M.M in violin performance from the University of Southern Mississippi and Rowan University and currently he is finishing his DMA studies at University of North Texas.