Programs for High School Students
Programs for High School Students
PROGRAMS FOR HIGH SCHOOL STUDENTS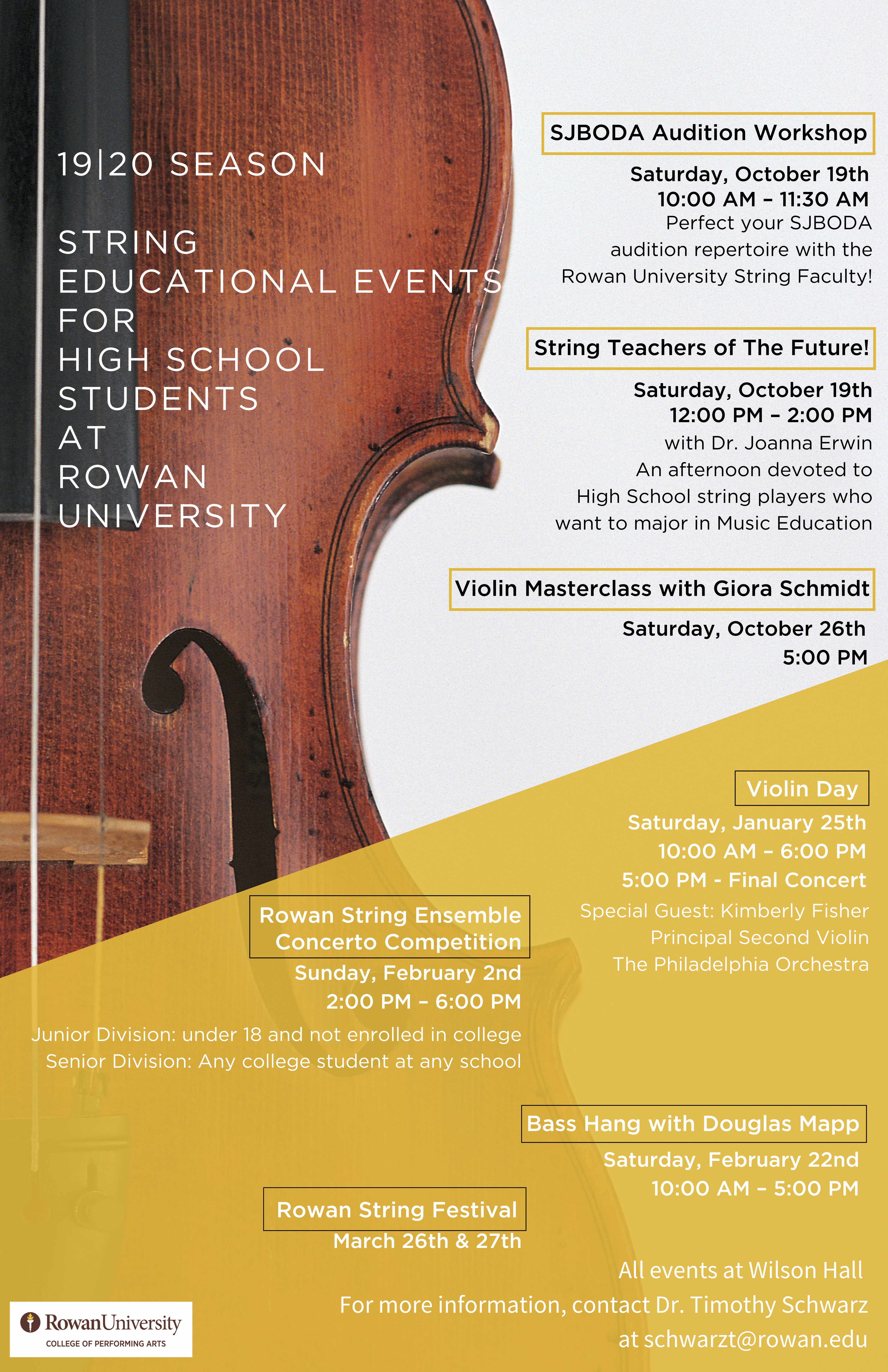 SJBODA String Audition Workshop
Saturday, October 19th, 10:00 – 11:30 AM
A workshop dedicated to the 2019 SJBODA audition, covering scales, sight-reading, and the solo pieces for violin, viola, cello and double bass.
String Teachers of the Future!
Saturday, October 19th, 12:00 – 2:00
Are you considering a career as a string teacher in Kindergarten – 12th grade? Come learn what this fascinating career could be for you. Lead by Dr. Joanne Erwin, one of the leading specialists in String Pedagogy.
VIOLIN DAY (Kimberly Fisher, special guest artist)
Saturday, January 25th
For violinists of all levels. Join us for reading sessions, career workshops, instrument maintenance, and a special performance and masterclass with the Philadelphia Orchestra Principal Second Violin Kimberly Fisher.
Rowan String Ensemble Concerto Competition
Sunday, February 2nd, 2:00 – 6:00
Senior Division: Any enrolled college student
Junior Division: Any student under 18 who is not enrolled in college
One junior and one senior division winner will be selected to perform with the Rowan String Ensemble in their April concert. Applicants should choose one work (or movement of a longer work) between 5 and 15 minutes, with string accompaniment. Works with up to 5 winds or other instruments are accepted. To enroll please contact Dr. Schwarz at schwarzt@rowwan.edu
BASS HANG
Saturday, February 22nd
Join Rowan University professor Douglas Mapp as he leads a day dedicated to both classical and jazz bass. Perfect for middle and high school students!
Rowan String Festival
March 26th and 27th
Sign up now to bring your Middle or High School string orchestra to Rowan University! Students will work with Rowan faculty Dr. Timothy Schwarz, Dr. Joanne Erwin, and Douglas Mapp. Each ensemble receives 30 minutes of coaching. Contact Dr. Timothy Schwarz at schwarzt@rowan.edu to register.