Programs for High School Students
Programs for High School Students
PROGRAMS FOR HIGH SCHOOL STUDENTS
WindFest Honor Band: for Woodwind, Brass, and Percussion players grades 9-12
Fall 2020 Events for Strings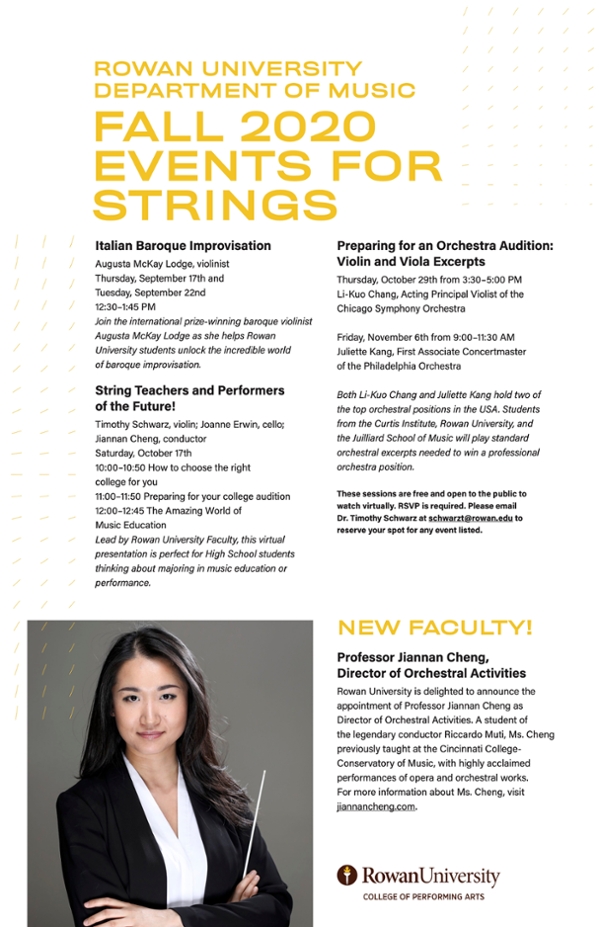 Italian Baroque Improvisation
Augusta McKay Lodge, violinist
Thursday, September 17th and Tuesday, September 22nd
12:30 – 1:45 PM
Join the international prize-winning baroque violinist Augusta McKay Lodge as she helps Rowan University students unlock the incredible world of baroque improvisation.
String Teachers and Performers of the Future! 
Timothy Schwarz, violin; Joanne Erwin, cello; Jiannan Cheng, conductor
Saturday, October 17th
10:00 – 10:50 How to choose the right college for you
11:00 – 11:50 Preparing for your college audition
12:00 – 12:45 The Amazing World of Music Education
Lead by Rowan University Faculty, this virtual presentation is perfect for High School students thinking about majoring in music education or performance, or for students who take music as a serious hobby and want to participate in ensembles during their college years.
Registration Link: http://timothyschwarz.com/rowan/
Preparing for an Orchestra Audition: Violin and Viola Excerpts
Thursday, October 29th from 3:30 – 5:00 PM
       Li-Kuo Chang, Acting Principal Violist of the Chicago Symphony Orchestra
Friday, November 6th from 9:00 – 11:30 AM
       Juliette Kang, First Associate Concertmaster of the Philadelphia Orchestra
Both Li-Kuo Chang and Juliette Kang hold two of the top orchestral positions in the USA. Students from the Curtis Institute, Rowan University, and the Juilliard School of Music will play standard orchestral excerpts needed to win a professional orchestra position.
These sessions are free and open to the public to watch virtually. RSVP is required. Please email Dr. Timothy Schwarz at schwarzt@rowan.edu to reserve your spot for any event listed.