Future Music Major Workshop
Future Music Major Workshop

---
First Annual Future Music Major Workshop
The Rowan University Music Department is excited to host the first annual online Future Music Major Workshop in August 3-7, 2020. High School  musicians considering a music career, will have the opportunity to interact with Rowan Music Faculty, and explore the many facets of musical study at Rowan University in Glassboro New Jersey.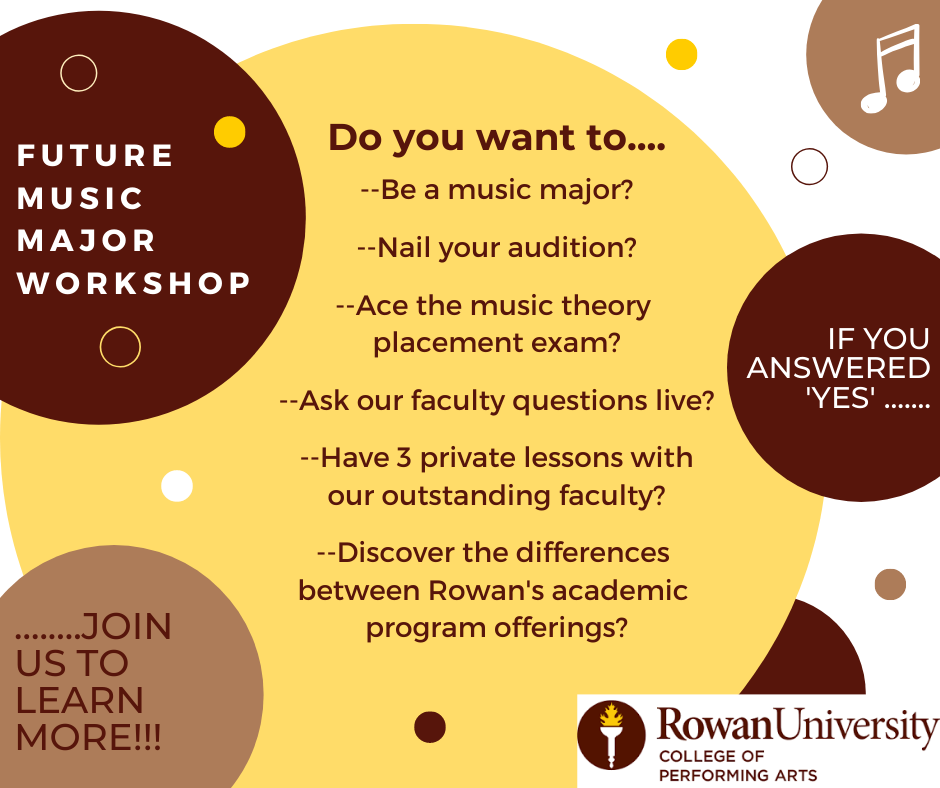 The five day interactive workshop will allow students to engage in individual lessons with Rowan faculty, attend master classes on topical sessions in music career planning, music education, music theory, music history, instrumental and vocal pedagogy, as well as view live broadcasts, and attend workshop community hangouts.
We encourage you to check this website for regular updates on workshop offerings and structure, schedule and registration procedures, or contact us directly at: 
musiccamps@rowan.edu
 or 856-430-2697.
Dr. Rick Dammers: 
Dean - College of Performing Arts
Workshop Coordinators: 
Joe Akinskas and Rachel Michel
Registration Deadline: July 1, 2020; All workshop fees are non-refundable after July 15, 2020. 
Who: Open to all students entering 10th-12th grade
Included:
Three, 45 minute Live Online Lessons (all students pre-select 3 topics with 1 instructor for lessons prior to the Workshop).

Voice students are able to select 3 lessons with 1 voice professor or 1 lesson with each of the 3 professors.

Violin & Viola lessons have a capped enrollment of 3 students total. We will honor paid registrations in the order they are received.

If the instructor cancels a lesson:

These lessons will be rescheduled at the convenience of both the professor and the student between August 3-7, 2020. 

If the student cancels the lesson:

Absences are only considered excused if the professor and Rowan Future Music Major Workshop Coordinators are notified 24 hours before the lesson.
Students are allowed one excused absence during the Workshop.
The make-up lesson for one excused absence will be rescheduled at the convenience of the professor.
An excused absence not made up within the Workshop (August 3-7, 2020) will be forfeited.
If the make-up lesson is cancelled by the student, the lesson shall be considered made up.

Unexcused absences will not be made up.
---
Sessions
1. Greetings & Welcome! Presenter: Dr. Rick Dammers; Dean - College of Performing Arts
2.
Wilson Hall (Music Building) Virtual Tour & Meet our current students!
3. Meet the The Rowan University Music Alumni!
4. Introduction into the Rowan University Music Therapy Program! Presenter: Dr. Andrea Hunt
5. Developing Your Pre-Music Major Toolkit. Presenter: Professor Joe Akinskas
6. How to be a Better Brass Player! Presenter: Dr. Bryan Appleby-Wineberg
    Description: Intonation and sound development, so you can lead your section!
7. Preparing For Your College Percussion Audition. Presenter: Dr. Fabio Oliveira
8. Nailing That First Music Major Audition! Presenters: Rowan University Faculty Panel
9. Why Study Western Music History? Presenter: Dr. Davide Ceriani
    Description: During their future careers, music majors will have the chance to work as performers, educators, producers, and more. Time to devote themselves to explore the deep historical background of every piece they come across will likely shrink in their adult life, so it is crucial that they encounter a wide range of music during college, as well as to an overarching framework where they can fit each new piece they encounter and critically engage with scholarly readings. A survey of Western music history offers that framework, as well as the opportunity to compare a student's view with that of her or his peers.
10. An Introduction to Conducting. Presenters: Dr. Joseph Higgins & Dr. Christopher Thomas
      Description: Whether you are an experienced high school drum major or have never conducted before, this session is an interactive introduction to basic conducting skills. Dr. Higgins (instrumental) and Dr. Thomas (vocal) will share fun and useful exercises for the beginning conducting student.
11. Succeeding in Music Theory Classes & Brushing Up for the Music Theory Placement Test. Presenter: Dr. Adam Kolek
      Description: Get the details on the level of preparation expected for first-year of music theory and what to work on before going to college. Students will be given the music theory placement test to take before this session. Dr. Kolek will discuss questions on the typical test and review questions in which students had difficulty.
12. Ensemble Excellence! Presenters: Dr. Joseph Higgins & Dr. Christopher Thomas
      Description: Dr. Higgins (instrumental) and Dr. Thomas (choral) discuss college-level ensembles. They will share how student-musicians are expected to prepare, show examples of various concert programs and themes, and describe how one's experience in college ensembles differs from High School or honor-ensemble experiences.
13. Why a Career in Music Education? Presenters: Dr. Adrian Barnes & Dr. Vanessa Bond
14. Music Education; Nuts & Bolts: What to Expect in College & After. Presenter: Dr. Joanne Erwin
     Description: This session will look into the general expectation and perspective of the courses in the Music Education major regardless of performance focus. Career options will be disccused and Dr. Erwin will describe the variety of work that people do with the skills that are learned in the Music Education major. It is not just teaching in public school, but that is a great choice!
15. Presenting Your Best Vocal Audition. Presenters: Professor Marian Stieber, Dr. Christopher Thomas, Professor Lauren Athey-Janka and Professor Colin Levin
Description:
Have you ever wondered what the audition panel is looking for from a potential student? Hear from our vocal faculty first hand what criteria they consider for a successful audition​. Gain valuable advice on presentation, preparation, repertoire, and more. After this session you will know what to expect from your college level audition and feel prepared to give your best audition yet!
16. The Collegiate Choral Experience. Presenter: Dr. Christopher Thomas
      Description: In this session we will take a deep dive into the world of choral singing at the collegiate level. We'll talk repertoire, concepts, techniques, goals, and performance opportunities. We will listen, explore, and discuss what YOU will likely be doing as a collegiate choral singer. 
17. Let's Talk Choral Music! Presenter: Dr. Christopher Thomas
      Description: Ever wondered what pieces of music are considered some of the very best choral pieces? What should be on your summer listening list, and what makes the music so important or universally celebrated? After we take a look back, we'll try to glimpse where trends and techniques will transform our music throughout the decade. 
18.
Stealth Music Theory through Harmonizing Fiddle Tunes.
Presenter:
Dr. Joanne Erwin
Description:
In this session string players will learn a basic fiddle tune on any of the bowed string instruments and develop a harmony line from the chord symbols that are present in most tunes. This will include the analysis and the stylistic options that can be developed when playing in this style. 
Description:
 In this session ideas that should be foremost in the mind of the person preparing to audition for a music program will be presented. It goes beyond the notes and to how the whole package is viewed.
Description:
 Learn the inns and outs of jazz articulation. How did great jazz players get that jazz feeling and feel? Tips and guidance on how to build your own Articulation and phraseology.
Description:
 Soloing on on one scale encompasses everything you would deal with when improvising. The difference is there is only one chord instead of many.
Description:
How to improve your Improvisation time feel by working with a metronome. Tips and ideas for using a metronome for playing on, behind and in front of the beat.
---
Schedule
Click here to view the schedule. Stay tuned to our website for all schedule updates!
---
Lesson Faculty & Topics
Voice - Professors: Marian Stieber, Lauren Athey-Janka, Colin Levin
1. Vocal Technique for the Solo Voice
Gain the skills necessary to become a better singer! Students will study posture, breath management and support, explore vocal health and discover how to enhance the many amazing facets of the voice! Students will learn through exercises, vocalises, and repertoire in addition to learning how to keep the voice healthy. Come discover your voice with us!
2. Singing with Clear Diction as a Soloist
Let your audience hear every word you say! Discover techniques to articulate consonants and vowels in a lyric and natural production. Following this session you will feel empowered to deliver your vocal message!
3. Expressing the Drama of your Text
Learn the skills required to feel confident when singing on stage! Students will learn how to examine the text in a song so you can fully engage and connect with an audience. The faculty will also teach you how to use expression as well as gesture to convey emotion no matter the language. We are excited for you to come join us and see you become a fearless performer!
Flute - Professor Susanna Lowey
Mastering the Flute, One Exercise at a Time

Show Off Your Sound: The Long Tones Trifecta

Self Talk: Improving Focus and Calm While Playing

Double Tonguing: Daily Pieces for Articulation Control

Orchestral Excerpts, Etudes, and Pieces: Steps to Learn Music Thoroughly
Oboe - Dr. Mark Snyder
Basic instrument maintenance and simple fixes for temperamental reeds

Sight reading with ease

Performing scales with musical intention

Optimal audition/solo preparation

Breath support and articulation

Intonation and dynamics
Clarinet - Dr. Rie Suzuki
The Embouchure: Understanding the Concept and Exercises to Establish a Solid Embouchure

Breathing and Phrasing: The Importance of Understanding Respiratory Function

Tone Quality and Intonation: Voicing and Listening

Let's Talk About Tonguing: Regular or Anchor or Something Else?

Understanding Reeds: How to Select and Adjust

Building​ a Solid Technique: Hand Position, Finger Movement, and the Importance of Slow Practice

Establishing Good Practice Habits: Starting with One-Hour Practice and Beyond

How to Improve Sight-Reading Skills: Pattern Recognition and Memorization

Audition Repertoire for Clarinet: Effective Selection for College Auditions​
Saxophone - Dr. Noa Even
Developing a good warm-up routine

Forming artistic and personal interpretations

Practicing scales with expressive intent

Honing stylistic articulation

Refining tone and intonation with overtone exercises

Solidifying and retaining technical passages

Establishing a solid embouchure

Developing strong sense of pulse and rhythmic accuracy

Preparing for a college audition
Jazz Saxophone - Professor Denis DiBlasio
How to solo on one scale.

Which jazz tunes should I learn first?

How do I start transcribing?

How do I work on articulation in Jazz?

What exercises should I do for tone?

What songs can I use one scale to solo over?

How do I develop fast, clean technique?

What are different approaches for using the time

How can I create using just 4 notes?

How do you use Pentatonics in improvisation?
Bassoon -  Professor Zachary Feingold
Developing and memorizing appropriate and effective warm-up routines

Reeds


What is expected in the private lesson and how to successfully prepare for them on a weekly basis

Repertoire (orchestral, solo, chamber, etc.)
Trumpet - Dr. Bryan Appleby-Wineberg
Practice Techniques

Rhythm and Metronome

Range

Endurance

Embouchure Development/Change

Flexibility
Horn - TBA
Trombone - Professor Rick Linn
Euphonium - Dr. Amy Bliss
Tuba - Professor Bryan Brown
​Violin & Viola - (Capped enrollment of 3 students. We will honor paid registrations in the order they are received.) Dr. Timothy Schwarz
Cello - Dr. Joanne Erwin
Freedom in action for producing the most tone for cellists.

Freedom in action for reliable pitch location including shifting for cellists.

Developing musical vibrato for cellists.
Double Bass - Professor Doug Mapp
Improve your walking bass lines.
String Bass 101: A lesson on the basics.
Improve your tone with the bow.
Improve your shifting.
Introduction to jazz soloing. 
Percussion - Dr. Fabio Oliveira
Jazz Vibraphone - Professor Behn Gillece
Drum Set - Professor Dan Monaghan